Campbell Hausfeld Pressure Washer Parts
Wand , Connect Plug, Spray Pole
Campbell hausfeld pressure washer parts are equally in demand due to the success of the campbell hausfeld brand of pressure washers. Campbell Hausfeld itself is a company with a rich history going back as far as 1836. It is important that when you are in search of a pressure washer part you do the hunt with a specific part number in hand. This prevents wrong buys which may prove costly. Most pressure washer owners manuals come with indications of specific part numbers.
Pressure washer parts for Campbell Hausfeld machines will include extension and replacement hoses, spray guns, female gun quick-connect plugs, pumps, engines and so on.The following is a list of some of the available parts for Campbell Hausfeld pressure washers;
1/4inch Female Gun Quick - Connect Plug
Part number: PW102700AJ
pw102700aj_connect_plug_female.jpg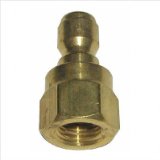 Selling for under $18.00 this Cambell Hausfeld replacement part is applicable to both electric and gasoline powered pressure washer models. It however only accommodates pressure washers with a power of maximum 2200 PSI. Its purpose is to connect your spray gun with a high pressure hose such as PW1028. It is 1/4inch female plug part.

1/4inch Male Gun Quick - Connect Socket
Part number: PW102800AJ
This male connect socket connects the hose to the spray gun and is for use with campbell hausfeld electric and gas models which have a maximum pressure power of 2200psi. It sells for about $15.00 on reputable suppliers such as Amazon. An important note to remember here is that if your pressure washer has a PSI greater than 2200psi this connector socket will not be suitable. Good suppliers campbell hausfeld pressure washer parts offer warranty with many parts. This part has a 1 year limited warranty.
1/4inch x 25-ft Pressure Washer Extension Hose
Part number: PW1021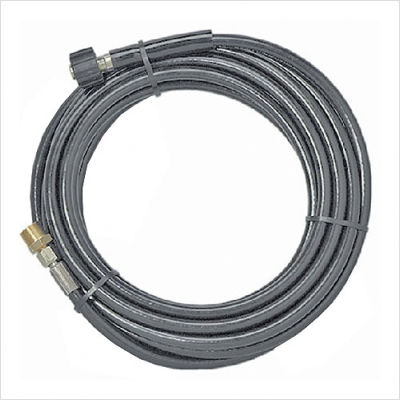 Selling for just above $32.00 this extension hose is designed to handle up to 2400psi of water pressure with ease. It has diameter of 1/4inch and is 25 feet long. It is made of durable plated steel making it able to withstand wear and tear extending it life. This extension hose can not be used with washers which release a pressure greater than 2400psi.
General Pump Pressure Washer Gun
Part number: 157659
Manufactured by General Pump this pressure washer pump is listed here because it can also perfectly work with your Campbell Hausfeld pressure washer. In fact it works well with Excell, faip, AR, Powerwasher, Comet, Generac and Coleman pressure washers. This is a very good pressure washer rear-entry rigger spray gun. Rear entry designed ensures that the hose is out of the way as a you are working. This gun and lance combo sells for just below $35.00
It has a 22inch insulated wand with a maximum flow rate of 6.5GPM and 3200psi. It is typically suitable for high power pressure washers as well as home pressure washers. If your pressure washer has PSI of below 3200psi and GPM of below 6.5GPM this is perfectly suitable for your machine. Users of this product have given high ratings reporting that it is very sturdy and also comfortable to handle. We give this item extremely high ratings and endorsement and consider it an excellent buy.
For individuals with 3/8inch the input on this wand is 22mm. It can easily be adapted to 3/8inch. Also note that the nozzle is removable on this wand. The wand itself has a 1/4inch male fitting can quick connect nozzles can therefore be used however with a coupler such as the Northstar brass pressure washer quick coupler 1/4inch inlet.

15 Degree Quick Connect Tip Pressure Washer Nozzle
Part number: PW0747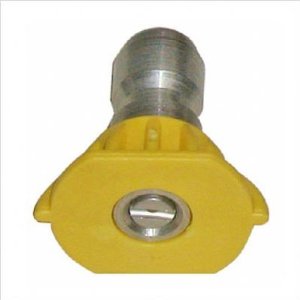 Selling for just under $17.00 this quick connect pressure washer nozzle is designed to spray high pressure water of between 3100psi and 3500psi at an angle of 15 degrees. Nozzles tips are important for any pressure washer. They are used to effect certain type of cleaning. They can also be used to prevent damage to items and objects that do not require direct straight line spray. This quick connect tip is amongst many of the campbell pressure washer parts available online today for use with your pressure washer.
18 Inch G-Thread Extension Spray Pole
Part number: AL2268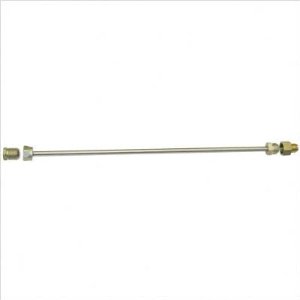 Imagine wanting to reach your roof, eaves, and overhangs or any other paint job that is hard to reach. This part of your campbell hausfeld pressure washer comes in extremely handy. This pole is designed to extend your spray reach. It is an 18inch spray pole which can be used with your pressure washer. It will be handy if your work involves reaching out to far off places.

Campbell Hausfeld Pressure Washer Parts : Brass Swivel Hose Connector

Part number: PW1014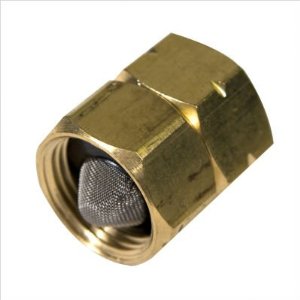 This item is designed to be used with various Campbell Hausfeld pressure washer parts and accessories. This product is not a popular campbell pressure washer part in terms of demand. However it comes in handy when you want to connect certain accessories to your pressure washer. This connector sells for less than $17.00

Campbell Hausfeld Pressure Washer Parts : Quick Connect Detergent Tip
Part number: PW0745
This is a special nozzle used to spray detergents. When using your pressure washer there could be situations were you also need use detergents for a more through cleaning or disinfecting certain surfaces. This can be used for cleaning tough stains and so on. This quick connect detergent nozzle will work with any campbell hausfeld washer that has maximum 3500psi pressure output. This certainly includes home pressure washers and many industrial pressure washers.