Grout Steam Cleaner Reviews
Tiles , Wagner 905, Bissell Steam Shot, Vapamore
A grout steam cleaner is essentially a steam cleaner that has the ability to satisfactory clean what are known as grout lines usually associated with hard surface floors such as tiles. By definition grout is a thin coarse mortar that is used to seal joints when tiles or hard surfaces are laid out. Grout lines are therefore found in bathrooms, kitchens and floor surfaces. It is also used as a finishing on some interior surfaces. Grout lines usually develop mold and mildew hence the need for a grout steam cleaner. These steamer can be handheld or upright in design. The following are recommended grout steamers to consider;
The Wagner 905 Steam Cleaner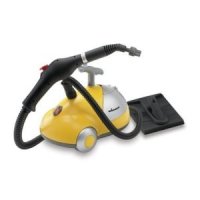 This one of the highly rated and recommended grout steam cleaners. This particular unit has sold hundreds upon hundreds due to its effectiveness and previous high reviews. This steamer is not only limited to cleaning your tiles, hard surfaces and grout. It also does a through job using respective attachments to even remove wall paper by loosening the glue bonds. In terms of ergonomics this steam cleaner is well endowed. Some individuals with limited physical movement have even reported using it better in a wheel chair than one can expect of other steam cleaners.
You may use this steam cleaner for your kitchen, bathroom, and even shower grout with best results. The accompanying jet nozzles gives the steamer the ability to release high pressure steam which will effectively remove any resistant dirt, grime or grease. Using the correct attachment you may also use this unit to steam clean your portable grill. The manufacturer of the steam cleaner claims it can kill bacteria and is able to sanitize your home using the hot steam.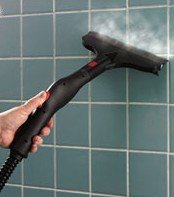 Just like many other steam cleaners from Bissell, Euro Pro and Shark models, the Wagner 905 does not use any chemicals to clean. It will give you a run time of 45 minutes with continuous steam. It solely relies on steam from heated water to do a thorough clean. This unit sells for about $85.00 on the internet
.
PROS
- Heats up quickly and gets you going fast
- the brush attachment is excellent for cleaning the grout
- easy to use
- does much more than just grout cleaning
CONS
- having to screw the water tank out for refill is rather cumbersome considering its a frequent "ritual" in the life of the unit.

The Bissell Steam Shot Cleaner - 39N7A
Selling online for $40.00 this steam cleaner qualifies for free shipping when purchased through Amazon
. This Bissell steamer is ideal for grout cleaning. It is a grout steam cleaner which comes with a whole collection of attachments as accessories. Amongst these attachments is the special grout brush that is attached to the tip of the steamer to help clean grout.
This is handheld steam cleaner has a kettle design and can be used around the home with its 16 foot cord. This is a typical chemical free steamer which has no risk for your pets and animals and even around the home compared to cleaners that use chemicals. The steamer tank will last some good 20 minutes of continuous steaming before any refill is required. For safety reasons, the steamer must be unplugged from mains. Also give it time to settle before opening the screw top for refill.
In terms of operation, this grout steam cleaner releases steam by a using your thumb to press a trigger. There are other plenty uses of your steamer apart from cleaning grout. The unit essentially does other jobs performed by an ordinary handheld steam cleaner such as removing hard to reach spots, cleaning and sanitizing grills and so on.
The model has average ratings. The main downturn contributing to some negative ratings has been the weak steam jet, repeated heating required to produce steam each time and the kind of heavy weight after prolonged use. If you can stand these three key things this grout steam cleaner from Bissell is for you.
PROS
- of the attachments accompanying the steam shot, the grout brush is effective as well as the round brush
- the color codes on the different brushes makes it easy to avoid mixing up ones used for kitchen and for bathroom for example
- the various attachments are really handy and appreciated
CONS
- opening the steamer top whilst hot will possibly lead to burns
- having to unplug the steamer each time before a refill can become cumbersome
- steam jet has generally weak pressure
- this grout steam cleaner can get a little heavy after long continued use. A strap would have been ideal
Bissell has a whole range of other steam cleaners. Overall it has good reputation on the market. You want to learn more about Bissell Steam Cleaners by following link.
The Vapamore Steam Cleaning Unit
This is an effect steamer for grout and tiles. This unit boats of greater steam pressure which is released at about 58psi (pressure per square inch) which can be adjusted. It also heats up better that the two grout steamers reviewed above getting as hot as 250 degrees. At this temperature sanitization is possible that kills germs and bacteria. The Vapamore is shipped with a variety of attachments 18 in total. Amongst those is that grout brush which you attach to the machine for cleaning grout.
This steamer does clean a whole range of things (apart from grout) around the home namely bathtub, cabinets, counters, hard surface floors and even your stove and oven. This is a steam only cleaner that uses no chemicals. The main complaint has been weak steam output in terms of temperature as well as poor quality plastic body. At a price of $300.00 this is disappointing to many users even to us as reviewers of the product. Nevertheless many other users have found the steam cleaner very effective and worth the money. This has only led to a mixed reviews for this model. You may read further reviews
before making final decision.
PROS
- water tank lasts much longer at 50 minutes continuous steaming compared to other models reviewed in this article.
CONS
- many owners of this steam cleaner have complained that the plastic used in the structural design is low quality and flimsy
- holding down the trigger to get steam presents ergonomic challenges
- the steamer has an apparent design flaw which makes handling painful due to ridges on the handle.