Pressure Washer Accessories
Karcher, FAIP, Briggs and Stratton
Pressure washer accessories are an important part of your pressure washer experience. Most manufacturers of pressure washers go out of their way to manufacture specific accessories that are designed to enhance or support your pressure washer there by enhancing your cleaning experience. Typical accessories for pressure washer include hose reels, spray gun attachments such as the spray flex, washer pump savers, scrubber kits amongst many other things.
Accessories available for your pressure washer are designed to increase convenience, for example when storing your hose, attractiveness to your equipment and more importantly safety of your equipment. There are literally hundreds of accessories for washers. As a general rule it is a good idea to use accessories designed by your pressure washer manufacturer. However, many accessories are size fits all brand type which you can use across brands. The following is a list of some of the accessories for washer available on the market today.
The Karcher Rotating Wash Brush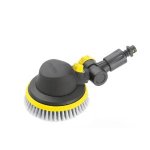 This is a rotating brush that is designed to help you clean certain surfaces with your Karcher pressure washer unit. It relies on pressure from your pressure washer to rotate some brushes located in the inside part of the accessory. The rotation of this rotating brush is gentle designed not to damage your surfaces. Many users who purchase this item plan to use it on windows, cars and other types of vehicles. You may also use this rotating brush to apply some soap or detergent to a smooth surface before cleaning off with your washer.
The rotating brush is attached to your pressure washer spray gun using accompanying wand which has a threaded nozzle end and a coupling. This equipment fits all Karcher pressure washers regardless of model. This accessory costs on average $50.00 when buying off the internet.
The Karcher T-Racer Wide Area Surface Cleaner
This again is part of pressure washer accessories from Karcher. It is a best seller selling at $70.00 per unit. Without being deceived by the looks in the picture here, this is a very light weight piece of equipment which is easy to lift around. It is designed to perform a sweeping cleaning in a hoovering style on a wide area surface of 12-inch in the shortest possible time. It will successfully clean your patio, terrace, and even your driveway and sidewalk. It cleans the surface evenly and can do the job in 25 percent of the time it may take you using the regular spray nozzle.
This is high speed spinning device which is practically designed for Karcher gas powered pressure washers of 2400psi to 2650psi. Users praise its ergonomic design which does not strain the arms. This is a highly rated pressure washer accessories amongst all the available pressure washer accessories. Thes best part is that it is not only limited to Karcher washers as it also fits many other different pressure washers available on the market. Some users have even successfully used it with a Craftsman pressure washer. We highly recommend this accessory. It's better purchased off Amazon for best deal.

Pressure Washer Accessories : Pressure Washer Cover
How do you protect your pressure washer from dust, blazing sunlight heat and cold weather when not working and also hide it from an intruder who may break-in into your store room? This cover is by Classic and designed to fit a variety of washers. It is true that this cover in as much as it is designed for most washers does not cover all pressure washers especially ones with bigger/taller handles. If it won't cover your washer completely you may consider leaving out the rubber lyres since these are rugged and often designed to resist most elements already.
By design the fabric on the cover is water resistant and repels the sun's rays even though it is black in color which we know to absorb heat. This cover will also increase the safety of your home should you have adventurous children who might insert fingers and other objects into the machinery. It is suitable for both vertical and horizontal shaft washers which by design have a different body build. This is an important part of pressure washer accessories and costs only $20.00

The Briggs And Stratton Pressure Washer Pump Saver
This $10.00 pressure washer accessory will save you up to $250.00 or more for a pump replacement. By the way if you ever need to replace your pressure washer pump try Comet pressure washer pump replacement. The washer pump saver is essentially a pressure washer pump winterizer. One of the main reasons for pump loss amongst pressure washer owners is a failure to properly store the washer for the winter season. The pump and hose must be drained of all water which will freeze in winter and cause permanent damage to the pump.
The pump must then be filled with an anti-freeze liquid which is were the pump save comes in. The winterizer liquid is also a lubricant which will protect you pistons and seals from damage. It can be used a wide range of pressure washers from different manufacturers.
Also own a steam cleaner? Follow link to read more reviews of steam cleaner parts and accessories
The Briggs And Stratton Fresh Start Fuel Stabilizer
Fuel stabilizer products are used on engines to help extend the life of gasoline. This particular stabilizer will prevent your fuel from going stale for up to 2 years. It is widely believed that today's gasoline deteriorates in quality rapidly which will your next engine start-up after a season of storage a total disaster. Adding this fuel additive will make it easier to start the engine on next use after long period of storage.
This fuel stabilizer is not only part of pressure washer accessories. It is used on virtually all small engines such as those found on snowblowers, lawn mowers and other home equipment including motorbikes. This is because most small engines a multi-purpose engines. This is a highly rated product for use with pressure washers with you can buy for $6.00. A 4.2 Fl. Oz. will treat 10 gallons of gasoline. Avoid by all means alcohol based stabilizers as these will eat-away some parts of your engine.
Pressure Washer Soap - is amongst some of the accessories you will need as you put your pressure washer to use. Soaps are designed for specific cleaning jobs. Follow link to learn more.
Pressure washer Turbo Nozzles - are a must have accessory for any pressure washer owner. Apart from boosting pressure of electric washers they help ypu any job faster and more effectively
Pressure Washer Accessories : The Spray Flex Gun Attachement
When using your pressure washer there will come times when you will appreciate flexibility in your pressure wand. For example when you want to reach certain places such as under your car, building eaves and pitched roofs. The Spray Flex Gun attachment which can be used with any pressure washer brand is your solution. It is attached to your spray gun and can take any form you bend it to for up to 90 degrees.
This means you can create a 90 degree bend to access certain spaces under your car for example easily. This gives it the ability to reach under, over, around and behind. This flex gun attachment is some 13 inch (33 cm) long and is only for use with cold water pressure washers of maximum 5000psi. This accessory sells for about $80.00 per unit.
Coxreels Steel Hose Reel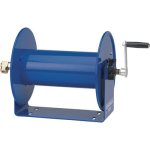 This hose reel is designed for your convenience when storing your pressure washer hose. It has mounting holes which you can use to mount the reel onto the wall in your garage or some other storage space. Please note that this hose reel is not for mounting onto your pressure washer and is also supplied without the hose. In most places it costs about $180.00 to acquire this unit. This essentially your storage accessory amongst other pressure washer accessories. when you want to store your washer in-between long periods of not in use. It is also possible to use your hose with your pressure washer whilst on this reel as long as it does not exceed 4000psi.
Even though it is made out of steel, it is a light weight pressure washer accessory. It can accommodate up to 150 feet of a 3/8in hose of any pressure washer. As a safety precaution to avoid hose backlash when unreeling, the reel is accompanied by an adjustable drag brake. It can also be used with a hot water washer or steam washer of up to 225 degrees.
Learn some important washer troubleshooting tips and pressure washer safety by following link. You may also consider renting a pressure washer instead of buying one.
FAIP Universal Large Surface Scrubber Kit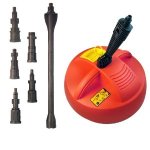 Selling for $50.00 online this is a highly rated large surface cleaner for electric pressure washers. Some pressure washer users with gas powered pressure washers have made a mistake before to use this kit on gas washers. Due to high pressure and power from the gas washers this kit can easily break. This is a kit for electric washers with maximum 2000psi.
Aside from these cautionary statements, this scrubber with a correct combination of washer (electric) will do a superb job for cleaning flat surfaces, decks, driveway, sidewalk and so on. This universal scrubber is for use with most electric pressure washers regardless of manufacturer. In fact it comes with four universal adapters for this purpose.
This large surface scrubber has a rotating structure underneath which is powered into rotation by a jet of water from your electric pressure washer. The scrubber surface covers a 12 inch wide area. It has inbuilt five different cleaning levels for versatility. The following are some outstanding features highlighted by users;
1. The scrubber is gentle not to damage items such as wood but powerful enough to remove accumulated drime.
2. Prevents water splashing onto other surfaces such as wood when cleaning.
3. Fits universally on non FAIP pressure washers.