Hoover Steam Cleaner Reviews
Disinfecting Steam Mop , SteamVac Carpet Cleaner
The Hoover steam cleaner is a brand that is manufactured by Hoover. Hoover has a rich company history of over 100 years. The company produces a range of products that includes vacuum cleaners, steam cleaners and other innovative cleaning solutions. The following are steam cleaner reviews for Hoover models. Unlike its competitors such as Euro pro, Shark, Bissell and Eureka, Hoover does not have a wide range of steam cleaners.
Some of its products labeled SteamVacs in advertisements are not strictly steam cleaners but are often deep carpet and hard floor cleaners using hot water or hot air to dry the floors. As a matter of hint, most manufacturers today tend to put misleading names in the titles of product models. A careful check the product is really what you are looking for is necessary.
The Hoover Enhanced Clean Disinfecting Steam Mop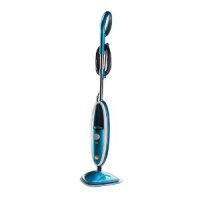 This Hoover steamer is identified as model WH20200. It is a relatively new product from Hoover which first appeared on internet stores such as Amazon
in early 2011. This hoover steam cleaner sells on average for $170.00. It is one of the two leading steam cleaners from Hoover. Unlike most of the steam cleaners that we have reviewed elsewhere on this website, this new model from Hoover surprisingly has a two tank system which for the first time allows the user to use a chemical solution to disinfect hard floors.
In the past few years the trend has been to manufacture steam cleaners that clean using water only in response to concerns about toxins and carcinogens contained in chemicals that can harm both humans, animals and pets around the home. This Hoover steam cleaner gives the user the freedom to use steam alone in cleaning or switch to a disinfectant solution on the second tank. The company claims the disinfectant is non-toxic.
Hoover claims that using the steam cleaner with the non-toxic disinfectant destroys up to 99.9% of harmful bacteria. Home owners can expert to kill salmonella, E.Coli, staph and swine flu amongst many others. Caution here is that these results are never guaranteed. They are so much a function of how you use the appliance closet to specifications in the owner's manual. Even then we believe it is important to take media hype with a pinch of salt.
This unit has a carpet glider which enables carpet cleaning. As the norm with steam cleaners this one also has a swivel triangle head giving it some greater maneuverability around tight spaces. See more pictures
of this steamer in action before you make a decision to buy.
PROS
- Steam indicator light informs the user when steam is ready. Many competitor models lack this useful function leaving everything to guess work.
- The triangle swivel head offers a good advantage in reaching difficult places
- The accompanying docking tray helps prevent your floor getting wet. You place your steamer on the triangle sharped dock to capture any water coming from your steam head.
- Very nice and appealing design
CONS
- use of disinfectant may be toxic if wrong chemical is used in the life of the steamer.

The Hoover Enhanced Clean Disinfecting Hand-held Steam Cleaner
This Hoover steam cleaner is model WH20100 which is essentially the hand-held version of the model WH20200 reviewed above. It also has a two tank system giving the user an option to use steam only or a disinfectant. This hand-held model is designed with the home owner in mind. It comes with several attachments that can be attached to the steam to achieve specific cleaning projects.
The company's decision to include the disinfectant tank is based on their belief that steam alone in unable to kill bacteria without having to expose a surface to a steam over a lengthy period of time. This steam cleaner sells for about $100.00 on the the internet. See more pictures
of this steamer in action before you make a decision to buy.
PROS
- hand-held, portable and able to reach almost any hard to reach spot in the home
- Well priced, good price for the service it offers
CONS
- too many attachments makes it laborious to change each one for a specific cleaning project around the home especially when moving from room to room.

Other Hoover Products Which Are Non-Steamers
As mentioned earlier in this article on Hoover steam cleaner reviews, we have observed that most manufacturers tend to label their products as steam products yet in reality they produce no steam. The following Hoover products are such ones. These are very good products for deep carpet cleaning except that they are not strictly steam cleaners as the model names would like the public to believe. It certainly takes a bit of more inquisitive research to establish which product is really a steamer especially for first time steam cleaner buyers.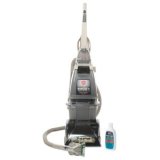 The Hoover SteamVac Carpet Cleaner - this product is model F5912900.This is a highly rated and recommended product if it suits your needs. It sells for just under $200.00 and nearly five out of five stars in user satisfaction. What this SteamVac produces is not steam but forceful hot air directed at your surfaces helping hard floors to dry faster and carpets to be cleaner. This model also has a two tank system. One tank for clean detergent solution and the other for dirty cleaning solution sucked in through the suction technology. Read detailed reviews
of this product.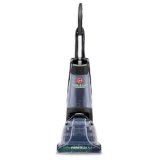 The Hoover Steamvac Carpet Cleaner - this product is model FH50010. It sells cheaper than the foregoing model at under $80.00 on average. This model is also highly approved by owners and users who have invested in it. We also recommend this carpet cleaner as optional investment to the model reviewed above. Again this is not a Hoover steam cleaner. It is manufactured by Hoover but produces no steam even though its name incorrectly suggests so. Read detailed reviews
of this model.
Follow link to read more reviews about steam carpet cleaners by Hoover