Simpson Pressure Washer Reviews
3200 psi, Hose, Pumps, Accessories, Dealers
The Simpson pressure washer first came on the scene in the late 1950s. Named after its inventor Jack Simpson the Simpson's washer was originally employed for the purpose of cleaning by industry professionals in the painting industry. Due to their high quality standards and durability as well as innovation the Simpson series of washers became accepted as the "Rolls Royce" of the industry. Those familiar with Rolls Royce know that it's a solid brand associated with high quality and durability. Simpson pressure washers are manufactured today by Simpson Cleaning Systems which is located in Decatur, Illinois.
Simpson has six key members of its power washer series namely the King Brute Series, Mega Shot, Mini Brute II Series, Power Shot, Water Blaster and Water Shotgun. The Simpson pressure washer engine is typically powered by Honda, Vanguard or Briggs and Stratton. Honda pressure washers are popular due to Honda engines they carry. The entire series is typically on mounted frames on wheels designed to sustain heavy duty use. This also makes them easily transportable. The pressure washers are also typically direct drive engine and pump system.
The following are pressure washers from Simpson that are available on the market;
Simpson Mega Shot Gas Pressure Washer 3200 psi Review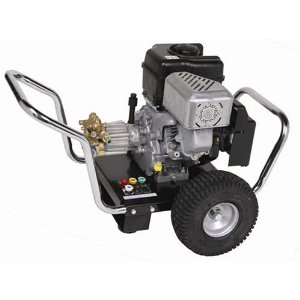 Selling for just under a $1000.00 on the internet this Simpson Mega Shot 3200 psi runs on a Briggs and Stratton 1100 Series Intek engine. It has stainless steel pistons producing 3200 PSI at 3 GPM. It has 10" steel wheels. It is essentially a heavy duty washer which is gas powered. It therefore falls into the category of other gas powered pressure washersfrom other manufacturers reviewed on this site.
The machine was designed with individuals in mind who are looking for commercial maximum cleaning power yet desiring a minimum investment. It is a sought after machine by painters and contractors who fancy a washer of compact design which can be moved from one place to the other by a single person. In fact it is small enough to fit in the trunk of your typical car. It has a direct drive engine and pump system. It has a coated steal frame preventing corrosion whilst at the same time giving a neat presentation. This washer has also been used by some individuals for washing vehicles and the exterior of houses in a home setting with great results. It might however not ideal for home use considering the price. There are other suitable home pressure washers with good prices and equal power such as those shown in these pressure washer reviews
Consumer feedback on this Simpson pressure washer is that it has an excellent motor and pump and has been found to be generally cheaper when purchased online off mega online stores such as Amazon
compared to brick and mortar stores in town. Buyers in carlifornia may not be able to purchase this washer as it is not for sale in that particular state. It has shipping weight of roughly 103 pounds. We give this washer a rating of four out of five stars due to its perfomance and aggregate consumer feedback.
Simpson Water Shotgun Industrial Gas Pressure Washer 3200 psi Review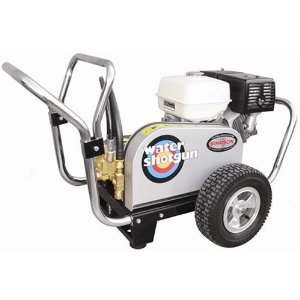 Typically found in the price range of just above $2000.00 on online stores this is a heavy duty industrial gas pressure washer. For its price it is not suitable for home use and is therefore popular with painters and contractors whose businesses gives a quick return on investment (ROI). This Simpson pressure washer falls into the water shotgun series and has 3200 psi (pounds per square unit) of pressure from a 4.0 GPM (gallons per unit) Honda GX340 engine. The engine processes more gallons of water per minute compared to the 3.0 GPM above.
This model has been praised for its suitability for serious commercial painters who typically work long hours on their surfaces preparing them for a good quality paint job. It is a type of equipment that you can use year after year. If you are considering purchasing this piece of equipment it is worth noting that it is only shipped within the United States if you are buying it from certain online stores
Other notable features and parts of this Simpson pressure washer includes an oil alert system telling you when your oil is low for top-up or when there is a leak. This is the best side of Honda engines avoiding engine ceasing. It also has a professional spray gun and wand which comes with a 5 quick connect spray tips. It has a dual-belt drive system and 13" aluminium mag wheels and a solid steel axle.
Other superb features to consider for this gas powered Simpson water shotgun washer;
1. Easily transportable
2. 5 Quick Connect nozzles - 0 degrees, 15 degrees, 25 degrees, 40 degrees and for chemical application.
3. Adjustable unloader
4. Easy-start valve.
5. Polished chrome handles for both front and rear giving nice sleak look.
6. Above all this washer meets Pressure Washer Manufacturers Association (PWMA) standards for perfomance ratings.
We give this pressure washer high regard. On our ratings it scores an overall four out of five stars. If your budget permits and you are in the heavy duty commercial business this washer is for you. It is certainly not suitable for household use. You may consider the campbell hausfeld pressure washer for that purpose which has price ranges in the region of $60.00 to $600.00 all depending on what use and power you are looking for.

Simpson Pressure Washer Parts And Accessories- Parts that are most sought after for the Simpson washer machines will include pumps unloader kits, pressure guns, hose and pump unloader manifold. These are all available normally from the same places were the washers themselves are sold. You may follow link to learn more about these parts and accessories.
Simpson King Brute Industrial Gas Hot Water Pressure Washer 3000 psi Review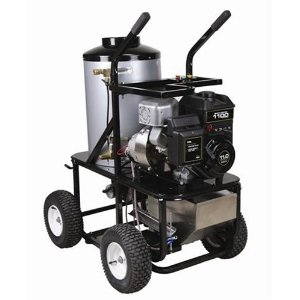 This Simpson pressure washer under the King Brute series is desiel or karosene fired. It sells on Amazon
for just under $3000.00. It runs on a Briggs and Stratton OHV 1100 series engine and produces 3000 psi at 3.0 GPM. This washer is designed for commercial heavy users of hot water pressure washer equipment. It is essentially an industrial machine that has a diesel fired burner generating over 100 degrees of temperature rise in a relatively short period of time.
Industrialists who use this heavy duty machine typically have long working hours of tough cleaning jobs of grease, dirt and mud amongst other things. This machine is arguably in a class of its own. It has a clean burning fuel efficient vertical combustion chamber. It is low profile washer sitting on a four wheel chassis for easy transportation. It also has a stainless steel burner wrap and an extra large steel fuel tank as shown in the picture. This allows the pressure wsher to be used for long hours on end as long as the whole day without need for any refueling. It has an onboard storage for spray gun, wand, high pressure hose and electric cord.
This product is Non-CARB Compliant and may not be sold or shipped to buyers with addresses in Carlifornia. It weighs 340 pounds. The following are some key points to note concerning this Simpson hot water pressure washer;
1. Safety relief valve in case of overpressure and also hi-temp limit switch
2. Long-life industrial triplex pump
3. Comes with a 65 Amp alternator
4. Low pressure detergent injector with pickup hose
If you are a heavy duty industrialist working long hours each day this Simpson pressure washer is likely to impress you. It is designed for the job from a reputable company. we give it a five out of five stars as the leading heavy duty pressure washer machine around.