Steam Carpet Cleaner Reviews
Hoover Reviews, Bissell Reviews
Steam carpet cleaner reviews of models on this page include a closer look at the best selling steam carpet cleaners revealing their strentghs and their weaknesses. We also give useful tips associated with steamer carpet cleaner use in general and those tips that pertain to specific models of carpet steamers being reviewed.
Steam cleaning as it relates to carpet cleaning is not strictly speaking steam cleaning as one might expect as done by handheld steam cleaners, canister steamers such as Ladybug steamers, hard floor steam cleaners or upholstery steam cleaners.
This claim is usually a marketing gimmick that most manufacturers use all across the board from Bissell to Hoover. Most products from these manufacturers are labelled as steam carpet cleaners. The closest they often get to true steamers is the heaters they might have to quickly dry carpets and floors. This means some models can realease hot air for this purpose.
It is important to realise that in its strictest sense, carpet steam cleaning does not involve steam. Most so called steamers for carpets work by realising a mixture of very hot tap water or machine heated water and a detergent solution into your carpet to do a deep cleaning that removes stuck-on food, soil particles and stains for example.
The carpet is often left wet and needing some time to dry up. Advanced and popular steam carpet cleaners such as some of those reviewed below will then release very hot air (which is not steam) to quickly dry your carpet or fabric.
Looking for fabric steamers? Follow link to read special reviewes of fabric steam cleaners. Also learn more about commercial carpet cleaners.

The Hoover SteamVac Carpet Steam Cleaner Model F5914-900
Highly rated and with thousands of positive reviews, this Hoover F5914-900 has been highly praised and celebrated by countless users and owners. It does your carpet deep cleaning using hot tap water mixed with your carpet detergent solution. It is used for cleaning carpets, upholstery and floors that are bare.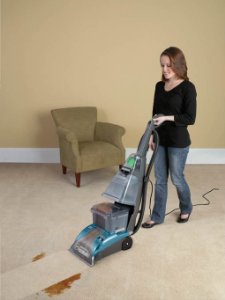 You may however not use it on your hardwood floor. For that purpose please look at our hardwood floor steamer reviews. There are special steamers designed especially for sealed hardwood surfaces. In as far as your floors are concernd this can be used hand in hand with your hard floor steamer.
It is one of those advanced steam carpet cleaners that releases jets of hot air to dry up your carpets and floors after wetting them with hot water. In order to get the best results when cleaning, it is a good and recommended idea to first begin by running your ordinary dry vacuum machine if you have one before using this one to wet the carpet. This minimises the amount of debris and particles that will be picked up and get caught up in the Hoover SteamVac brushes.
This Hoover Steamvac has also been particulary praised for is great ability to clean the stairs using the correct attachments.
PROS
- the heated drying system gives a thorough dry to carpets
- great design, sturdy
- light enough to move around, even when pushing
- very effective in removing a variety of stains e.g red wine stains, pet accident stains
- very limited drying time needed
- the separate accompanying detailer tool very effective dealing with tough stains
CONS
- no quick and easy plug and play set-up, manual reading a neccessity
- the Steamvac may struggle to remove old stains on your carpet
- high noise pitch, some users have measured up to 85-91dBA. At this level hearing protection becomes necessary
- several trips to the sink will be necessary to throw-away dirty water from the respective recovery tank
- some individual users have had challenges attaching the upholstery cleaning attachment

The transparent plastic water tank enables you to see when water this being sactioned. To help get a quick dry, use a simple method to keep vacuuming until you see less and less water coming up from your wet carpet.
Problems usually faced by many users when using this steam carpet cleaner can almost be narrowed down to these three main causes.
Namely failer to read the accompanying manual therefore failing to properly assemble the carpet steamer, leaving the dirty water cover improperly closed therefore weakening/stopping suction and leaving the unit uncleaned after cleaning projects. This leads to slow but sure accumulation of debris underneath especially arresting the brushes preventing them from turning.
We highly recommend this steam carpet cleaner. This is a great investment for your home and certainly a very good buy. It sells online in different stores and for under $140.00 in most cases. You may read more reviews about Hoover steam cleaners by following link.
The Bissell PowerLifter PowerBrush Upright Steam Carpet Cleaner
Again do not expect any steam to come out from this so called steam carpet cleaner. It is also technically not a steam cleaner by any standards. Just as the Hoover model reviewed above, this Bissell deep carpet cleaner is a low cost option which has rotating brushes that does the cleaning of your carpets. It has a 2-in-1 water tank that contains clean water and also holds suctioned dirty water.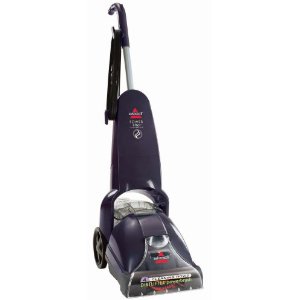 It also uses a cleaning formula and this can be bad news for anyone avoding the use of chemicals as you find with most genuine steamers. This model of Bissell steam carpet cleaner does not heat water. You will have to pour already hot tap water into the tank. This means its cheaper than more advanced Bissell models that heat up the water for you.
If the question be asked if this deep steam carpet cleaner will replace your commercial carpet clean needs, perhaps the most appropriate answer would be that this carpet cleaner reduces the frequency of your need of such.
It plays an important mantainance role around your home especialy dealing with frequent stains and accidents that might occur around the home. This is reflected in its price at $100.00 on most online stores.
PROS
- relatively quite in its operation
- very nice and sturdy design
- light weight, very easy to work with

CONS
- there is a general problem with this model of clogged detergent nozzles
- some users have complained of leakages, this doesn't seem to be a common pattern and may be as a result of individual defects and poor assembling by user.
- the entire unit is mostly cheap plastic and may easily break if subjected to heavy duty conditions
- not a fast carpet drier compared to the Hoover steam carpet cleaner model reviewed above.
This is a recommended alternative to the more expensive and advanced Hoover SteamVac Carpet Steam Cleaner Model F5914-900. It generally has above average ratings and reviews. You may read specific reviews for other Bissell steam cleaners.
Other Steam Carpet Cleaner Reviews To Consider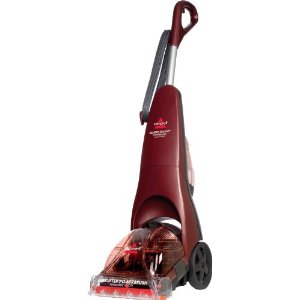 Bissell Quicksteamer PowerBrush 20803 - do not be fooled once again by the steamer name. This model is no steamer. It works in a similar way as the two models reviewed above. It sells for about $90.00 and cleans your carpet, area rugs as well as certain hard floors. Users have praised it for being very easy to use. The detergent solution for this model has also been noted to last a very long time. A relatively new model which enjoys average 4 out of 5 stars.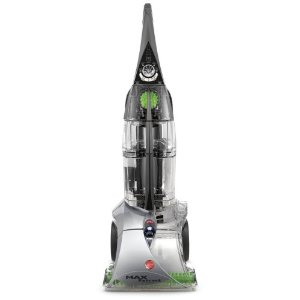 Hoover Platinum Collection Steam Carpet Cleaner - this is a high end deep carpet cleaner which comes with a direct heat system to help your carpet and floors dry very fast. It also has a rinse system designed to help leave as minimal detergent residue as possible. This is a fairly new model with above average ratings from hundreds of users. There have been complaints of the carpet cleaner being too heavy and bulky and also for using up a lot of detergent. This is in sharp contrast to the Quicksteamer above.