Handheld Steam Cleaner Reviews
Haan , Dirt Devil, PROlectrix Hand Held Steamers

Handheld steam cleaner reviews covered in this review include a range of steamers used in the home for day to day cleaning. These are manufactured by a wide range of manufacturers. When looking for a handheld steamer, it is of paramount importance to be clear of purpose of which the steamer will be used. This is the time to cut throw the media advertising hyper that is used by manufacturers to promote even steam cleaners that hardly meet most people's basic needs.
To begin with, a steam cleaner must produce hot enough steam in order to do a good job on cleaning projects. Most home users of handheld steam cleaners use them for cleaning the bathroom, upholstery, fabric, stove tops, ovens, windows, carpet, vehicle interior, dust mites amongst a whole list of uses. The higher the temperature of the steam released by the steamer the easier, faster and effective the steam cleaner. The following are all round expectations that you should have when looking out for a good handheld steamer;
-Hot enough
-Ergonomic handle
-Light weight
-Longer lasting steam
-Heat-up time
-Sturdy and does not tip over
-Tight seals that do not let water out
-Long enough cord
-Wide ranging attachments
-Chemical free
You will notice that on the above list the price of the unit is not considered immediately. This is because price should always come last after your satisfaction with the ability of the steamer to do what you are purchasing it for. Depending on the wattage some handheld steamers can sanitize your surfaces or disinfect them.
In most cases high wattage steamers even the canister types are able to clean more effectively as well as sanitize surfaces. The hotter they become the closer they get to be considered dry vapor steamers. The following are selected handheld steam cleaner reviews of steamers that we believe to be of a relatively high standard and to be considered in your research.
The Haan HS-20 Handheld Steam Cleaner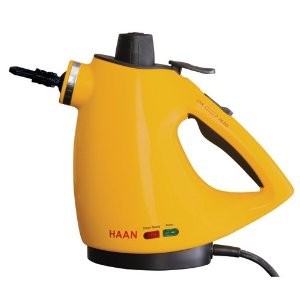 The Haan HS-20 comes with a 1000-watt heating system which is a fairly hot boiler considering that bigger and often commercial canister type steam cleaners have 1500 to 1700 watts boilers. As a result of the relatively high wattage this handheld steamer can kill germs, bacteria and dust mites and easily remove stains called by pets. It can also remove grease from grills amongst a long list of capabilities.
This steamer requires no distilled water and can work with tap water which you need to ensure is nit hard water. Hard water contains minerals that can damage the steamer. Heating up within 03 minutes and lasting 15 minutes the heating time is considered good enough. However, 15 minutes of cleaning time measured in steam is relatively on the lower side.
PROS
- has good safety features e.g. pressure lock cap, double-insulated code
- sturdy and durable construction for longevity
- wide range of attachments
- accessories bag appreciated makes accessory management easy
- chemical free cleaning
CONS
- failed to remove water faucet mineral deposits according to user feedback
- steam lasts a short time, takes long to cool down for refill
- struggles with certain tough grime to steam temperature limitations
Some complaints given by different users about this handheld steam cleaner seem to be as a result of wrong expectations of what the unit actually does. For example, never buy this steam cleaner to complete a one day major cleaning project around the home. This steamer will not deliver.
It satisfies expectations of doing day to day small jobs around the home. It is more or a less a maintenance steam cleaner. For bigger and longer cleaning projects you might consider investing in the bigger units such as the oreck steam cleaner, bissell steam cleaner and such others which are canister or upright steam cleaners.
The Haan HS-20 steamer is also well praised for effective grout steam cleaning.In terms of price, it sells for just under $60.00 online. You may read more reviews of Haan steam cleaner models by following link
The Dirt Devil PD20005 Handheld Steam Cleaner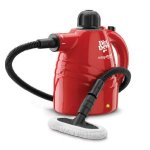 Considered one of the top handheld steamers on the market today, the Dirt devil is sturdy and structurally sound. It enjoys very high ratings and feedback from users of a variety of background including new handheld steamer owners and experienced handheld steam cleaner buyers and owners. The PD20005 comes with a variety of attachments which you need for each particular home cleaning project.
Attachments include those for cleaning your grout, your upholstery and fabric. It is essentially an upholstery steam cleaner as well as being a fabric steam cleaner amongst so many other around the home uses. It remove wrangles on clothing in addition to refreshing them. This Dirt Devil steamer lasts a little longer than the Haan HS-20 above at about 20 minutes if continuous cleaning on a single fill. The most common uses of this handheld are as follows;
- Sinks
- Windows
- Window seals
- Showers
- Bathrooms
- Stoves
- Sofas
- Couches
- Counter-tops
- Clothing
This handheld steamer uses no chemicals to clean only relying on tap water to clean with hot steam. Some design short-comings have been identified with this steam in as much as it is effective. The steam control button appears to have been misplaced on to the container itself perhaps instead of the handle. This gives the user an ongoing burden to be carrying the steam all the time whilst cleaning.
Using a hose attachment this handheld steamer can reach temperatures of 190F. Higher temperatures can be achieved by removing the hose and using the short attachment to prevent heat from being lost in the long hose. This is a good idea when wanting the hottest steam it can produce to remove grease and stains for example as well as grout cleaning and other stubborn dirt deposits. This model sells for about $33.00 online.
PROS
- no chemicals
- a great steamer for any pet owner, deals effectively with accidents
CONS
- can ge heavy and tiring to carry due to steam button on container

Hoover also manufacturers some high quality effective hand held steam cleaners. See our Hoover steam cleaner reviews which includes a handheld.

The PROlectrix Handheld Steam Cleaner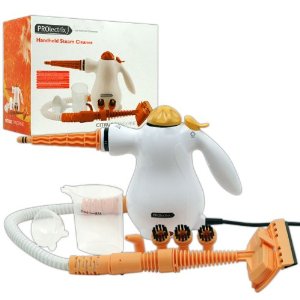 The PROlectrix Citrus tangerie steamer is amongst steamers to consider for all your handheld jobs. Compared to the other two reviewed here is provides the least amount of cleaning time with steam at only 12 minutes continuous steaming. It also has less attachments compared to the other two. At 1000W power this handheld steamer can give you hot enough steam to sanitize your surfaces, iron clothing and kill dust mites, bed bugs, germs and some bacteria.
The steamer is highly rated amongst users and owners. It has an ergonomic design for handling an area that causes untold discomfort with some badly designed steam cleaners. It comes with a16 feet electric cord and a water funnel to help you safely refill the 220ml water tank. User have complained about the long waiting time for the steamer to cool down before refilling. As a result some have devised a plan to preheat some refill water in the microwave to cut on waiting time. This can is not recommended by the manufacturer and should only be done by an experienced user. This model sells for about $33.00 online.