Pressure Washer Reviews & Ratings
Karcher, FAIP, AR North America
Pressure washer reviews and ratings in this article are categorized into best selling and highly rated home electric pressure washer, industrial heavy duty gas powered pressure washers as well as hot water pressure washers.
As you go about your search for the best pressure washer to buy you might also want to take into account our pressure washer troubleshooting article which encourages a thorough search of the best suitable washer to avoid trouble down the road as you use your washer.
Some washers require pump oil as part of regular pressure washer maintenance. Follow link to learn more about best pressure washer pump oil products to use.
One important tip here is to always remember that price should be your last consideration if possible. Attempt by all means to satisfy yourself with the capabilities of a washer in the context of your intended use, its durability and after all the price.
The following are reviews and ratings for specific home electric pressure washers;

The AR North America Electric Pressure Washer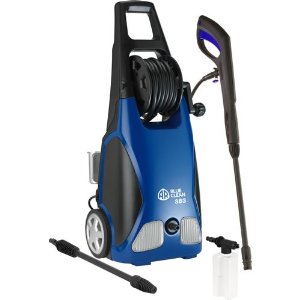 This is a typical home pressure washer from AR North America. At 1900psi and 1.5GPM water flow rate this is a light to medium duty washer. Selling at a price of about $150.00 on average on the internet this is one of the best selling and highly rated lower end portable pressure washers that fit most consumer pockets. The washer has an on board hose reel and soap or detergent dispenser.
This washer will do your sidewalk, garage floor, driveway, patio and grill cleaning including your car and ATV. It's a suitable home electric high pressure washer. Below are some common PROS and CONS experienced by a variety of owners. Apart from the CONS mentioned some users have had unique yet uncommon experiences with specific units of this model such as pressure loss after an hour of use out of the box. This washer is often also available as a used pressure washer and/or as a refurbished pressure washer.
PROS
light weight and good looks
power cord satisfactorily long
at 1900psi the washer has strong power for a home washer
low maintenance unit and less noise compared to gas washers
price just right
CONS
poor hose construction leads to hose entangling itself
difficult to use reel
the connection to the hose is plastic is prone to leaking (some users replace with a brass one)
the pressure wand feels and looks weak
Despite the CONS, altogether this is a highly rated pressure washer averaging four stars in positive consumer feedback. This presents potential buyers something to lean on as they make a decision to purchase.
Follow link to see specific pressure washer reviews for 2500 psi pressure washer, professional pressure washer such as 3000 psi pressure washer, 4000 psi pressure washers and the popular Husky pressure washer.
Pressure washer Reviews & Ratings:The Karcher K2.28 Electric Pressure Washer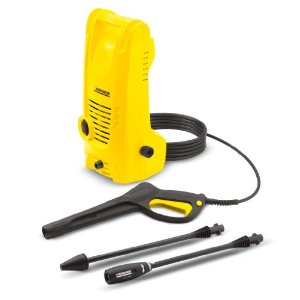 This cold water Karcher electric pressure washer is designed for home use at 1550psi of power and a flow rate of 1.3GPM. It is a compact machine which has been very popular with many home owners for day to day basic but extensive cleaning of the pavement, sidewalk, driveway, patio, grill, vehicles and so on. The 20 foot hose offers some reasonable working distance. Lower power pressure washers have shorter hoses. This is due to the physics of pressure being lost if the hose is made any longer.
This washer just as other washers in these pressure washer reviews runs on an electric motor which is kick-started when you pull your spray gun trigger. This is when pressurized water comes out and stops as soon as you release the trigger. This gives your pump longer life. This washer is affordable selling for under $100.00 online. It is portable and compact praised for its ability to use 80 percent less water perhaps compared to gas washers and of course hot water washers. For washers that allow quick connect tips purchasing a pressure washer turbo nozzle for an additional $20.00 or so will give you a significant boost in pressure to do some harder projects around the home even in less time.

CONS
the 1550psi pressure can do some extensive home cleaning without need of soap or detergents
saves storage space due to its compact size
PROS
the electric cable reduces extent you can go and also increases entanglement
lack of auto-spray on trigger may be annoying and cause your fingers to get sore if you are doing a long project.
As you look at pressure washer reviews on this page, you may also consider the various available Karcher pressure washer parts and accessories as well as a selection of 1500 psi washers. Also learn more about the importance of pressure washer PSI by following link.

Pressure Washer Reviews & Ratings: The Snap-On 870552 Electric Pressure Washer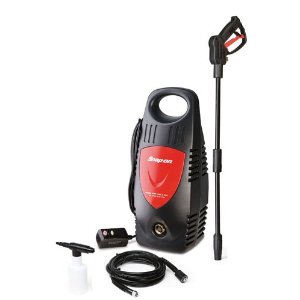 This Snap-On cold water electric portable pressure washer is also a common home washer with high consumer ratings. Selling for just above $100.00 it has a slick appealing design and is compact. This 1600 psi electric washer is slightly better in power than the foregoing washer. It is ideal for light home projects as well such as your pavement, car, grill, patio, deck and so on. Large surfaces will cost you more time to clean due to the relatively lower pressure it produces.
The pressure washer is GCFI certified. The electric code has double insulation to prevent shock around the home something to be appreciated were you have children and pets. The electric code is 30 foot long and the hose is 20 foot long. The spray wand is an adjustable type. Quick connect spray tips cannot be used on this unit.

PROS
the fittings made in brass makes water tight and long lasting seals than plastic fittings which leak often
this is one of the easy to assemble washers out of the box

CONS
extra care will be needed just like the Karcher one above to avoid entanglement of hose and electric code
even though this washer has brass fittings it is largely a plastic appliance. If you dislike plastic which many people do due to leakages and apparent weakness, this might be a downside for you.
the washer may be rather on the slow side if you are to do larger areas.
This unit also carries very good ratings from different users. We recommend it as a good buy.
Follow link to read more reviews on Briggs and Stratton Washers and John Deere washers also see reviews on on best pressure washers If you prefer portable washers see this range of Bosch pressure washers
Pressure Washer Reviews & Ratings: The McCulloch FH140A Electric Pressure Washer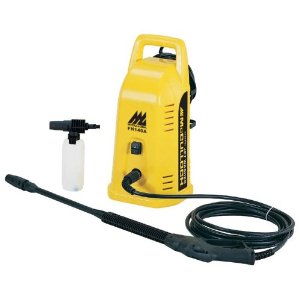 This home cold water electric McCulloch pressure washer has output power of 1400psi. This is significantly lower than of those reviewed above. This makes this washer essentially suitable for very light around the home jobs such as your car, grill, pavement and removing bird droppings. The turbo nozzle will not work here because the washer does not facilitate the quick connect system used to change nozzles. It has pre-attached nozzle settings that you can vary on the go. This is really an entry level washer selling for about $90.00.
It has average ratings. One can imagine the challenge with this washer has been over expectation blinded by the low price for many people. As our advice has always been on this site, price should perhaps be the very last consideration. First ensure you get what you are looking for in delivery.

PROS
easy to store, low maintenance
extremely easy to set-up out of the box
CONS
a little bit noisy
good for small jobs even around the home
uses soap/cleaner too fast
We only recommend this pressure washer for light day to day home duties. Do not purchase this washer with high expectation. You might consider taking a look at our pressure washer psi guide for the best suitable washer unit for your projects.
To view pressure washer reviews of heavy duty gas powered pressure washers and hot water pressure washers follow the links; gas powered washers, hot water pressure washers. Also see our list of best electric pressure washer reviews models and the dewalt pressure washer series.

The FAIP Powerwasher PWS1600HSA Electric Pressure Washer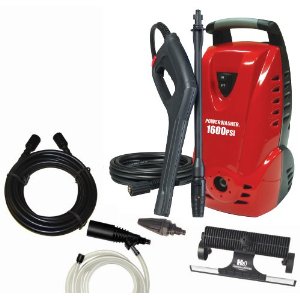 This FAIP pressure washer is a 1600psi washer at 1.5GPM Powerwasher model designed with day to day household cleaning projects in mind. It is a cold water electric washer with a lance turbo nozzle and a variable nozzle for high and low pressure. This washer has good ratings which makes it a recommended buy for us. Selling for $140.00 on average this is amongst low-end pressure washers in terms of price. It can do your sidewalk, grill, car, patio, remove bird droppings, spider webs and so on around the home.
You may view more FAIP pressure washer reviews within this site by following link.
PROS
good delivery for the money
compact
appealing design
overall positively rated

CONS
lack of wheels adds to logistical headache when moving it around whilst cleaning

See our tips on on choosing a pressure washer
Pressure Washer Reviews & Ratings:The Karcher K5.85 Electric Pressure Washer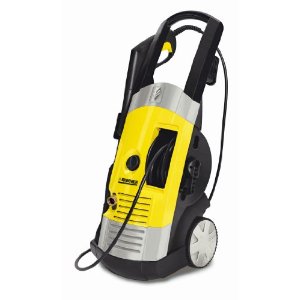 Selling at nearly $300.00 this pressure washer is understandably an expensive washer amongst cold water electric pressure washers. However, most owners who have purchased this washer have been attracted by other features and functionality that proved more important than the price. At 1850psi with a 1.5GPM flow rate this is amongst high end electric washers for home use in terms of the water pressure output. The higher pressure permits the washer to have a bit longer hose at 25 foot.
The on-board hose reel is amongst the most praised features of the washer. It allows easy storage of your hose which helps in preventing entanglement. It has a special motor called an induction motor which tests show it lasts up to three times longer than other ordinary motors. It has an on board detergent/soap/cleaner compartment whose contents can be applied using a low pressure control on the wand which initiates discharge of detergent.
PROS
the inbuilt hose reel is a great feature
the aluminum pump lasts longer than other pumps
fairly priced
operates quieter

CONS
be careful with garden hose connection can break-off if mishandled
priced rather on the high end
Karcher pressure washer are generally highly rated and respected for durability and effectiveness in cleaning jobs. This is particulary the case with gas powered models. However, even these electric ones also enjoy top ratings on pressure washer reviews in the industry. Karcher is amongst top pressure washer manufacturers.