2500 PSI Pressure Washer Reviews
Karcher , Campbell Hausfeld, Briggs & Stratton
2500 psi pressure washer models are considered mid-range to commercial grade washers.
Washers in this category are in most cases designed for professional and commercial
service. For this reason they are often gas powered pressure washers which become unsuitable for use around the home due to their high noise levels as well as environmentally unfriendly fumes.
Most 2500 psi pressure washer units come mounted on a frame with all terrain rubber
wheels which are often puncture resistant for the work site and for quick and smooth
mobility.
They also have a detergent injection system to enhance your cleaning capabilities. Depending on what best suits your needs even though most washers in this category are cold water washers, it is possible to find on the market hot water washers with output power of 2500 psi.
The following are some selected 2500 psi washer models currently available on the
pressure washer market;
The Karcher 2500 PSI Pressure Washer G2500OH Honda Engine
This is a gasoline powered pressure washer has power to do jobs professionally. What is particularly remarkable about this machine is its Honda GC160 OHC engine. When it comes to gas washers, Honda engines are the best rated. They particularly last longer and are typically easy to start often starting at single pull.
The brand Karcher itself is reputable. Karcher machines are respected due to their German design by German engineers. Even though this washer is recommended by the manufacturer for use around the home most home users prefer smaller less powerful day to day power
cleaning washers. This is as a result of already mentioned reasons of noise and fumes but over and above that also because of the dangers of a more powerful washer around the home.
At 2500 psi this pressure washer can easily damage wood and certain delicate surfaces. As
a result less powerful 1500 psi washers or 1600 psi electric washers are often preferred. This washer comes with a quick connect nozzles of 0, 15 and 40 degrees including a special tip used to apply detergent known as the soap nozzle for use with pressure washer soap. You will also be able to use a turbo nozzle with this washer for extra power.
This washer comes with a strong 25 foot long steel braided hose and an insulated lance
tell-tell signs of a professional commercial beast. The following are some uses this
machine has been tasked to do and delivered;
concrete driveway
patio
motorcycles
lawn equipment
Side walk
patio

PROS
powerful output for around the home cleaning
detergent injection downstream welcome, protects pump from corrosion
very strong lasts a long time in service
CONS
due to vibrations users have complained of unit moving on its own. Solution is to place it on grass.
users have complained of high detergent consumption by machine
noisy when in operation
We recommend this washer as a good buy. As the years have moved it is getting harder and
harder to find and constantly out of stock. It sells for just under $230.00 on Amazon.

You can have a look at some of our recommended Karcher pressure washer accessories for use with this washer. Also follow link to see Karcher electric pressure washers reviewed on this site as well as some Karcher pressure washer parts.

The Campbell Hausfeld 2500 PSI Pressure Washer PW2575 Honda Engine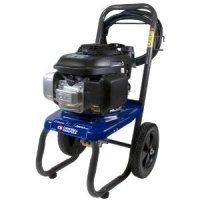 Campbell Hausfeld is also a respected and well known American brand. This model PW2575 enjoys overall above average from satisfied owners. It has a maximum pressure output of 2500 psi and water flow of 2.4 GPM. It also runs on a Honda engine. The engine model is the GCV160 gas powered. We give thumbs up to Honda engines. A pressure washer with a Honda engine is likely to last longer and to be very effective in cleaning capabilities.
This unit sells online for just about $315.00 and is amongst less expensive 2500 psi gas powered cold water pressure washers. It has a 25 foot length hose. In the same way as the above reviewed washer, this unit comes mounted on a compact cart with pneumatic wheels for mobility on professional job sites.
It has chemical injection through a siphon tube which you immerse in a bottle with your soap or detergent for automatic siphoning. It comes with two spray lances with the second one designed to boost pressure up by an additional 150 psi to maximum 2650 psi for handling tougher jobs. This second lance is extremely handy at certain job sites.
PROS
quick and easy to start
easy maintenance
2nd lance appreciated and the extra power it provides
CONS
some users have complained of difficulties attaching certain parts such as hose
We recommend this washer as a very good buy. It is worth investing in for professional and commercial use. You may follow link to see more Campbell Hausfeld pressure washers reviewed within this site.
The Briggs and Stratton 2500 PSI Pressure Washer 20420
Designed to appeal to the eye, this Briggs and Stratton 2500 psi pressure washer is a gas powered cold water pressure washer which sells for about $330.00 online. Compared to Karcher the first review above, Briggs and Stratton whilst well known has not had very good ratings from owners. The problem has been particularly to do with its engine.
Briggs engines are considered flimsy and for some reason vulnerable to easy breakdown. This has generally had a negative impact on most Briggs and Stratton model ratings particularly of gas powered cold water pressure washers. In considering to purchase a Briggs machine such as this one here it is of paramount importance to take into account this perception about its engines.
This unit comes with a Briggs and Stratton 675 Series engine. It is designed to be an easy start pull engine. On the market so far Honda engines have the best track record for starting on first pull. This makes Honda powered pressure washers highly appealing for most pressure washer shoppers.
This model of the Briggs comes washer has a total of four tips namely the 0 degrees, 15, 40 and the unique 65 degrees soap tip. These tips can work to customize spray pattern depending on the surface being cleaned. You can also attach a turbo nozzle to this washer for more power for challenging jobs. You may have a look at more briggs and stratton washer reviews.