Pressure Washer Turbo Nozzle
NorthStar, FAIP, Briggs and Stratton
A pressure washer turbo nozzle is an important accessory for any user of a pressure washer machines. By way of background pressure washers are transformed into pressure washers by the work of pressure washer nozzles which are attached to the end of the pressure washer wand. In most cases manufacturers of pressure washers such as Simpson, FAIP, NortheStar and many others supply a washer complete with a four or five set of nozzles.
These nozzles have a universal color code which represents their degree of spray when in use. Nozzle spray at varying degrees ranging from 0 degrees, 15 degrees, 25 degrees and 40 degrees. Right in front of the nozzle there is what is mechanically known as the orifice. It is this orifice which is responsible of controlling the intensity and angle at which pressured water flow is released from the pressure washer machine through the pressure washer wand. The mechanical rule in operation concerning pressure washer nozzles is that the larger the orifice the lesser the pressure.
A pressure washer turbo nozzle essentially belongs to pressure washer accessories. It is rarely supplied with a new pressure washer and is therefore purchased as an accessory to your washer. Different manufacturers do manufacture pressure washer nozzles as you shall see in the following reviews on specific turbo nozzles from various manufacturers. However, the mechanical concept of this mechanical technology is the same.
Turbo nozzles are also known as rotating nozzles because when in service they rotate under water pressure and produce a pin-point spray similar to that produced by a 0 degree pressure washer nozzle which is red coded. A pressure washer turbo nozzle typical positions itself as a better than zero degree nozzle. It is also used to increase pressure from lower pressure washers such as some electric pressure washers. For example, by attaching a turbo nozzle to a 1500psi pressure washer you may successfully do a job required by a 2000psi washer. For this reason turbo pressure washer nozzles have commonly been also used to step-up pressure of ordinarily low pressure washers.
There are specific jobs that your turbo nozzle will achieve for you. Since these nozzles produce aggressive pressure, they are used for cleaning sidewalks, removing stubborn oil stains and grease from walls and certain floors. Speed of cleaning is also increased compared to a standard fan spray nozzle. Some tests put a turbo nozzles at two times faster than standard fan nozzles. Most pressure washer turbo nozzles available on the market today are meant for universal use. This means they are designed to fit pressure washers from a wide variety of pressure washer manufacturers.
As you do your shopping for the best turbo pressure nozzle, there are a few tips you will need to take with you. The most important consideration is that your identified turbo nozzle is compatible with your wand. Most turbo nozzles are quick connect nozzles with a 1/4 inch male plug which is designed to snap into a 1/4 inch quick disconnect female coupler which is found at the end of your pressure wand. In some cases to get the turbo nozzle working with your wand you might need to also purchase separately the correct size of the quick disconnect female coupler.
Avoid purchasing plastic turbo nozzles. They will likely break apart under pressure.
Secondly you also need to take into account the quality of the turbo nozzle itself. This particularly refers to the material used to manufacture the nozzle. Avoid pressure washer turbo nozzles. There are enough complaints of these accessories splitting into pieces on introduction of high pressure flow from your washer. There are other stronger turbo nozzle that can handle high pressure flow. Related to this, ensure that you purchase a turbo pressure washer nozzle that is mechanically rated for your pressure washer power and flow in gallons per minute - GPM.
By way of reminder, due to the fact that turbo nozzles have rotating parts inside they last much shorter time than traditional nozzles. This means you might find yourself replacing them more frequently that your regular washer nozzles. Dropping them will also likely damage them it is therefore of paramount importance to keep them in a safe and secure place when not in use. The following are some of the highly rated turbo nozzles. We however start by reviewing one of the worst rated pressure washer turbo nozzle to illustrate how poor turbo nozzles can be even those certified to appear on the market;

The FAIP Universal Pressure Washer Turbo Nozzle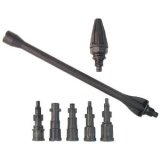 This turbo nozzle sells for just under $20.00 and is manufactured by FAIP the makers of FAIP pressure washers. It is designed to be a universal kit which comes with a lance accessory kit fitting a variety of pressure washers. Even though the manufacturer claims this turbo nozzle is made from high quality materials its marketing rating from users has been extremely dismal. This is one turbo nozzle to avoid. It is sold on Amazon and has received negative reviews. We do not recommend this turbo washer nozzle.
The main complaints about this nozzle has been its high propensity to dismantle within a short period of use under high pressure flow. It is made of plastic, a great mistake for a turbo nozzle. If you already have this nozzle or have one one the way some users have find success by wrapping the wand in glass fiber tape to strengthen the turbo nozzle from breaking apart.
The Super Heavy Duty Turbo Pressure Washer Nozzle
This nozzle is one of the best turbos available on the market and highly recommended. This nozzle can handle up to 5100psi of pressure and is designed for pressure washers with output of between 3000psi to 5100psi. You can use this turbo nozzle to literally remove growing in between concrete grooves for example.
To avoid gorging wood and damaging fragile surfaces you might consider reducing power on your pressure washer. This is a powerful turbo nozzle which is also durable and highly rated by different satisfied users. This is a NorthStar turbo nozzle and will perform well with NorthStar washers. However you can easily connect it to any pressure washer wand that has a 1/4inch quick-connect plug. This nozzle will cost some $100.00 on average to purchase. It is available for purchase from the Northern Tool website.
The Briggs and Stratton Turbo Nozzle
Manufactured by Briggs and Stratton this is a universal turbo nozzle fitting a variety of pressure washers. It can support pressure flow of up to 3000psi and is considered a heavy duty quick connect turbo nozzle. A great concrete cleaner for your sidewalk and driveway. Expect to part with some $80.00 on Amazon to acquire this turbo nozzle. This turbo nozzle, it a very good alternative purchase to the Northern Tool and Equipment turbo nozzle previewed above.

The NorthStar Pressure Washer Turbo Nozzle
This is rather a low priced version of the heavy duty turbo nozzle discussed above. This is a $40.00 turbo nozzle which can handle maximum 2500psi pressure compared to the 5100psi maximum pressure of the heavy duty pressure washer. This is a quick connect turbo nozzle that is delivered on purchase with the quick couple plug. This turbo nozzle is recommended and will not disappoint. This nozzle may be too strong for some surface you may consider adjusting your pressure washer power.