Campbell Hausfeld Pressure Washer Reviews
PW1350, PW1810, PW1805
The Campbell Hausfeld pressure washer machine has a rich history. Campbell Hausfeld the manufacturer of this pressure washer range began operations in 1836 with the production of horsedrawn wagons and agricultural equipment. It later moved into the manufacturer of consumer and professional pressure washers. It is in the league of its peers such as Northstar pressure washer manufacturer Northenend Tools and Equipment and Simpson pressure washer manufacturer Simpson Cleaning Systems.
Campbell Hausfeld pressure washers have a sound market command with many of their pressure washer models used in thousands of homes across the United States and some countries across the world. The company has categorized its washers into three main classes determined by the pressure of the washer measured in PSI (pressure per square inch) and the amount of water that is released by the washer under pressure per minute measured in GPM ( gallons per minute).
The first category is that of Standard Duty pressure washers ranging from 1300 psi to 2400psi. Typically these washers have an electric engine and wobble pump with a few in the up-end of this category particularly those with 1800/2400 psi with a gasoline powered engine. You may consider a standard duty Campbell Hausfeld pressure washer if you intend to clean your riding mower, grill, bicycle, boat, car and a 10ft x 20ft deck. Washers in this category are not recommended for exterior foundations and eaves and walls.
Next is the Serious Duty category which includes pressure washers of between 2000psi and 3000psi. These washers are more powerful as shown by the psi measurements and run on OHC, OHV and premium gasoline engines with an axial pump. The higher end washers in this category i.e. those with 3000 psi are not recommended for some jobs that the standard duty models do such as cleaning your mower, grill and bicycle. This is a precautionary measure. The pressure it releases is to high it might damage these items for example it might gouge the wood. A Campbell Hausfeld pressure washer in this category would be a good buy for your eaves and walls taking only about 3 hours 20 minutes to complete the washing job.
The final and highest category is the Extreme Duty category. In this class you have pressure washers with between 2000psi and 3500psi running on OHV and premium gas engine with camshaft pump. The are extremely powerful washers by Campbell Hausfeld pressure washer standards with the higher end washers of 3500psi taking only 2 hours 15 minutes to do your house exterior such as eaves and walls. These are average times which are subject to your individual experience in using the washers and so on.
To its credit, Campbell Hausfeld manufactures some of the most water efficient washers. For example their washers use up to 80 percent less water than you would use if you were using your garden hose to do all the home cleaning work. They are extremely suitable for around the home duties and some relatively light jobsite duties. The home suitable washers have very attractive design which makes them nice to behold and to use around the home. The electric pressure washers are typically designed for use in home environments and small businesses.
The gas powered pressure washers are specifically designed for tougher cleaning duties and come on wheeled carts for easy movement and portability. However even though a Campbell Hausfeld pressure washer is amongst some of the best washers, it is clearly outdone by Northstar washers when considering heavy duty commercial use washers. Most heavy industrial users prefer Northstar pressure washers. On the other hand Northstar is not as brilliant as Campbell Hausfeld when it comes to home washers. They are good at and specialize more on businesses and industrial pressure washers.
Campbell Hausfeld Pressure Washer Parts - are available for various purposes. Ensure that you purchase genuine pressure washer parts to avoid further damage to your pressure washer. You may follow link to learn more about pressure washer parts for Campbell Hausfeld machines.
The following are reviews of selected Campbell Hausfeld pressure washer machines by ;
Campbell Hausfeld PW1805 1800 PSI Electric Pressure Washer
Model Number: PW1805
This home pressure washer releases water at a rate of 1.5 GPM and pressure of 1800 psi. It falls into Campbell Hausfeld pressure washer categorization of a standard duty pressure washer as discussed above. This means it is suitable for home use. It is in fact in the high end of the standard duty pressure washer category of Campbell Hausfeld. It is good for your car, boat, relatively small deck, driveway which is about 800 sq feet and your grill and bicycle.
This pressure washer runs on electricity. This means you will need to run the supplied 35 foot electric cord from your house to the washer if you are working outside. This is not always a good idea with other individuals. It has an instant start and stop feature whose function is to protect the motor and prolong its life. It only starts when you need to spray and shuts off when you stop. It comes with a 20 foot high pressure hose. It is amongst Campbell pressure washer models that use 80 percent less water.
Overall this pressure washer is an Amazon best seller
in the context of being in the top 4 best sellers in the home improvement category a category with hundreds of other pressure washers. This washer produces steam which works wonders in disinfecting and degreasing certain surfaces and objects around the home.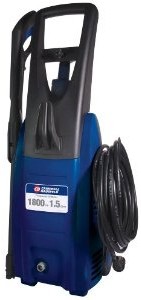 We give this washer an overall rating of a near four out of a possible five stars. It works very well in a home setting but has apparently carried with it key disappointments which we think shouldn't be for a washer. However, some individuals with industrial cleaning businesses such as heavy painting have used it as a support pressure washer to heavier more powerful pressure cleaners on jobsites. This is particularly due to the fact that it does not gouge the wood as other stronger washers would do. Some users have however complained of having trouble with their order of the washer. For example the 2009 model does not take extension codes without being damaged. Other users have also complained that their washer of this model failed to build up pressure after an initial 30 hour use.
The following are some sentiments from people who have purchased the Campbell Hausfeld PW1805, 1800 PSI electric pressure washer;
1. Pressure washer does a great job on medium sized projects.
2. Washer very good at removing stains and grease.
3. No leaks, no fragile plastic, no missing parts.
4. The machine is great. The accessories not that great.
5. Disappointed by model's requirement that no extension cable be used.

Campbell Hausfeld PW1350, 1350 PSI Electric Pressure Washer
Model Number: PW1350
Perhaps one of the most popular pressure washers. It seems most folk prefer this washer particularly because of its $100.00 price tag on stores like Amazon
. In fact the washer was in the top 50 best sellers in the home improvement section on Amazon. It falls into the standard duty category of the three categories available at campbell hausfeld. It is typically a quick buy
type of pressure washer due to its price hence its popularity.
At 1350psi pressure and 1.3GPM this pressure washer will accomplish many of the homeowner's projects such as car wash, deck wash, patio, driveway and grill. It certainly won't do any heavy duty work such as paint stripping. Apart from the price we also like this pressure washer because of its portability. You can literally carry the washer in one hand and your spray gun in the other hand. It is a good buy if you pay someone every year to do your cleaning. Probably you pay over $100.00 per each job done. This is what makes this campbell hausfeld pressure washer a very good buy.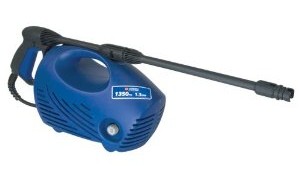 Even though it works very fine, at its price our assessment is that most individuals expect too much without considering its price. Should your plan be to do more heavier jobs even industrial ones try Northstar pressure washers, Simpson pressure washers and others especially gas powered washers.
We give this washer four out of five stars. We are aware some people as expressed in the sentiments below have been disappointed by it, we however feel its been a case of too much expectation from a $100.00 product. Keeping things in perspective this is an excellent product for a homeowner looking to do light duties and projects. The following is a mixed bag of sentiments concerning this washer;
1. This is the best pressure washer i have ever owned.
2. I like the rear entry of the hose to the spray gun handle from pump.
3. Plastic coupling doesn't allow dragging garden hose without breaking the coupling.
4. I have never had a product break so quickly in my whole life.
5. Small and portable it actually fits in a bag.
6. I notice that water drips on the floor where it will be sitting

More Campbell Hausfeld Pressure Washer Reviews

Campbell Hausfeld PW181000AV - This pressure washer has 1800 psi and 1.6GPM and is powered by electricity. It has dual detergent bottles with a selector. For those who want to reach certain parts of your home it has a 35 foot electric cord which works fine in standard households. It also has a 25 foot high pressure hose supplied. It is considered by many as the ultimate "Do-It-Yourself" tool. Overall this pressure washer has very poor ratings and many individuals have been disappointed with it.

Campbell Hausfeld PW2685
- Powered by commercial Grade CAT 3DX pump and a 6 HP Robin Sabaru engine this campbell hausfeld pressure washer is in the extreme duty category of Campbell Hausfeld washer machines. It is affixed to a heavy duty steel cart and pneumatic wheels. The downside is that it is non-CARB compliant and cannot be sold in places such as California in the United States. The washer is suitable for home use but more so for industrialists requiring greater power.

Campbell Hausfeld PW4070
- This is an extreme duty pressure washer releasing 3.5GPM at 4000psi. It runs on reputable CAT pump and GX390 Honda engine. It has a 50 foot high pressure hose which is ideal in reaching different places without moving the pressure washer. It is affixed on a cart with onboard storage of spray tips, gun and lance. The washer comes with a 3 year limited warranty. This pressure is powered by gasoline and is indeed for serious projects. We like it, a good buy.