Comet Pressure Washer Reviews
Pump, Parts, Pumps, Comet Pump
Comet pressure washer models particularly refer to certain pressure washers that have their pumps supplied by comet. Apparently manufactures one of the most reliable and powerful pumps that are used in heavy duty industrial pressure washers. Pressure washerconstruction in a similar way as aircraft often involves pressure washer parts that come from different manufacturers. This means it is possible to find a pressure washer running on CAT engine and Comet pump. The following are reviews of certain pressure washer machines that have their pump powered by Comet.
BE 13HP Honda, 4000 PSI, Comet Triplex Pump
This particular pressure washer is manufactured and assembled by BE Industrial Pressure Washers a pressure washer manufacturer in the same league as Simpson pressure washer,Campbell Hausefeld pressure washer,FAIP pressure washer and NorthStar pressure washersamongst others. What makes this unit called a comet pressure washer is the fact that its pump is a comet pump. It is in fact a Comet Triples pump suitable for heavy industrial use pressure washers.
The pressure washer runs on a 13 hose power (HP) Honda engine and produces 4000 psi at 4.0 GPM. As is typical of any industrial pressure washer this unit is gas powered and has on board a steel gas tank. The pump model on this washer is industrial grade. It has an adjustable unloader for pressure, external bypass hose and a special feature that protects the pump from overheating called the thermal relief valve. The pump also has a quick connect coupler.
This Comet pressure washer will satisfy your industrial heavy duty needs. Note that at 4000 psi and 4.0GPM the washer is hardly suitable for use around the home. It's like employing an elephant to do your home garden. It is so powerful it will likely damage your property. On industrial sites it is used to strip paint off buildings before repainting and will likely damage your car by removing paint or breaking windows if used for this purpose. If your quest is to find a home pressure washer you will probably need one of the electric pressure washers such as the FAIP Powerwasher PWS1800-U 1800 psi manufactured FAIP. These do driveways, patio, grill, deck and ATV amongst other things. See price of this unit
.
The 13HP Honda, 3600 PSI, Comet Triplex Pump Pressure Washer Review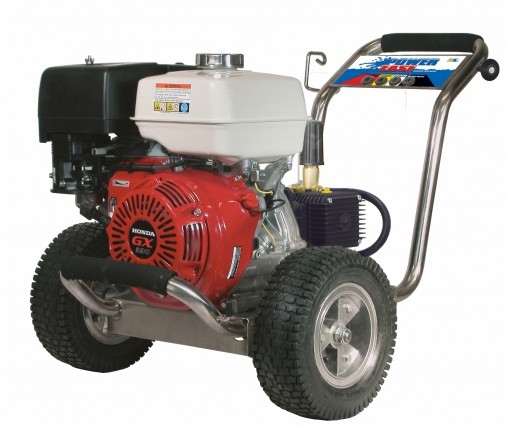 Selling for over $1100.00 this pressure washer is a commercial heavy duty washer which is designed for industrial use at 3600psi and 4.0GPM. 3600 psi is equivalent to 250BAR of pressure and 4.0GPM is equivalent to 15.2LPM. The combination of a Honda engine and a comet triples pump will deliver power that you will need at any industrial site. The pressure washer runs on a 13HP Honda GX390 gas engine and is designed to be mobile as it is affixed on two rubber pressurized wheels.
Pressure washers that run on gasoline are often associated with high power commercial use were they are not hindered by electric cords associated with home pressure washers. The Comet pump on this so called Comet pressure washer has an oil sight glass and the all important oil drain plug. It also has a chemical injector that you will find handy should you need to use detergent in cleaning off grease and dirt for example and even general sanitization. Soap or detergent is added to the mix of water stream through this inlet.
This pressure washer comes with a 5000 psi withstanding spray gun which is favored fr its rear entry. Another important fact to mention about this pressure washer with a Comet pump is that the accompanying 50 foot hose is braided with wire and has quick connect fittings. The angle at which water is sprayed by the spray gun will determine the effectiveness of the wash at that particular time. This washer has 4 quick-connect nozzles of 0 degrees (direct spray), 15 degrees, 40 degrees and a soap nozzle.
The two pressure washers reviewed above are recommended buys for heavy duty users. The comet pump can be replaced later should it develop problems. Comet pressure washer pumps are widely available and have a great record of easy and fast replacement even as you are working on the job site. You just need to ensure that you purchase the correct replacement part.
Comet Pumps for Pressure Washers- Comet has one of the most reliable and easy to replace pressure washer pumps on the market. Follow link to learn more.