Honda Pressure Washer Reviews
Hose, Parts, Engine
Honda pressure washer reviews in this aricle focuses on pressure washers that are powered by Honda engines. Honda is a well known international company that not only manufacturers motor vehicles but also home equipment such as pressure washers. Most well known pressure washer manufacturers such as Campbell Hausfeld, Simpson, Northstar and many others use Honda engines. This is particulary the case for gas powered washers which require an engine in order to run. Apart from Honda another populary used engine is Briggs and Stratton. It is also interesting to note that even Briggs and Stratton has put Honda engines on some of its washers such as the Briggs and Stratton Power Boss.
Honda pressure washer engines include vertical shaft and horizontal shaft engines. These engines are namely models GC160, GX160, GCV160, GC190, GCV190, GS190 and GSV190 which are essentially for residential and light industrial use. The company also manufactures engines for heavy duty industrial and commercial use washers such as the GX200, GX240, GX270, GX340, iGX340, GX390, iGX390, iGX440, GX630, GX660 and GX690. In almost all cases heavy duty Honda pressure washer engines are horizontal shaft engines.
There are specific reasons why up to 80 percent of pressure washers available on the market today run on Honda engines. The use of Honda engines by washer manufacturers has been driven in part by certain positive consumer feedback on these engines. Honda engines are easy to start. They typically start on first and second pull even when the engine is hot. This is the downside of Briggs and Stratton engines, for example, they have difficulty starting when hot and often taking more than three pulls to start even with a cold start. This can be frustrating requiring that the washer be left idle to cool before attempting a restart say after refueling. Hardly affordable on a busy industrial site.
Honda pressure washer engines are also powerful giving a very good output hence their use in heavy duty 2600psi to 4000psi pressure washers. They are also strong and durable engines which have an impressive quieter operation compared to other pressure washer engines. It is important to remember that the overall execution of a washer is also dependent on the brand of the washer since your pressure washer is more than the engine. The pump has a role to play so are other important pressure washer parts such as the spray gun, the wand and the nozzles used. These can easily mess up things for you in as much as your engine may be a Honda.
The following are selected pressure washer reviews of top Honda pressure washer models - meaning pressure washers running on Honda engines;

The Briggs and Stratton Power Boss 3000psi Pressure Washer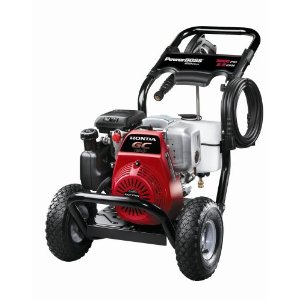 This washer runs on a Honda GC190 OHC, gas powered 187cc engine with a horizontal shaft designed for residential use. Due to its engine specifications this washer produces best results as a residential use pressure washer. Honda's industrial and commercial use washers have high engine capacity such as the iGX440 OHV 438cc gas powered Honda engine. This washer will put a $500.00 dent on your pocket and has a flow of 2.5 GPM. This engine is one of those which deliver easy starting and reliable performance.
True to its specifications most users who have reviewed this unit do not complain about starting problems. In fact the fact that its a Honda engine sticks out on a Briggs and Stratton pressure washer. To us Briggs rode on the fame of Honda pressure washer engines considering that it manufactures its own engines. A closer look at this pressure washer will show that the structural design itself has many limitations such as wobbling wheels and less than useful attached accessory tray. The pressure washer credit being given to its engine can do more with less gas.
This Briggs Power Boss 3000psi washer can do your patio, driveway, car, ATV, Grill and so on with ease. Select the right pressure for each job and you will sure have it done in the shortest possible time. See price and reviews
.
The Karcher G 3025 3000psi Pressure Washer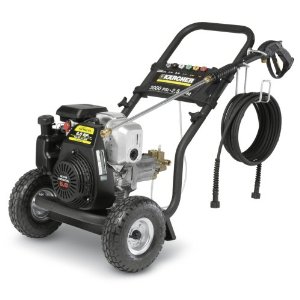 This is another Honda pressure washer by Karcher meant for residential use. Engine capacity is similar to the forgoing Power Boss above from Briggs and Stratton at 3000psi. This means the Honda pressure washer engine on this Karcher washer is a Honda GC190 187 cc gas powered. This pressure washer is overall considered a very good washer safe for the pump which can blow out sooner than the engine lasts.
Most 3000psi washers have a 25ft hose. This has to do with the physics of maintaining a pressure of 3000psi such that the hose cannot be longer than 25ft. This pressure washer is easy to start and can do your driveway, sidewalks, grill and so on with much ease. The accompanying 5 spray nozzles will help you adjust the angle at which your spray makes contact with the surface avoiding stripping paint off or gouging wood for example. One major highlight of this Honda powered pressure washer is its ergonomic spray wand. Its design vastly improves your physical working conditions with the pressure washer avoiding damage to your back and joints.
Our observations are that pressure washers running on Honda almost always receive high ratings in as far as the engine is concerned. Thereafter users complain about the structural design and components of the washer itself. So is the case for this pressure washer. Users notice the Honda engine and the power, durability and reliability that it brings to the washer including the easy and quick start. However the Karcher pressure washer has also disappointed due to the accompanying pump which has failed for many people. If you still like the washer with its Honda engine you may consider pump replacement with a Comet pressure washer pump. These are praises for being stronger than OEM pumps. You may also face problems with the unloader valve which can get stuck. This washer costs on average $550.00 Online
.
The NorthStar Wet Steam and Hot Water 3000psi Pressure Washer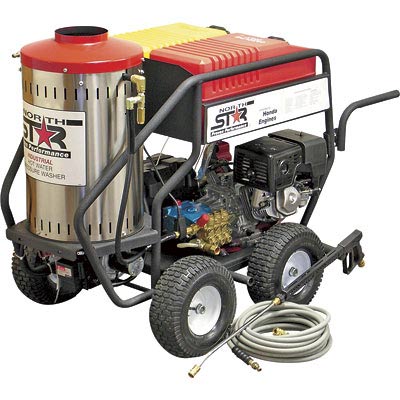 This is a high powered commercial use pressure washer with 3000psi at 4GPM powered by Honda. It is both a hot water pressure washer and giant steam cleaner. This pressure washer is one of the most sophisticated washers on the market in the heavy industrial category and also highly priced at $3500.00 per unit. It has a Honda GX390 engine with electric start. This engine was introduced in 2010 and is not only used on pressure washers but also other equipment such as heavy duty garden and lawn machines, generators, water pumps and even small vehicles. The Honda pressure washer GX390 engine is a low fuel consumption engine which can operator quieter than most pressure washer engines. It also has an environmental consciousness to it expressed through deliberate lower emissions.
When looking to buy a pressure washer its a good idea to balance a good engine with a good pump so that non of the two will let you down despite the other being high quality. This Honda pressure washer finds that balance in a CAT 66DX pump. CAT has one of the best pumps. This eliminates the problem we have seen in reviews above of good engines yet poor pumps. CAT is in the same league as Honda when it comes to pumps. Apart from this NorthStar pressure washers are all the same naturally high quality products. There is hardly any talk of poor structural design that is catastrophic. This pressure washer has adjustable pressure and temperature control to facilitate industrial site versatility.
It can be discerned right away in this review that this machine is not for home use because of its power as well as its price. It is a sought after plant machine for heavy industrial and commercial use. Thankfully replacement parts are easy and cheaper to find. Perhaps it was necessary to add a tow hitch and pivotable axle for easier mobility even though the unit is highly mobile on site on its own wheels. With that in place you can even use your ATV to tow it around. Some individuals with some engineering expertise have wielded the necessary attachments to achieve this. However this may destroy the warranties.
Other Honda Pressure Washers To Consider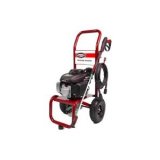 Simpson MSV3000S 3000Psi
- Powered by a Honda GCV190 engine this is a vertical shaft OHC 187 cc residential use pressure washer from Simpson. It has a power of 3000psi at 2,5GPM. Price wise it is in the range of other home pressure washers as $500 per unit on site like Amazon. This is a gas powered pressure washer which is also CARB compliant. The engine has a quieter operation thanks to the internal timing belt and lower vibration due to engineering superiority. This GCV190 Honda engine used here is a general purpose engine also found in lawn mowers, and other forestry and agricultural equipment. All whole range of other Simpson pressure washers are reviewed elsewhere on this site.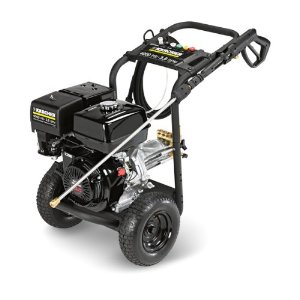 Karcher G 4000 OH 4000psi
- This Honda powered pressure washer will leave a $1000.00 dent on your pocket. It is a commercial use washer at 4000psi at a flow of 3.6GPM. The engine has a horizontal shat and is gas powered. Like the rest of modern Honda engines it is very easy to start. It has a direct-drive axial pump and comes with a 50 ft hose. The key highlight of the washer not found on many others is the adjustable pressure on the spray wand. This saves you time when you are working a distance from the actual pressure washer.