McCulloch Steam Cleaner Reviews
Mc1275 , Mc1226 , Mc1235
Mcculloch steam cleaner reviews of models in this article represents some of the leading units produced by the company. Steam cleaners from Mcculloch generally enjoy overall very good ratings. The price range for most of the units is under $100.00 making the appliances accessible to almost every household.
The brand covers hand-held units for home use, heavy duty units suitable for commercial projects. The downside of Mcculloch steam cleaner models in our considered view is the poor designs that are hardly that much appealing compared to a range of other steam cleaners such as Bissell and Shark amongst others.
The McCulloch Heavy Duty Steam Cleaner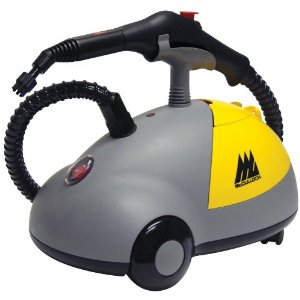 Costing you just under $100.00 when purchased through certain online stores
this heavy duty steam cleaner is model number MC-1275. It is one of the best selling McCulloch steam cleaner models. It enjoys very high approval ratings from previous buyers who have found so many positive things about the unit in line with their expectations.
This steam cleaner will do the job on your car, truck, ATV or boat in removing oil, grease and grime. It is suitable for use on a commercial site and can work along side hot water pressure washers. The 50 ounce (nearly 1.5 liters) will give you more than 2 hours of continuous cleaning before any need for refilling. This steamer is however not limited to commercial projects. You can also safely and effectively use it around the home to remove stains stains, and odors from fabric such as carpets, upholstery and mats.
For safety reason when using this steamer try by all means to have you face clear. there can be a steam blow back after hitting a surface which can be dangerous. The steam will be hot. This is an overall good value investment. We highly recommend it and gives it a 4.0 out of 5 stars rating due to the CONS mentioned below. You may read more detailed reviews
to satisfy yourself before final purchase.
If you are using an anti-biotic cleaner you are better off considering switching to steam cleaning. Antibiotic cleaning can easily create resistant bacteria which can never be removed by such cleaning going forward.

PROS
- the water tank provides long lasting steam supply compared to 15 to 20 minutes achieved by most steam cleaners reviewed else where on this website.
- chemical free cleaning helps protect certain surfaces from corrosion, humans, pets and animals from health hazards
- sound and sturdy attachments which gives a perfect seal
CONS
- the steam jet is very noisy.
- the steam cleaner does not altogether remove some of the toughest stains such as chemical and hard water stains on certain surfaces.
- the many accessories and attachments can get confusing as for which surface each is meant for.
- the disinfecting capabilities of the unit as claimed by the manufacturer for us still remain questionable. In order to disinfect, steam must be extremely hot and left to be in one place for a long time. This is the argument behind the Hoover steam cleaner dual tank system one for water and the other for the disinfectant.

The McCulloch HandHeld Steam Cleaner
This Mcculloch steam cleaner model MC1226 is a lightweight model which is designed for handheld use. It is amongst popular handheld steam cleaners. The steamer is said by the manufacturer to possess sensitization capabilities for a variety of surfaces. The MC1226 has been slammed because of the small water tank. However from a design point of view, this is what can be expected of handheld portable steam cleaners. It is a general regret for handhelds due to the quest for a balance between the water it can carry and its portability. More water means more weight and this quickly takes away from the portability of the steamer.
If you are buying this Mcculloch steam cleaner the assumption is that you have small jobs to do. Bigger jobs can be accomplished faster using the model MC-1275 reviewed above. Purchasing this handheld model for bigger jobs will only lead to disappointment. For each refill you need to wait several minutes for water to heat up and produce steam. Put together with refilling you probably spend another eight minutes refilling and heating up for each eight minutes of steam use.
This steam is a useful grout cleaner which has been reported to do this job better than upright steamers. This Mcculloch steam cleaner is also popular amongst house owners because it is a chemical free cleaner. It is very useful in cleaning surfaces that cannot be cleaned using chemicals. Most buyers use this steamer for their kitchen and bathroom. We recommend it for use in this context. A very good buy. You may get the best price of this model at just under $48.00 on certain online stores
.
PROS
- easy to use and very portable
- variety of accompanying attachments makes cleaning easier
- thanks to the ergonomic handle, goes easy on the handling
CONS
- the water tank is rather too small only providing enough steam to last 8 minutes
- too costly for the little steam produced at a time
McCulloch has been in production of McCulloch Pressure washers in the last few years. These are also suitable for home use.
The McCulloch HandHeld Steam Cleaner
This is model MC1235 portable steamer which also enjoys very high ratings. In terms of its use this unit is slightly different. It is applied mostly on outdoor hardware such as engines, undercarriages, vehicle suspension and so on to remove oils, grease and grime. However, some users still use it in doors. Water capacity is slightly bigger than the foregoing model reviewed above.
This unit is also chemical free and cleans using only tape water steam. When using the different attachments for safety reasons ensure that the steamer has cooled down before attempting to remove them. Apparently the current attached attachment gets hot after a cleaning job making hand removal dangerous.
We recommend this unit. It sells for under $49.00 on Amazon
.

PROS
- variable steam output appreciated.
- variety of attachments and nozzles appreciated
- good length of power cord at 12 foot
CONS
- steamer gets hot after prolonged use
- some users have complained of steam jet coming out with water which spoils surfaces and needs a towel on hand to be wiping off the water.
- unlike the McCulloch steam cleaner reviewed above this unit does not have a stand-alone facility. It condemns your other hand too holding it all the time with no room to easily use both hands for cleaning with a towel for example.