Craftsman Pressure Washer Reviews
Hose, Parts, Accessories
Craftsman pressure washer models reviewed in this article fit into the league of leading pressure washer machines. Craftsman is a reputable name in general so is their pressure washers. Their washers enjoy a pretty good level of positive ratings ranging from 3 stars out of 5 to as high as five out of five stars depending on model. They manufacturer light duty, medium duty and heavy duty professional industrial pressure washers ranging in PSI from as low as under 2000psi to as high as over 3000psi.
Craftsman pressure washers run on Briggs and Stratton engines as well as Honda engines. Price wise Craftsman washers compete with other manufacturers such as Northstar washers, Simpson washers, Campbell Hausefeld washers amongst many others. A 3800psi industrial use washer from Craftsman will cost you up to $1000.00 which is competitive price for a washer of such specs. The following are detailed reviews of leading Craftsman washers.
The Craftsman Pressure Washer 2500 PSI Review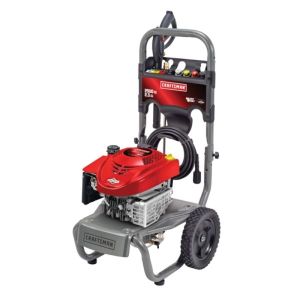 This Craftsman washer model 20430 is a highly recommended washer with up to 76% of individuals who have bought this washer before feeling free to recommend it to a friend. This is a gas powered pressure washer which runs on a Briggs and Stratton engine and sells on average for $280.00. This washer has adjustable water pressure yet delivers maximum 2500psi at 2.3GPM. This is typical pressure for a through job in a home environment for your patio, driveway, walkway, car and boat cleaning projects for example.
Gas pressure washers are not always ideal for home use. Apart from the noise they generally make, they may also become dangerous due to fumes when used indoors. This washer has a 2 year general warranty and the hose is 25 feet long. One important thing to note here is that some users have had bad experiences with the Briggs and Stratton engine of this Craftsman pressure washer. Other Craftsman washers are powered by Honda engines. Honda is good very good brand when it comes to washer engines. This is however a matter of your preference.
This is a well designed pressure washer with a dashboard style controls panel. It is mounted on a steel frame and is highly mobile on two rubber wheels. In as much as this washer is a very good machine we realize that because of the design it is possible to lose your hose should it accidentally make contact with the hot exhaust. You will need to replace the hose as it will melt on contact when the engine is hot and has been running for a while. Extra caution is needed in hose movements. We recommend it and find no fault worth discouraging a purchase.
The Craftsman Professional 3800 PSI Review
This is Craftsman washer model 75238. Designed for high-end heavy duty jobs This washer is powered by the favored Honda GX390 OHV commercial engine. There is a perception around some washer users mostly by experience that Honda engines are perhaps the best engines to go for on pressure washers. We feel the same. At 3800psi and 4.0GPM this pressure washer will complete industrial jobs in a reasonable short space of time. It will even be faster for small home project albeit with reduced pressure least it damages items. It has a 50ft hose length.
Compared to the design of the one reviewed above, this washer has a lesser appealing design even though it has greater power. You may want to examine the two pictures to see if you agree with us. It also runs on gas and is mounted on a steel frame with two rubber wheels for easy mobility. People who buy this washer essentially do it for the power more than anything else. This washer has high ratings and is also highly recommended. Disappointments are generally few even though some users have complained about the wand. The issue with the wand is this; in order to use the wand the safety button has to be pushed all the time so that the trigger can be squeezed. This gets a bit involving and constantly on your mind to do. This is however a professional pressure washer and is often acquired by commercial businesses and individuals that run pressure washer hiring services. This machine sells for $1000.00.
The Craftsman Pressure Washer 2600 PSI Review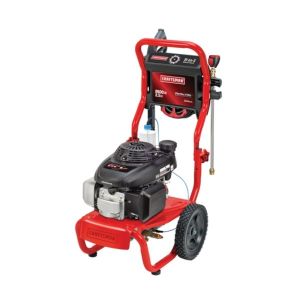 Highly recommended pressure with up to 86% of users who bought this washer before recommending it. This model 020432 is one of the best selling Craftsman pressure washer models also because it is low priced at $350.00. This is a light to medium power washer which is essentially a home pressure washer to do your deck, driveway, car, ATV and garage amongst other home projects.
It comes with a 2 year warranty and like other Craftsman pressure washer models in its range has a 25ft long hose. It runs on a Honda engine series GCV160 with standard starter. In general Honda engines are known to be strong and durable and also start easily. By this we mean a single pull will get it started. Some models will start with up to seven pulls. This is all to do with how good an engine is. In fact you might just find out that the engine of this particular washer will outlive the pump. For pump replacement try Comet pressure washer pumps they are renowned for being more durable and longer lasting than many OEM pumps. This was for us suprising information to find out. This particular model has an Axial cam pump. For those living in California the good news is that this model is compliant with regulations there.
This washer comes with a five-way variable nozzle. This means you have a 5 in 1 nozzle which works by you selecting which pattern out of the available five that you prefer to use at that particular time. These five channels are delicate, general, maximum, flush and soap. You simply turn the variable nozzle to the required position and get on with your job with the ability to change it as and when you want to. It is also possible to purchase separately single fixed nozzles for attachment. These have no o-rings which some individuals noted blew up on them resulting in long downtime. A great buy this washer it is. If you think you will do OK with 2600psi then let nothing hold you back on this pressure washer. Maybe if neccessary just find a few more reviews to read on the internet before making final decision.
Other Craftsman Pressure Washer Models To Consider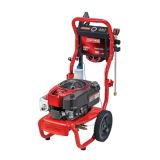 The Craftsman Pressure Washer 2700 PSI Review - This is model 020434 which is also highly rated by experienced users is amongst low priced pressure washers from Craftsman. At $320.00 per unit it will deliver some 2700psi at 2.3GPM enough to do your driveway, gutters, grill, patio and so on. It is also possible to attach a turbo nozzle that will do a splendid job for your concrete and such like. The washer runs on a Briggs and Stratton engine and is gas powered.
The Craftsman Professional 3100 PSI Review - At 3100psi this is a high pressure washer. It sells for roughly $500.00. This washer has got very good ratings and positive feedback from legion of owners. It is a powerful washer for day to day typical home projects. It is rather quieter which is much appreciated for use around the home least your home be turned into an industrial site. There are some valuable concerns about wheel design which we confirm has been annoying for many users to push over some distance.
Are you also looking for pressure washer parts by Craftsman? In any case at one point or another un the near future you will find replacement parts necessary. These include wands, nozzles, hoses and so on.