Troy Bilt Pressure Washer Review
Parts, Accessories, Sometimes searched as Troy Built Pressure washer
Troy Bilt pressure washer review of models carried out in this article communicates the long history of Troy bilt as a company going back as far as 1937. Troy Bilt is a formidable market competitor in as far as outdoor power tools are concerned. It belongs to other pressure washer manufacturers in its league such as Simpson, Faip, Campbell Hausefeld and Comet amongst others. Troy Bilt pressure washers are generally designed for home and industrial use ranging in psi power between 2500 psi and 3000psi.

As you look into purchasing your Troy Bilt pressure washer, it is important to be clear of what use you have in mind for the pressure washer. Higher psi washer will produce high pressure water which might not be suitable for use around the home. High pressure spray produced by more powerful washers may damage fragile items such as wood and glass and my therefore not be suitable for home use. On average Troy Bilt pressure washers enjoy very good ratings and positive reviews and cost between $250 and $450.00
The following are reviews of selected pressure washers from Troy Bilt. Overall Troy Bilt appears to be loosing market appeal even though it still has some very good washer models amongst several disappointing ones. Consumers complain of a severly lowered gaurd on quality control. Even though the company has got some good washers, in general the ratings have been poor. This might explain why Amazon
has no Troy Bilt washers. We aurgue you to satisfy yourself throughly before taking a plunge.
Troy Bilt 3000-PSI 2.7-GPM Gas Pressure Washer Review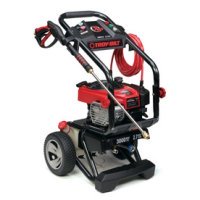 Selling at $400.00 this pressure washer is gas powered and gives a spray at 3000psi at 2.7 GPM. This model 20416 is one of the best selling pressure washers from Troy Bilt and runs on a Briggs and Stratton engine. It is considered one of the few industrial pressure washers with low sound levels. The desig of this pressure washer model is attractive looking robust and rugged suitable for industrial sites.
Users praise the dual detergent tank which allows two different types of detergebts to be fed interchangably into the pump. The washer has a 30 feet hose made out of rubber. The washer is built on a frame with two flat-free wheel tyres allowing for continued use without fear of puncture out in the field. The relatively big gas tanks makes it possible for the machine to run for long hours without need for re-fueling.
This washer has received a fair share of poor reviews. It would appear most of the complaints have come from individuals who have not taken time to read the user manual carefully. For example, the washer will need to cool down before you attemp to restart it say you have refilled the gas tank or stopped it for any reason. other complaints have been genuine such as the hose easily kinking. This can be dangerous especially at an indistrial site. Overall the pump for this Troy Bilt model has been observed to lack longevity. You may consider getting a comet pressure washer pump which has been praised of being stronger and better than OEM pumps. It is also a good idea to take a extended warranty policy to cover you longer.
This is a very good pressure washer which is highly recommended
.
Troy Bilt 2500-PSI 2.3-GPM Gas Pressure Washer Review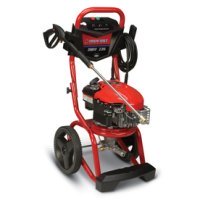 Overall this Troy Bilt pressure washer we give it three out of four stars. About 22% of previous buyers of this washer would comfortably recommend this washer to a friend. The challenge with this model 20413 is not its $279.00 price tag but has been poor quality control so much that some buyers receive their washer with assembly parts missing. Common problems also include pump dying on users after a sort period of use.
This pressure washer is typically used around the home at 2500psi and 2.3GPM. It runs on gas and has a Briggs and Stratton engine which has not received any negative ratings in particular. The main issue with the pump may be resolved by getting a replacement pump such as those by Comet. This Troy Bilt pressure washer is mounted on a steel frame that is sits on 12" plastic wheeels. it comes with a limited two year warranty that you might utilize should anything negative happen to your washer during the period of validity. It comes with three spray tips and a plastic hose.
As a side note, gas pressure washers are generally discouraged for use around the home. The fumes maybe dangerous if the washer is being used in enclosed spaces. In most cases gas pressure washers are used for heavy industrial site use. This is yet an important consideration should your intention be to use this washer around teh home. Good and recommended home pressure washers are those by Campbell Hausefeld pressure washers.
Troy Bilt 2600-PSI 2.3-GPM Gas Pressure Washer Review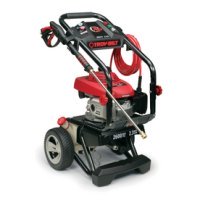 This Troy Bilt pressure washer differs from the forgoing one on two main areas namely the spray pressure and the powering engine. This one which is model 20415 has a pressure of 2600psi and is powered by a Honda GCV160 engine that has particular charecteristics of fuel effinciency and easy start. This perhaps explains the better user reviews enjoyed by this particular model with 70% of buyers feeling free to recommend this parricular model to a friend.
This model has dual tanks for detergents, 30 feet rubber hose, and flat-free rubber wheels. It is essentially a medium-duty pressure washer which can do your normal home project as wel as light industrial and commercial jobs. In terms of its stractural design complaints have been raised about the gas tank which is too close to the handle as well as the easily kinking hose especially on cool weather. Oil leak problesm have also been reported some noting it around the governer arm leankage.
This product is on the low priced end. Perhaps there is great expectation amongst buyers for a low-end product. If your goal is to get a good heavy industrial pressure washer the best place to start looking is amongst Northstar pressure washers which are essentially top of the range in the washer market. You pay more but for a great and durable product of unmatched user experience. This Troy Bilt model 20415 in my few is a good and recommended buy for light around the home projects. Take time to read through the manual this is were greatest mistakes leading to negative ratings are committed.

More Troy Bilt Pressure Washer Models To Consider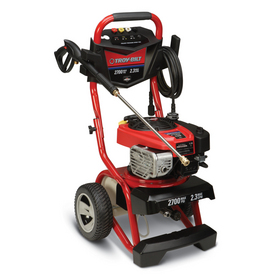 Troy Bilt 2700 PSI 2.3 GPM Gas Pressure Washer
- This is model 20414 and runs on a Briggs and Stratton professional series engine. It has four project precision spray tips that will give you a straight and direct spray at zero degrees, a spray at 15, 40 degrees and a low pressure spray. The hose length is 25 feet and at 2700psi is suitable for medium-duty service. The engine is stared manually by pulling the cable and the machine runs on gas. This Troy Bilt power machine is in the price range of $300.00. 76% of users of this model would recommend their friends to acquire one for themselves.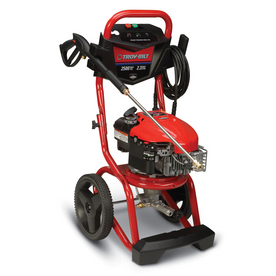 Troy Bilt 2500 PSI 2.3 GPM Gas Pressure Washer
- This is model 20421 powered by a Briggs and Stratton 675 series engine. It uses a maintenance free axial cam pump which means it does not require any oil check or oil top-ups. It comes with a 3 projection spray for 0 degrees, 25 degrees and low pressure spray. It has plastic wheels and plastic hose material which can become tricky in as far as kinking is concerned. Design disappointments will include garden hose attachment which forces you to move the machine forward only and not backward. This product has an overall rating of three out of four stars and sells for $300.00.
You may follow link to read more about Troy Bilt Pressure Washer Parts. These include pumps, hoses, wands, couplers and more.
You may have found this page by searching for Troy Built pressure washer