McCulloch Pressure Washer Reviews
Electric Cold Water & Gas Powered Washers
McCulloch pressure washer models are generally less common put against the brand's steam cleaner companion. Apart from pressure washers McCulloch also does a whole range of tools including chainsaws, trimmers and brush cutters over and above the various steamer models.
Overall most of the manufacturer's models have been discontinued in the last few years. However, it is still possible to find a few other models including old models available as used McCulloch pressure washer units. The units reviewed below include those that can still be found on the market as brand new units and some which may be purchased as used units.
The McCulloch brand is now taken over by the European based Husqvarna Group.
The McCulloch Pressure Washer Model FH140A
This pressure washer enjoys above average user ratings. It is an electric pressure washer which however does not qualify to be in our best electric washer category within this site due to some limitation listed further below. It has an output power of 1400psi which is considered basic and just enough to do most around the home jobs.
It comes with a 20 feet hose and an adjustable spray gun which makes it possible to vary the amount of pressure released by the washer. This means the washer does not come with interchangeable spray nozzles. You may not use a turbo nozzle on this washer either. It is for this reason that you cannot consider this washer model for a professional cleaning tool.
The following are applications that owners have used this pressure washer model with satisfactory outcomes;
- to power wash patio
- to clean porch
- power washing deck
- car wash
For best results when cleaning a variety of surfaces a slower more careful application of the washer will be necessary for certain surfaces. Whilst the machines generally will have difficulties doing a more perfect job with grease, mold and mildew some users have reported satisfactory results carefully applying pressure on these surfaces.
PROS
- quick and easy to set up
- easy to use
- lightweight and compact
CONS
- no interchangeable tips
- a bit on the noisy side when in operation

The McCulloch Pressure Washer FH180A 1800psi
This electric pressure washer from McCulloch is one of the higher pressure electric washers from the company. This is a light weight pressure washer designed to be easy to carry about when doing your home jobs. At 1800psi the washer will give you enough power to execute many projects such as driveway cleaning, patio, deck, walkway, garage amongst others.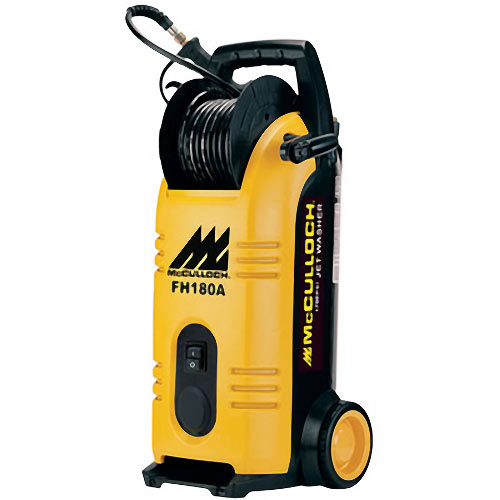 This washer has an automatic stop system controlled by the trigger. This is found in many electric household level pressure washers. This system even though it has been annoying to some owners of washers it is designed to prolong the life of your washer pump and motor.
The McCulloch pressure washer model FH180A has an onboard hose reel included to help you better manage the hose. The hose can be the most annoying and distracting part during a pressure washing job. It can easily kink and also get in the way of your cleaning. The reel is further designed to provide better storage of your hose.
For users who are looking for a better detergent application system on a home washer, this FH180A comes with a detergent kit included which helps in smarter detergent application.
Overall, this cold water electric washer is a reasonable investment. However there have been strong complaints to do with its practical application on cleaning jobs. For example, it is apparent that the design of the washer though attractive is very light and top heavy. Due to the very light weight it can easily topple when tension is applied to the hose.
This design flaw has been a general criticism of different pressure washers from McCulloch. The plastic material used to construct the washer also fades away in color when exposed to the sun.
This unit has been discontinued and may possibly be found only as a used one. An alternative pressure washer will be the AR Blue Clean 1800psi electric washer or the Briggs and stratton 1800psi washer.
The McCulloch Pressure Washer FH160G 1600psi
This is an electric cold water McCulloch pressure washer. It has output power of 1600psi and a flow rate of 1.4GPM. This is yet another lightweight washer which is designed to be portable and easy to carry. It will do your car, lawn furniture, garage floor, boat, patio, and BBQ grills amongst other things.
It has a specially designed nozzle attached to the wand which can give you a variety of sprays from 0 to 30 degrees by twisting the nozzle. It also has a detergent bottle for your soap application. This washer has a 20ft hose and a GFCI cord of 35ft. This product has also been discontinued by the manufacturer.
McCulloch also has other very useful and effective home products to consider such as the McCulloch steam cleaner.
The McCulloch Pressure Washer FH2801 2700psi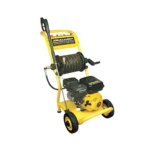 This is a gas powered washer from McCulloch with a pressure output of 2700psi and a flow rate of 3.43GPM. This gas washer sells for just under $500.00 on Amazon and will do most of your mid-range to upper demanding jobs.
This washer can be applied in a professional commercial environment and may not be suitable for home use due to gas fumes and high noise levels associated with gas pressure washers. This washer is not a hot water washer. It cleans using high pressure cold water. It has other useful features such as low oil shutdown and an onboard storage of accessories.
This washer also uses five quick connect nozzles and can work with a turbo nozzle. Its 25ft hose is generally long enough to work around different locations at a job site without having to move the pressure washer. It is a good buy.