Briggs And Stratton Pressure Washer Reviews
Briggs and Stratton Electric & Gas Powered Washers
Briggs and stratton pressure washer machines are a well recognised machines on the North American American market in particular. Briggs and stratton washers are both electric powered and gas powered pressure washers for both home use and commercial heavy use. They range in pressure between 1800psi and 3700psi.
When buying a pressure washer or a steam cleaner for that matter a lot of home users and commercial users are interested in the specs of the washer or steamer. For pressure washers the engine and pump are key considerations. This includes the washer PSI and GPM figures as well as different attachments that can be used with the washer such as turbo nozzle and other pressure washer accessories related to that particular washer.
The following are some briggs and stratton pressure washer reviews for your consideration;
The Briggs and Stratton 2700psi model 20418 Pressure Washer
This model 20418 from Briggs is a home pressure washer. You can expect to spend about $300.00 on this washer on sites such as Amazon. At 2700psi and 2.3 GPM this pressure washer in theory will do most of your household external projects such as your patio, driveway, grill and so on. It has a Briggs and Stratton Professional Series Engine.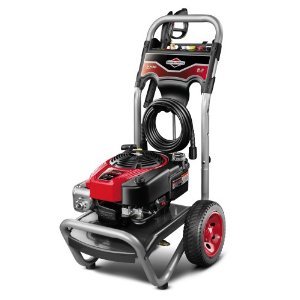 In terms of nozzles, you can purchase a turbo nozzle to work with the pressure washer wand. A turbo nozzle is designed to give your pressure washer extra power and pressure by releasing water from the washer with increased intensity.
The original nozzle that comes with this washer is a quick connect spray which has 0 degrees, 15 degrees, 40 degrees and a soap tip. In order to use a turbo nozzle or any other nozzle attachment your pressure washer should be quick connect spray tips enabled in its design.
To enable easy mobility around the home, the pressure washer is mounted on a frame with two wheels. It has a 30 feet hose which is essentially long enough for most home jobs.
In terms of user feedback, this model has received above average ratings overall. However, some users have complained about the Briggs and Stratton pressure washer engine shutting down for some unexplained reason whilst in use. They have also complained of a stiff hose which has necessitated the replacement of the hose after purchase. The nozzles are also not as up to standard as some users would have wanted according to reviews.
This is certainly more of a budget pressure washer even though it has 2700psi the quality of the machine itself has compelled users to conclude it in this category. It will however do most of your around the home chores very effectively. It is a gas pressure washer still suitable for home use even though in most cases electric washers are more recommended around the home due to lesser noise and no fumes.
We recommend this briggs and stratton pressure washer and believe it is a worthwhile investment for your home projects.
Did You Know: Pressure washers in general are efficient in water usage. They use 1/5 of what your garden hose would take to do the same job. This is equivalent to 80% less water useage.
The Briggs and Stratton Pressure Washer 1800psi model 20358
This model 20358 of the Briggs and Stratton is an electric pressure washer designed for the home user. It is also priced lower than the other Briggs models at only $250.00 or less across different internet stores. This model is highly rated enjoying on average over 4 positive stars out of 5.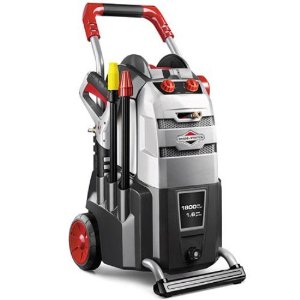 One of the problems that some pressure washer owners complain about is the kinking that occurs to the hose when washers are in use. To resolve this problem this pressure washer has a pressurised hose that works to prevent kinking. It also has an adjustable spray wand ranging from 0 to 40 degrees.
Electric pressure washers are often popular with some home onwers because they are generally environmentally friendly since they do not use any gas. They involve no hussles of changing the oil for the engine, and the noise associated with gas powered washers, for example.
In terms of application, at 1800psi expect to easily and effectively clean your car, patio, grill, driveway, walkway, boat, outdoor furniture, wood stairway and so on with this briggs and stratton pressure washer
As you consider your electric home pressure washer for your outside jobs, you may also look at our steam cleaner reviews for inside appliances to clean your tiles, grout, upholstery and even fabrics in general.
PROS
- nicely designed. Looks great.
- great wand
- effective in removing garage floor oil stains
- fairly easy to operate
- its great that all the attachments are carried along onboard avoiding loss and damage
- hose wind-up feature appreaciated makes it easier to deal with hose
- adjustable power feature appreaciated
CONS
- some users have complained that the washer struggled to clean basic things such as the driveway
- problems with pump refusing to shut off reported by some users, this could be isolated
- electric cord could have been longer
- some users have complained of a less delivering turbo nozzle despite the hype of advertising
- the soap dispener nobs are plastic and users have had problems turning them
- the machine is rather heavy
We recommend this Briggs and stratton pressure washer as an entry level investment to your pressure washing projects. If your home projects require greater power you might consider a higher PSI value for a pressure washer such as the ones summarised below
More Briggs and Stratton Washers To Consider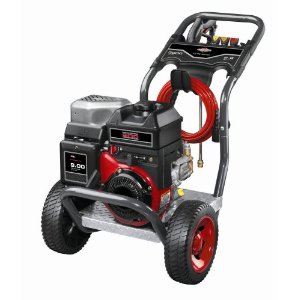 The Briggs And Stratton 020274 Elite Series - This is 3000psi pressure washer is gas powered and is designed for heavy duty industry pressure washing. It has a GPM of 2.8 and has a low pressure spraying for soap and detergents. According to practical user experience this is a quick and easy pressure to assemble and start using. It's been praised for starting on a single pull and significantly cutting down the time needed to do home cleaning jobs. Complaints have been around plastic parts such as the nozzles. These are not strong. It sells for about $450 online.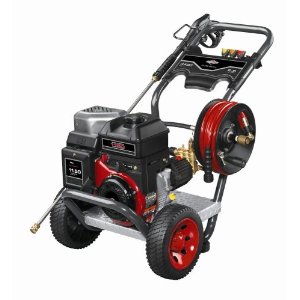 The Briggs and Stratton 020275 Elite Series - This is a 3400psi washer at 2.8GPM and also gas powered. It sells a little higher at $500.00 and enjoys above average user feedback ratings. At 3400psi the washer has rather more power than the model 020274 and is also a heavy duty pressure washer which comes with four nozzles designed for different types of surfaces. Expect a loud manchine. This can cause trouble with your neighbours if it is to be used at home. You will also need ear protection regardless of where you are using it due to the nosie. Complaints have included a tough hose which is not that easy to use with the accompanying yet appreciated hose reel.