Upholstery Steam Cleaner Reviews
McCulloch, Bissell SpotBot, Dirt Devil

An upholstery steam cleaner is a steamer with special capabilities to deliver on the care that is required when handling upholstery. Using an upholstery steam cleaner directly solves the problem of certain chemicals damaging surfaces. Applying chemical solvents to your upholstered furniture will likely damage it. The solution is therefore the use of a steam cleaner.
By definition upholstery is textile that is typically soft and padded which is used in the manufacture of certain types of furniture for example sofas, couches and armchairs. It is essentially a finishing that is put on wooden, metal and special material made furniture to give it the nice look. It can be in the form of leather, cotton padding or foam amongst other materials used for this purpose. Upholstery is also used in vehicle seats. Steamers for cleaning this material are also popular with car owners alike.
It follows therefore that your chosen upholstery steam cleaner must meet certain standards in order not to damage your expensive furniture. There are industry standards in the form of symbols which are usually attached to your upholstered furniture. These include W, S, SW and X. These stand for water based solution, solvent cleaning only, solvent and water based cleaning and vacuum only respectively. It is important to consider these as you invest in an identified steam cleaner for upholstery.
Some steam cleaners used on upholstery material have multi-purpose functions. What makes them useful on upholstery is the accompanying attachments that are designed to clean such surfaces. This is important as some attachments may cause abrasions, scratches and leave marks on your material. The following are top rated upholstery steam cleaners to consider;

The McCulloch MC-1275 Upholstery Steam Cleaner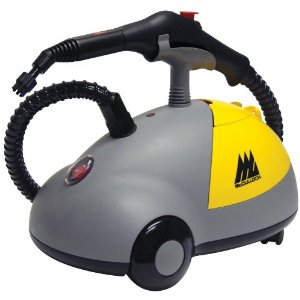 Highly regarded by many household users the McCulloch MC-1275 is a powerful steam cleaner which is designed for heavy duty uses. It produces powerful steam pressure which can last for up to 2 hours based on user experience. Not only is this appliance used for steam cleaning your upholstery, it comes with a wide range of attachments which are also used for different other purposes including cleaning car rims and grills and even cleaning grout
For the purposes of upholstery steam cleaning this steamer relies on attachments in brush format designed to clean furniture surfaces such as couches and sofas. The McCulloch Mc-1275 is able to effectively remove stains from sofas without using any chemicals. In fact the steamer itself is not designed to use any chemicals. It cleans with water only turned into very hot steam.
the unit comes without any low profile brushes which may prove difficult when cleaning difficult to reach places on your couch or car seats. As a result home-made solutions include using a soft tooth brush to reach these places without causing abrasions to the upholstery.
Cleaning without chemicals or soap also ensures cleaner surfaces on your upholstery since there will not be any residue left behind by any soap. This unit has very high ratings amongst ordinary home users. However, these reviews are not altogether based on upholstery steam cleaning. This is because this is not strictly an upholstery steam cleaner but, as mentioned, also does many other household jobs successfully. It sells for under $100.00 in North America. If you like the McCulloch brand or to more about it you may go to my McCulloch steam cleaner page.
The Bissell SpotBot Blue Illusion 1200A Steamer for Upholstery
The SpotBot 1200A is one of the most popular upholstery steam cleaners available on the North American market. It has very high ratings amongst consumers and is considered a mist have for individuals with pets at home. This unit has a manual and automatic mode of cleaning. The former is often used to clean your upholstery and car interiors with much effectiveness. This appliance is not only for upholstery but will also do a great job cleaning your carpet.
It is very good in removing wine spills, fruits juice stains, pet fair and hairs as well as any accidents on the carpet and sofas. Tough stains that can occur on your carpet or couch can be easily removed using the hands free mode by which you simply place the steamer on the stain and it works on it giving a beep sound when finished. This way many users find it less tiring as the appliance can basically work on its own with only having to move it from on stubborn stain to the other.
The downside of this carpet and upholstery steamer experienced by many users is the creation of what has come to be known as crop circles on the surfaces being cleaned. The automated hands free mode cleans in a circle format of 8 inches wide. It is here that the crop circles can occur. Some users recommend using the handheld component of the steamer for high traffic places to minimise the risk of crop circles. For upholstery steaming, you will more than anything be using the handheld component.
This unit is mechanically considered effective when upholstery steam cleaning due to its ability to be in the spray mode, suction mode and brush mode. However, it is of paramount importance to first establish if each mode will not cause any damage to your particular type of upholstery. As mentioned earlier, most manufacturers of upholstery give instructions on how best to clean the material.
The Dirt Devil PD20005 Handheld Upholstery Steamer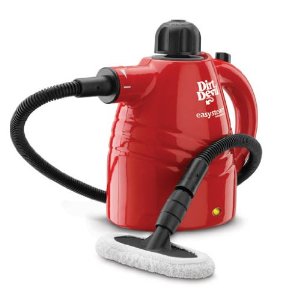 The Dirt Devil PD20005 is a darling of many home cleaners. The steamer is tea-pot-like in design and relatively light weight. It is efficient and effective in cleaning your fabric including upholstery apart from other uses such as steaming kitchen cabinets, microwaves and so on. It comes with numerous attachments for each specific purpose.
This little upholstery steam cleaner not only cleans your sofas or couch but also sanitizes killing some tiny bugs with its high temperature steam which can get as high as 192F. It essentially melts dirt and mould causing it to come off your fabric. The downside of this steamer is that in as much as the steam produced is very hot and much, it does not last that long compared to the two other upholstery steamers reviewed above.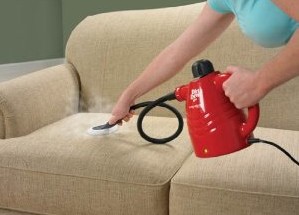 This might not be an ideal steam cleaner for upholstery if you have a big home with a lot of upholstery fabric to clean. It can easily become too taxing. The electric cord of this unit is lengthy however allowing for further reach without having to disconnect it. As a tip, to avoid the steam pours being blocked, prioritise the use of distilled water which has no minerals that may damage inside components. This steamer can also clean with water only and with no chemicals.
These are just but a few examples of available upholstery steam cleaners. In North America there is a growing range of models from various manufacturers including the top ones such as Bissell, McCulloch, Euro pro, Hoover, Monster and Shark.
The following are some few useful tips to consider when doing the actual cleaning of your upholstered couch or sofa. Professional upholstery steam cleaners first do a thorough job of prevaccuming the fabric to get rid of dust and hairs - both pet and human hair. Some of the hair you might even need to pick with your fingers. Let your vac nozzle even reach the crevices.
Secondly, follow the prevacuuming with a preconditioning of the fabric using commercially available soil emulsifiers to break soils and oils off the upholstery. Next, use a hand brush to brush in the solution rubbing it into the fabric. Follow this with steam cleaning. This is the professional way of doing things which will give your fabric a fresh refreshing scent.