Tile Steam Cleaner Reviews
Bissell, Eureka Enviro, Euroflex Monster
Tile steam cleaner reviews on this page presents those tile steamers that have a very strong reputation on the market in terms of effectiveness and value for money. These high ratings of the steam cleaners are not based on the manufacturers claims but actual user experience.
Tile steamers are steam cleaners that are used to steam clean tiles. These are usually hard floor steam cleaners. In most cases when you purchase a steam floor cleaner for tiles you would also have invested in a steamer for a whole range of surfaces including a hardwood floor steamer.
Sometimes through an attachment even an upholstery steamer and a fabric steam cleaner. For carpet cleaning most tile steam cleaners will only sanitize using a carpet or rug glide. Deep cleaning can only be achieved using a steam carpet cleaner.
In our experience steam cleaners for cleaning tiles are perhaps the easiest of all steam cleaners to use and identify the best one. The key things to look for and consider is the wattage of the tile steamer and how the boiler or water tank is designed. Tile steam cleaners with a boiler sitting on top of the steam head are often very hot. This of course is assuming that they have reasonable wattage of say 1000w plus.
This is because the steam won't need to travel any much distance before exiting the steamer on to the floor. This can be a slight challenge with up right tile cleaners that have a boiler attached to the upright handle. It's even a major disadvantage for canister steamers that have to have steam travel in the hose. Important steam temperature is lost this way.
By the way only a very hot steamer can sanitize. In as much as many manufacturers claim their products sanitize surfaces, most of them actually do not due to very low steam temperature. You need very high steam temperatures to sanitize and kill bacteria without detergents. This is the great advantage of the pricey ladybug steam cleaners which are essentially dry vapor steamers.
Other things to consider besides these two important ones is how the pads are attached to the steam head. Velcro pads are the best in our view. They are easy to strap on and remove. However, they may loose their strapping ability after a number of pad washes, according to user experience.
For storage purposes, if this matters to you, how bulky a tile floor steamer is can also be an important consideration. In summary the following are the things to keep in mind as you research on your tile steamer;
- wattage - over 1000w is recommended
- boiler location and design - this also affects how easily the steamer can access below low profile furniture and cabinets
- Velcro pads are the best
- size of steamer important for storage reasons
- Price - this, in our view, should be last after everything has been considered. Whilst price is important, a sole chase after price will often lead to a poor investment on a product that doesn't deliver.
The following are a few top of the range tile steamers to consider that closely fit what we have explained above;
The Bissell 1867 tile steam cleaner - This tile steamer enjoys very high ratings and consumer feedback. It is your typical tile steamer capable of steaming sealed hardwood,marble, ceramic, stone, laminate, linoleum and vinyl surfaces. It has a low profile swivel steam head which is able to access the difficult of places. This is because the water tank is located on the middle end of the handle.
This steamer will give you about 15 minutes of steaming. The downside of this tile steamer is the fact that you have to hold the trigger down all the time whilst cleaning. Many users complain about this. However, this is also necessary from a design perspective in order to keep the steam longer. Continuous steaming looses more steam than trigger based steaming. This is a light machine and also heats up very quickly.
This is one of the easiest steamers to store. It has a hanging facility on the handle were it can be hanged in your closet or garage wall. We recommend this tile steam cleaner which sells for about $100.00 or less depending on the online store it's purchased from.
The Euroflex Monster Ez2 Tile Steam Cleaner - This tile steamer is also considered amongst high pressure steam cleaners. It uses the power of pressurized steam to clean your tiles and a variety of other home surfaces. Expect to effectively clean your tiles, stone, linoleum and sealed wood surfaces amongst other surfaces.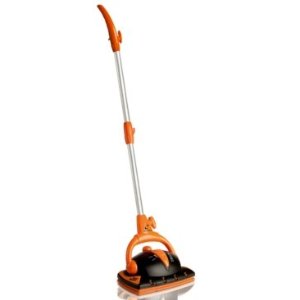 As shown in the picture, this is an example of a tile steamer with a boiler sitting on top of the steam head. You are likely to have challenges fitting this steam head under certain cabinets and furniture. On the other hand this steamer is also a very hot steamer with very high user ratings. It enjoys on average 4.5 stars out of 5.0 Due to its high temperatures you will need to wait a little longer for it to cool down before refilling. A possible downside.
This Ez2 also does your carpets and rugs using a special glide attachment. This is essentially to sanitize these fabrics. It won't deep clean. We do recommend this steamer. It is a good buy if you do not have many low profile furniture and cabinets to clean under. This is a $70.00 investment on Amazon. You may read other general reviews of the monster steam cleaners by following link.
The Eureka Enviro 313A Tile Steamer
Perhaps one of the most successful home cleaning appliance from a single manufacturer. This steamer enjoys massive positive reviews running into thousands from countless satisfied home steamer users. It is reasonably priced at just under $65.00 on Amazon, for example.
In the same way as the others reviewed here, this steamer uses no detergents or chemicals. It relies purely on your kitchen tap water to clean your tiles to perfection. You will, however, need to ensure that the water in your house is not hard water. In such cases you will have to use distilled water to spare the tile steam cleaner.
This steamer is very very hot at 220 degrees. To disinfect certain surfaces, place the steamer in one position for up to a few seconds. Like all the others above expect good results with your ceramic, marble, stone, linoleum and sealed hard wood floors and even parquet.
This steamer is light weight but very sturdy to steam along the surfaces without having to be pressed down. Some users have complained the steamer has less steam especially when using it in the freezing winter. This is an important fact to consider.
It is also not that effective cleaning grout. However, in general by design these type of upright tile steam cleaners cannot do grout well. You will need a handheld steam cleaner with special grout steaming brush attachments. You may see some PROS and CONS of this particular model by going to Eureka steam cleaner reviews.