Steam Floor Cleaner Reviews
Haan, Monster, Steamfast
Steam floor cleaner reviews on this page consider those floor steamers that are highly rated and that have given the owners value for money. They include a variety of brands manufactured by different manufacturers. Steam cleaners for the floors are often very hot and therefore have the ability to sanitize your floors.
Why steam floor steamers are very hot compared to canister steamers is interesting. They are closer to the floor and have not much distance for steam to travel before it reaches the surface. This is even more the case with steamers with boilers seating on top of the steam head. Examples are the Monster EZ1 and Steamfast SF-100 reviewed below.
In the case of canister steam cleaners such as the McCulloch MC-125 steam cleaner, steam has to travel through a hose and this often results in steam temperature being lost.
There are however other factors that will determine how hot a steamer is. These include the wattage of the steamer itself. A high wattage steam floor cleaner is hotter than a lower wattage steamer and is therefore to be effective in doing certain cleaning jobs including sanitization of surfaces.
The following are some steam floor cleaner models and brands to consider;
The Haan SI-35R steam floor cleaner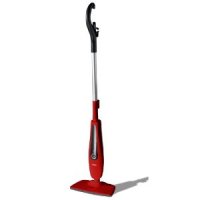 As the name would suggest this steamer for the floor is manufactured by Haan. It is therefore amongst a wide range of other Haan steam cleaners. It is a very hot steam cleaner which enjoys very high ratings and reviews for a job well done in most home cleaning projects.
The steamer does not use any detergents to clean your floors. It relies on water only and is therefore environmentally friendly and preferred by individuals who suffer from a variety of allergies. It is can get as hot as over 212 degrees which is very hot for a floor steam cleaner. You can expect continuous steaming of up to 20 minutes with this steam floor cleaner.
To overcome stuck-on stains hold the steamer over the spot for a few seconds and everything will sure come off. Not changing your pads frequently when cleaning will result in streaking.
This steamer is also a hardwood floor steamer. Besides your hardwood it will also clean your tiles of a different material. Apart from doing your floor, even though it's not a fabric steam cleaner or upholstery steam cleaner it can be used to sanitize these by attaching the carpet glide. This steamer can and will not do deep carpet cleaning. It only sanitizes. You will need a steam carpet cleaner for deep carpet cleaning.
PROS
- low profile steam head fits under many cabinets and furniture
- very hot
- light weight
- fits well in between tight spaces
- the carpet glide function kills carpet odors and somewhat brightens carpet color
CONS
- the two microfiber pads are two few for a huge home to clean, most users order additional pads on original purchase of steamer
- the huge floor pad interferes with the spread of the steam when steaming
- the tank holds less water (this is to balance the weight of the steamer)
We recommend this steamer for your floors. It enjoys on average 4.5 out of 5 stars which is an exceptional performance for any given home appliance used by individuals with a different level of experience and know-how. It sells for just above $100.00. You may also consider steam cleaner accessories and parts for the Haan.
The Euroflex Monster EZ1 Steam Floor Cleaner
Also highly regarded by users as expressed through high ratings, this Euroflex Monster floor steamer model EZ1 is an inferior product to the Haan SI-35R reviewed above in terms of price. The EZ1 model sells for just about $45.00 compared to the Haan that sells for over $100.00.
The EZ1 model is also a very effective steamer for the floor surfaces. If you have a lot of cabinets and furniture that you would like the steamer to steam under, you might find this challenging as the boiler for the steamer sits on top of the steam head. This is essentially a give and take.
A give in the sense that the boiler is very close to the floor therefore steam is very very hot. A take in the sense that the boiler though closer to the floor by seating on the mop head, makes it very difficult for steamer to access under lower profile cabinets and furniture when cleaning.
The Monster EZ1 does not use any detergent to clean. It relies on tap water so long as it is not hard water which can damage it over time. This model comes with as specific advantage which is essentially a solution to a long held problem associated with floor steamers - how to clean edges in a room. This is the the purpose of the front steam jets on the EZ1. They release steam jets right at the front of the steam head easily cleaning corners and room edges.
The following are some of the steaming projects you can expect the EZ1 to do effectively;
- sanitizing carpets and rugs using carpet glide attachment
- tiles
- hard floors
- wood floors (sealed)
PROS
- easily glides on the floors
- heats up very quickly
- environmentally friendly, no chemicals needed
- long enough cord to reach furthest parts of a standard room
CONS
- some users have complained of velcro pads failing to stick after a couple of pad washes
- not a great grout steam cleaner, struggles doing grout when cleaning tiles
- users have also complained of the steamer handle snapping off
- handle assembly seem to confuse a significant number of users
We recommend this steam floor cleaner in this review as a good buy. Just consider if it will be able to clean under furniture and cabinets in your home. You may also read more reviews about Monster steam cleaners in general. Be careful with the handle.
The Steamfast SF-100 Steam Floor Cleaner
The Steamfast SF-100 also enjoys very high ratings on average on online stores at 4 out of 5 stars. It is a steam cleaner with similar boiler design to the Monster EZ1 above were the boiler seats directly on top of the steamer head. The PROS and CONS of this are the same as explained above.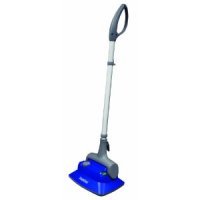 The steamer uses tap water which mustn't be hard water. At 1000 watts it is not in any way spectutalary very hot. As expected, it is heats up to a maximum 137 degrees according to some users who have tested its maximum temperature in a home setting. This temperature directly brings into question the acclaimed ability if the steamer to sanitize surfaces by the manufacturer.
It competes with some handheld steamers which have a wattage of 1000w. It has a nice convenient on and off switch on the steam head which makes it easy to turn it on and off for use.
Compared to the other three floor steamers reviewed above, this steamer lasts the shortest at only 12 minutes. The Steamfast SF-100 will do your ceramic tiles and a variety of other hard floors.
There is a red flag when it comes to steaming wooden floors. At low temperatures as mentioned above floors take longer to dry up and this can be dangerous to wooden floors.
PROS
-quick and easy set-up
- no chemical cleaning, water only
- velcro pad attachment system very good and easy to use
- effective in removing oil stains from carpets and rugs
CONS
- steam run out quicker than other floor steamers
- the cord is short and many users have had to attach extension cords
This again is amongst our recommended floor steamers. It is a good buy at a very low price. Even though the steamer has some negatives, these do not reach our threshold to disregard the steamer. It is still a simple and very handy home investment.