Haan Steam Cleaner Reviews
Accessories and Parts, Multi-Purpose Cleaner

Haan steam cleaner units have their origins in Korea where it is estimated 3 in 4 households have a Haan steam cleaning unit or product of some sought. Today Haan has a major presence in North America with its products widely available through online stores and home and garden sections of many stores. Haan steamer reviews found on this page aim to reveal the reality behind Haan steamers, what to expect and what to avoid.
As mentioned Haan is a main line brand in competition with other such names such as Bissell, Dirt Devil, McCulloch and others used in household cleaning. Haan steamers also come with a wide range of attachments particularly the hand held steamer models. Overall in price terms the products are inexpensive and designed to be within reach of an average North American home. The most important thing to consider however as you do your research is not the price but to ensure that the selected model performs your desired job effectively and efficiently.
Some tips to take away when considering to buy a steam cleaner is that the faster and stronger the steam shoots out the better the cleaning. This also works hand in hand with how hot the released steam is. The hotter the steam the easier dirt, grease and other tough stains are loosened.
The Haan HS-20 Deluxe Hand held Steam Cleaner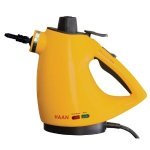 This is a handheld steamer as shown in the picture. The HS-20 is designed to do all your home cleaning and sanitization chores. It can achieve very high steam temperatures of as high as nearly 212F. This can kill any microbes and bugs that your naked eyes can not see. This type of temperature is particularly effective with bed bugs, germs, bacteria and dust mites for example.
This handheld steamer from Haan has also been popular in the United States due to its ability to clean sparkling clean without the need for any chemicals. This is a relief for certain individuals who suffer fro allergies and people who want to protect their pets and health from cancer causing substances found in some of these chemicals. The steamer can also tap water without the need to use distilled water as is the case with some steam cleaners as mentioned on this page of general steam cleaner reviews.
As with other hand held steam cleaner appliances that we have reviewed here, it is important to note that the Haan HS-20 is not a miracle worker. It will not be able to do large scale cleaning project in home. It is better to be thought of as a maintenance steamer which does your day to day stove, microwave and tiles steam cleaning. For fabric steam cleaners you may consider our upholstery steam cleaner reviews. This unit works better to keep your surfaces clean and to sanitize them of any dangerous microbes.
Our complaint against the Haan steam cleaner model HS-20 is the many attachments which come along with which whose use is nit fully explained. This can easily confuse and hopefully not harm the user. This is something Haan can improve on by updating their manual. This is however a general weakness with many steam cleaners regardless of brand There appears to be a rush to the market without proper user manual furnishing.
Expect to get up to 15 minutes for each boiler a figure slightly lower than some hand held steamers such as the Dirt Devil PD20005. It takes about 3 minutes to heat the water into steam. The unit has some safety features such as the inability to open the cap whilst there is hot water and steam under pressure in the tank. This cap is called the pressure locking cap. There is release outlet which must be utilized before attempting to open the tank.
If you are concerned about the ergonomics of handling this tea-pot stlye steamer whilst working, the design is very good specifically made to deal with problems of handling most of these hand held steamers. It is by far better than the Dirt Devil hand held steamer handle which many users have complained about. The following are a few examples of common purposes that different users buy the Haan steam cleaner HS-20 for;
1. Tile grout cleaning
2. To clean shower and shower doors
3. To clean ceramic tile floors
4. To degrease stove top and clean cabinets
5. To clean the kitchen table
We recommend this steamer as a very good buy for light day to day cleaning purposes. The price after all is under $60.00 slightly more expensive than a few other brands. Below is a review of the Haan steam cleaner multi purpose cleaner which has been also popular with many users.
Looking for a Haan hard floor steamer? Follow link to read a review of one
The Haan MS-30 Multi Purpose Steam Cleaner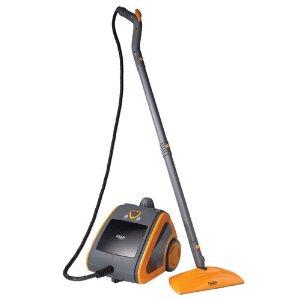 The Haan MS-30 multi purpose steam cleaner has a fancy canister design offering double the steam cleaning time at 30 minutes compared to the HS-20 above. Just like the HS-20 this steamer does not use any chemicals and will still work fine with tap water instead of distilled water which might prove expensive to constantly keep in stock. It cleans a variety of surfaces including sealed floors, windows, tiles, stone, marble, laminate, ceilings, countertops, sinks and walls amongst other surfaces thanks to the accompanying list of accessories. There is plus of an onboard accessories storage the wish of many home users.
This steamer has the ability to reach temperatures of 212F in steam heat giving it the ability to sanitize surfaces by killing bacteria, germs and dust mites. This is however according to the manufacturer's claims and will need to be tested in individual circumstances. However, as a general observation at these temperatures many microbes are destroyed and dust mites exterminated.
See other steam floor cleaners by other manufacturers.
Compared to other canister models from other brands, the Haan steam cleaner multi purpose cleaner model MS-30 has one of the highest number of jets spitting out hot steam at 12 compared to Vapamore with 10, Ladybug with 8 and Reliable environmate with 5. This has implications on how effectively the steamer deals with dirt.
When it comes to price consideration this canister steam cleaner costly nearly three times of the hand held one reviewed above. This comes with the greater work it does and can do your entire home on a more heavy duty basis compared to the tea-pot type hand held HS-20. In terms of complaints some users have been disappointed that the steamer has produced poor results cleaning vinyl floors particularly failing to remove scuff marks.
For pad replacement, some users have found good use for their old towels by attaching them to the head using rubber band. This is particularly helpful with moisture absorption when doing floors. Another tip is to warm up the pad extension before attaching the pads. This makes things easier. This Haan steam cleaner is a truly multi-purpose cleaner. All the accompanying attachments makes it very useful around the home.
Haan Steam Cleaner Parts and Accessories
Haan Steamer Short Handle Attachment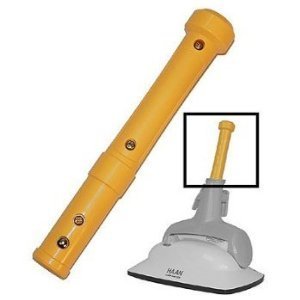 This is an important part of your Haan steam cleaner model FS20. It is designed to replace the long handle to fit this short handle. The short handle is effective and very useful when doing jobs such as cleaning your upholstery fabric, sanitizing your countertops and mattresses. This handle is very easy to attach and can be assembled with the steam mop in a few seconds and gives you 100 percent usage of your steam mop.
Some users have actually wondered why this short handle has not been included with the purchase of the steamer in the first place. In terms of physics a short handled tool has the advantage of greater force. It is also much easier to use in tight and limited spaces. This is what you get by attaching this short handle to your Haan steamer. This highly rated and recommended short handle will cost you on average under $15.00 and is a good idea to purchase at once with your standard handle upright steam cleaner.
Haan Steamer TH20 Tray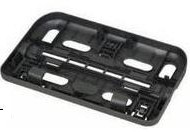 This is part of special Haan steam cleaner parts that can be attached to the steamer when working over soft surfaces. This try is an attachment that goes to the bottom of the head over the pads. It is applied when sanitizing carpets, upholstered furniture and bedding. This try sells for under $18.00 and has wheels that helps t glide over sensitive surfaces without damaging them. This try essentially transforms a hard floor steamer into a carpet or fabric steam cleaner.
Haan MF4 4-Ultra Blue Microfiber Pads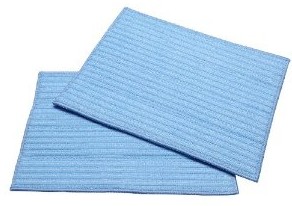 These blue pads are replacement pads for your floor steamer. They are there fore useful Haan steam cleaner replacement accessories. They can be washed for up to 300 time. They are designed to be super absorbent and reduce friction when you are cleaning your hard floors and such other surfaces. These pads are sold separately in sets of four at under $20.00. It is however a very good idea to purchase replacement pads at the same time with your steamer for reduced inconvenience.