Dirt Devil Steam Cleaner Reviews
Canister PD20020, Hand held PD20005, Troubleshooting

Dirt devil steam cleaner units as reviewed on this page have a long history dating back as far as 1905. It matters how long a manufacturer has been in business as this has implications on the quality of the product manufactured and product research and development in general. This is why most cases stronger brands are those companies that have been around for lengthy periods of time. The company behind the dirt devil brand is TTI Floor Care North America which enjoys as much as 98 percent brand name awareness under the dirt devil name.
Dirt devil steam cleaner units are only but a part of what the company manufacturers. It also does pressure washers, upright vacuums, hand vacuums, stick vacuums and carpet cleaners. Dirt devil steam cleaner reviews covered on this page consider the effectiveness of each model in your cleaning endeavors including upholstery steam cleaning, general fabric steam cleaning, easy of use, quality of the product and price.
We always consider price as the last consideration because the unit must first be able to do what you are buying it for before price is considered. We find that people who buy electrical appliances especially ones such as these in most cases get a bad deal simply because as they say price is not everything. We also give a few tips for your dirt devil steam cleaner troubleshooting. This involves how to resolve everyday common problems associated with your steamer.
Dirt Devil PD20005 Hand Held Steam Cleaner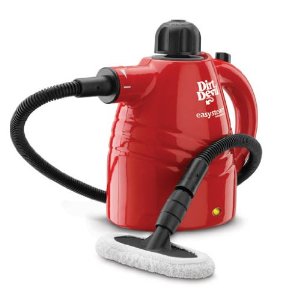 If you are considering this unit in the context of upholstery cleaning you may consider having a look at our review of this product under upholstery steaming. The Dirt devil PD20005 hand held steamer is not only a popular and highly rated steamer under the dirt devil brand. It is also popular across other brands of hand held steam cleaners especially with household cleaners. It is a tea-pot shaped light-weight steam cleaner used for home cleaning chores such as your kitchen cabinets, bathroom, fabric such as upholstery and even windows.
It is also very effective in grout cleaning and some buy it for this particular purpose. It comes along with a wide range of attachments which can be used for different surfaces and cleaning purposes. This hand held steam cleaner is praised for producing lots of steam. The steam produced is also very hot it considered to have a sanitizing effect by killing small harmful microbes which no human eye can see.
This is a chemical free steam cleaning appliance which is good news for individuals dying to avoid chemically based steam cleaners. However you may still spray some solution on any surface you are cleaning before applying this dirt devil PD20005. To get steam you fill the steamer with water preferably distilled water to avoid accumulation of substances that block steam pours.
This dirt devil steam cleaner can also reach tiny crevices that are usually difficult to reach using the jet tip extension. This mode is a highly recommended model. It must be noted however that it can easily become taxing to use it for huge homes and with lots of cleaning to do. We recommend this steam cleaner for small amounts of cleaning work at a time.
This is because of the need to constantly refilling the water for more steam which can be so frequent and tiresome for a huge home cleaning project. This dirt devil steam cleaner model PD20005 is ideal for you day to day kitchen and bathroom cleaning which usually does not last that long. There are some complaints with its design which some have identified as flaws.
We agree with this view. For example, the button you need to press for the steam is on the container which contains the water and this means you have to move around unnecessarily carrying the water which can be tiring to the arm. Apart from these issues this model still is highly rated and we recommend it. The price is also good at only about $40.00 or less on certain websites.
The Dirt Devil Steam Cleaner - Canister Model PD20020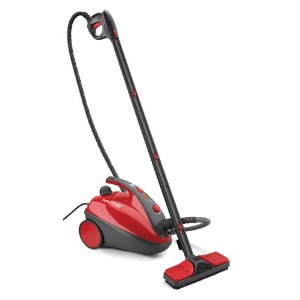 This is the canister style model sitting on three soft wheels designed to be friendly with a variety of your floors. This dirt devil steam cleaner is bigger than the one reviewed above. It eliminates the pain of carrying the hand held one full of water. It is therefore a heavier duty steam cleaner from dirt devil which will do your floors, your fabrics such as curtains, your stove, your upholstery, your grout you name. It is typical multi-purpose steamer which comes with a wide range of attachments. These attachments include small and bigger brushes, different types of nozzles including a jet nozzle.
Using attachments the steamer can easily be made into a long ergonomic stand-upright steam cleaner or into a shot-gun style jet nozzle steam cleaner to handle certain crevices and difficult to get places. It takes a little more water and takes about 12 minutes for the boiler to start producing steam.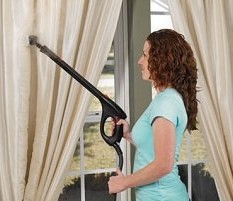 The picture shows the steamer in action steam cleaning fabric in the form of curtains. This dirt devil steam cleaner also has an iron attachment and can iron your fabrics giving them a refreshing breeze.
The dirt devil canister steam cleaner has been criticized for not having a carpet attachment despite coming along with the rest of the attachments. Perhaps the manufacturers did not have an emphasis on carpet when thinking about the design of this product.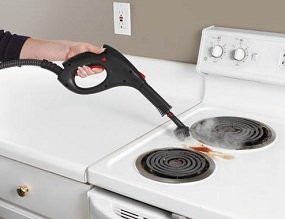 It is however a good function that the unit allows you to control the amount of steam being emitted helping you fully control your cleaning. Each boiler will give you up to 45 minutes of cleaning time helping remove the tough stains and grime on your floors. This steamer is an effective cleaner and costs just under $70.00. We also recommend this unit for more broader and heavier household cleaning chores.
Some Dirt Devil Steam Cleaner Troubleshooting Tips
Some users have complained that the pad that is placed on the attachment of the model PD20005 gets dirty quickly. User experience to solving this problem includes ordering more pads as well as using a real sock on it.
The PD20005 is very hot with temperatures of steam of up to 192F. However you are finding this to be not as hot you may consider removing the hose attachment. This will make it even hotter as less steam heat is lost in travel in the hose.