Ladybug Steam Cleaner Reviews
Ladybug xL2300 , Ladybug Accessories

The Ladybug steam cleaner models are considered amongst top of the range steam cleaners for use at home and on a commercial basis. Ladybug is a recognized and respected brand in North America and its steam cleaning products are known to have a distinct advantage over other regular day to day steam cleaning appliances.
Ladybug steamers have a canister design. Overall they are expensive steam cleaners which are categorized as vapor steam cleaners. These produce very hot vapor instead of steam which has a higher water content. As a result vapor steamers are very effective and hence their expensive price of over $1000.00 in most cases.
Ladybug steam cleaner models that come with the TANCS technology are even more appealing to the Ladybug market. We particularly recommend that you consider a model with TANCS. TANCS stands for Thermo Accelerated Nano Crystal Sanitation.This is a patented proprietary technology that works by using minerals in your tape water to create crystals. It uses these nano crystals at high temperature to help destroy germs in a lethal and therefoe very effective manner.
Ladybug steam cleaner models with this technology are effective disinfecting devices as the TANCS technology has been approved for this purpose by the US EPA in the United States.
The following are selected ladybug steam cleaner reviews.
The Ladybug 2200S Vapor Steam Cleaner Review
This is a high wattage steam cleaner. The wattage of this model is high at 1500w so much that the steamer produces vapor instead of high moisture content steam. Studies show that, as mentioned, vapor steam cleaners are more effective due to only 3% to 4% moisture content in the steam produced.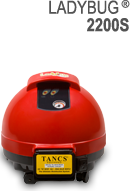 This 2200S model is light weight in design and has the added advantage of being a continuous fill steam cleaner. This resolves the annoying problem faced by many steamer users of having to wait and refill the tank with water when steaming.
It can release steam at a pressure of up to 60psi mimicking pressure washers. This model is available with or without the TANCS technology which when installed less water is used. This ladybug steam cleaner has lots of attachment for use with different surfaces. Most of these are purchased separately as accessories
The following are some uses many home owners have applied with success their 2200S Ladybug model;
- granite counters
- cabinets
- garbage cans
- grout cleaning
- windows
- woodwork
- stove
- upholstery steaming
PROS
- TANCS technology very effective
- effectively disinfects and leaves a cool breeze and air around the home
CONS
- some attachments difficult to work with (difficult to fit and remove)
- electric cord annoying to deal with, should have been made retractable
As mentioned earlier, Ladybug steamers are very pricey. This unit which essentially belongs to the lower end compared to the ones reviewed below costs below $1500.00 depending on where its ben purchased. We highly recommend this steamer for your home use. It's a long term investment into your home cleaning endeavors. It is also long lasting it be will be a while before you think about replacing a steam cleaner.
The Ladybug XL2300 Vapor Steam Cleaner Review
The Ladybug XL2300 is a high end vapor steam cleaner which also comes with or without the effective TANCS technology. This model is also a continuous fill steam cleaner enabling the user to continue working without having to stop for a water refill. This model particularly differs from the other earlier model due to the accompanying cuddy style on-board storage for your range of attachments.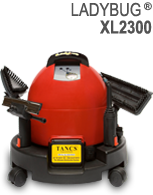 Users are able to load the steamer with all attachments on a holding facility attached to the steamer. This model also has swivel wheels which enables it to be dragged along and around the home whilst doing your cleaning. No chemical is involved when cleaning with this model just as you can expect in all Ladybug steamers. The concept of eco-friendly cleaning is very strong on ladybug steamers.
The uses of this model include those mentioned for the model 2200S above and more including the following;
- cleaning laminate flooring
- hardwood floor steaming
- cleaning metal louvered doors
- sanitize cupboards
- cleaning the BBQ
- bedding steaming i.e. mattresses, pillows etc
The XL2300 has been praised for a dry and spotless shiny clean. This is typical of vapor cleaners which have little moisture in the steam.
PROS
- continuous water refill highly appreciated by users
- deep cleaning results helps control asthma
- fast cleaner users praise it for cutting cleaning time in half
- durable, users have noted running it smoothly for up to four years
CONS
- heavy due to cuddy storage
- bulky requires large storage space
- trigger button too small, causes soar thumb/fingers
Despite the cons, we also highly recommend the XL2300. Hopefull the next design will resolve the trigger issue in particular. It sells on average for about $1500.00 and can be as high as $1700.00 when purchased from Amazon.

The Ladybug Tekno 2350 Vapor Steam Cleaner Review
The Tekno 2350 model is the high end model of all Ladybug steam cleaners. It is also pricey selling for between $1900.00 and $2500.00 depending on were it has been purchased. Amazon seems to offer the unit at varying prices depending on the vendor selling it through Amazon.
The TANCS technology is compulsory on the Tekno 2350. This means there is no option to order a cheaper model excluding TANCS. As is Ladybug's signature, this model also comes with continuous fill. It is one of the hottest models producing up to 325 degrees of vapor steam at an adjustable pressure of up to 90psi.
Some users who are technically competent have done own tests which shows that the pressure produced by the steamer ranges between 75 to 85psi. The 90psi the company claims could be a lab outcome under best conditions.
What is most attractive for any discerning user on this model is its very high boiler temperature. This is one of the highest in the industry and will perform some of the most difficult jobs. The high temperature vapor will undo any tough dirt that you might find challenging to remove with an ordinary standard steamer such as Bissell, Shark, McCulloch and such others.
The vapor blast will reach even the most difficult to reach cravicies and cracks that would give an ordinary steamer the hardest of times. The high price of this model has been justified by the manufacturer and those users who appreciate it by saying it saves in the long run on expensive cleaning chemicals.
In terms of application, you can use your Tekno 2350 on the same cleaning projects as listed above for other Ladybug steam cleaner models. It is important to remember that when cleaning windows with this model, when the weather is very cold outside, you run the danger of shattering your windows as you direct the extremely hot vapor on the windows. We also highly recommend this model for those who feel their investment is worthwhile monetary wise.
Follow link to read reviews for steam cleaner accessories and parts of other brands.
This ladybug steam cleaner has no wheels unlike the XL2300. It relies for easy mobility on the optional but pricey trolley which sells for over a $1000.00. This has been criticized by many potential buyers. Without the trolley the steamer may be very difficult to handle and one will be forced to carry it from one room to the other when cleaning.
Selected Ladybug Steam Cleaner Accessories Reviews


Ladybug steam cleaner cotton cloth - the terry cloth are important accessories for use with your ladybug steamer. They are sold in twelves and are used as attachment to the steamer cleaning attachment. They are also useful as wiping cloths as you do your cleaning projects. Expect to pay about $12.00 per set. Just be careful when ordering the towels as some users complain of having received thinner and non-fitting towels.
Ladybug Steam Cleaner Clothes Brush - This accessory from ladybug sells for about $45.00. It is sold separately as your brush for upholstery cleaning, fabrics and even clothing. It fits perfectly on all Ladybug models including the Ladybug XL steamers.

Ladybug Steam Cleaner Extension Handle - This is a Ladybug steam cleaner accessory which is used to reach further than a normal hose. These extension handles can be joined together to become longer. However, please note that these cannot be longer than 3 handles joined together. It also works with all Ladybug models and the XL model.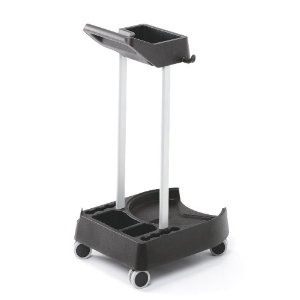 Ladybug Tekno 2350 Steam Cleaner Trolley - The Ladybug Tekno 2350 reviewed above comes with no trolley. This is the accessory trolley available for purchase separately. The only benefit some users point out of this trolley is storage as they contend that the boiler can be easily carried around in the case.