High Pressure Steam Cleaner Reviews
Wagner, Bissell, McCulloch, Clearmax, Vapamore
High pressure steam cleaner models are essentially a category of steam cleaners which release pressurized steam when cleaning. This borrows from the concept of pressure washers such as Faip pressure washer to mention but one that uses high pressure water to clean. This pressure if often measured in PSI which stands for pressure per square inch particulary in North America.
Pressurized steam cleaners release cleaning steam under high pressure. The highest pressure ones reach as much as 60 psi of steam pressure. This has the advantage of a better and effective cleaning approach than non-pressurized steamers. Steam under pressure can remove the toughest of dirt, grime and grease. High pressure steam cleaners are therefore also ideal for steam cleaning car engines, for example.
The following reviews of steamers are limited to high pressure steamers. In most cases, these are the steamers to invest in if you are to do heavy duty cleaning projects around the home or at the workshop. They are designed for that purpose save for handheld ones which does day to day home chores more effenciently.
The McCulloch MC-1275 Pressurized Steam Cleaner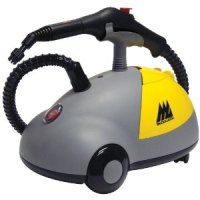 At 1500w of power, this steamer can produce very hot high pressure steam for your toughest home cleaning projects. Due to its high wattage it slides closer to the most recommended types of steamers for difficult jobs called dry vapor steam cleaners.
These produce poerful and extremely hot vapor which has very low moisture content. This McCulloch pressurized steamer cleans without any chemicals and uses ordinary tape water for all steam cleaning. It also disinfects surfaces and kills germs.
This is the type of steamer that you need if you what long hours of continous steaming. At 2 hours per each fill this is a very long time. In most cases it can even last longer as you will need to stop and wipe. Two hours of steaming is assumed if you are to continously steam. This McCulloch heavy duty high pressure steam cleaner has been a very good alternative for many buyers to the more expensive and coveted Ladybug steamer series.
Another trick in getting a high pressure output from a steam cleaner is to attach the correct attachment for the job. This McCulloch model MC-1275 also has a steam jet nozzle. This is designed to concetrate steam output on a single spot through a narrow outlet. This gives you extra cleaning power especially when setam cleaning grout on tiles, for example.
Please note that, this steam cleaner requires that some pressure builds up before you start steaming. It gives you a light indication which turns off showing that pressure has reached the appropriate level before you can start steaming under high pressure.
It typically requires that you work and rest for it to continue building pressure for your continued cleaning. It is assumed by the manufacturer, we suppose, that during this time that's when you will be wiping some dirt off as more pressure is building up. For example, if the high pressure steam cleaner blows away some gunk you need to wipe off with a towel.
Avoid cleaning cold glass or windows in the cold with this steamer. They may shatter due to extreme heat from steamer which causes instant temperature changes.
The following are some common cleaning projects this high pressure steamer has been applied on by users like you and me from a variety of backgrounds;
- cleaning bathrooms
- steaming car engine
- cleaning panelled doors
- cleaning toilets
- cleaning kitchen cabinets
- fridge cleaning
- floor tiles
PROS
- blows away dirt on darkened grout
- blows away gunk from cracks and crannies
- an accompanying impressive range of cleaning attachments
- cleans car wheels perfectly
CONS
- this is a noisy manchine that might require that you put on ear plugs when working
- steamer might find it hard to remove some hard water stains, a disappointment for thos ebuying if for this purpose
This high pressure steam cleaner is highly respected by many users and has received tons of very high ratings. At just under $100.00 it is a worthwhile investment that will work overall extremely well on your home cleaning projects. We highy recommend this model for your high pressure steam cleaning. You may read more general reviews of McCulloch steam cleaners found within this website by following link.
You might also be interested to know that most individuals who buy this model also buy along with a 6 piece set of Zwipes kit.
The Bissell 39N7A Steam Shot High Pressure Steamer
This steam cleaner from Bissell is a handheld steamer version of a high pressure steam cleaner. It is manufactured by Bissell and is part of a variety of other Bissell steam cleaners. At 1000 watts this is impressive for a handheld steam cleaner. Most hand held steamers have a wattage of about 500 or 600 watts. The higher the wattage even for a portable steamer such as this one the hotter we can expect the steam released to be.
The better and easiler or cleaning projects will be. Steam temperature is therefore an important consideration whenever you shop around for a steamer.
This Bissell 39N7A relies on its high pressure steam to clean most surfaces as well as effectively lossen the most stubborn dirt there can be around your home. It also cleans chemical free and only requires your home water. It comes with a whole range of handy attachments such as a scrapping tool, grout brush, window squeege and extension hose amongst others. It can also be used as a fabric steam cleaner. Expect some 20 minutes of cleaning steam before you will need a refill.
An important point to remember here about extension hoses is that these often contribute to loss of steam heat. This is because of the additional distance hot steam has to travel before it emerges to make contact with the surface. This is the limitation of canister type steam cleaners and this particularly gives a hot advantage to upright steamers and some handheld steam cleaners.
To refill safely, uplug the steamer in order to avod bursts of hot water/steam when cold water makes contact with boiler.
The following are common applications by users of this handheld high pressure steam cleaner by Bissell;
- kitchen utensils
- microwave cleaning
- oven and oven window steam cleaning
- dish washer
- fridge
- wax removal (mealts candle wax away so quick and easy)
- sliding shower door tracks
- lamp shades
- BBQ grills
- artificial flowers/plants
PROS
- no chemicals, water (steam) only cleaning
- it's a great note that the attachments are color coded for hygiene purposes. easily separate whats used in the kitchen and in the toilet for example.
- fairly priced with great results for small home cleaning mantainance tasks
- clear and simple straight forward instructions

CONS
- handheld steam cleaning is generally slower than chemical cleaning
- some users complain that the lack of a shoulder strap makes if painful to carry around the steamer. However, steamer design won't allow a strap without making it dangerous.
- a good day to day cleaning appliance and not a deep cleaning steamer.
More High Pressure Steamers To Consider

The Wagner 915 High Pressure Steam Cleaner - This is a 1500 watt canister pressurized steam cleaner selling for about $100.00 or less online. It is a highly rated steamer which we also freely recommend for anyone looking for a pressurized steamer to do challenging home projects. This pressurized steam system has been praised for its ability to remove wallpaper at a rate 20 percent faster than non-high pressure steam cleaners. It will give you up to 45 minutes of continous steam pressure.
The Vapamore MR-100 Higher Pressure Steamer - Some users have argued that in their experience using this steamer they get higher temperatures as well as higher steam pressure than the Wagner model above as well as the McCulloch. It can giove you steam cleaning pressure of up to 58psi which is quite high and results orientated in your cleaning projects.
We recommend it as a very good alternative to the pricey Ladybug XL2300 steam cleaner. It is also more expensive than the rest of the steamers reviewed above selling at about $300.00. It has an impressive array of attachments designed for your various surfaces.
The Clearmax Lightweight High Pressure Steamer - This pressurized handheld steamer enjoys very high ratings online from various user feedback. It is amongst the cheapest handhelds at only $25.00 per unit. It gives out some strong steam shots and has the absolute advantage praised by many users of being able to reach the most difficult to reach places with its pointed nozzle attachment. It is your typical indoor and outdoor steamer doing even your vehicles apart from your normal indoor projects.