Best Electric Pressure Washer Reviews
Karcher, Briggs and Stratton, Campbell Hausfeld
Best electric pressure washer reviews in this article include machines that are considered top of the range and from a variety of manufacturers. When looking for the best suitable pressure washer it is important to be clear of what purpose the washer will serve.
This determines the amount of pressure output the washer must have, output temperature and output flow. Day to day home cleaning of cars, boats and decks usually requires pressure washers that have lower pressure output at between 1500psi and 2500psi. Output temperature is often cold water from your garden hose. In terms of flow ouput 2.0GPM is a good flow output for home use.
Employing greater power washers around the home has the risk of damaging surfaces because of too much power. You will likely have this in washers of 3000psi. These are industrial pressure washers and are often gas powered pressure washers and not suitable for home use. In this category are certain briggs and stratton models, Troy Bilt pressure washers, Simpson pressure washer models and many others.
In our obersevation of electric pressure washers is that they have poor and mixed ratings from a wide range of onwers. We think even though certain washers are best machines for certain projects they are often rated poorly because of mismatched expectations by the user. Some users do not carefully consider the importance of the relationship between power output of a washer and its effectiveness in doing a certain job before purchase. This leads to disappointments.
Here are a few reasons why electric washers are best pressure washer options put aganist gas powered models;
low mantainance
very low noise output
less bulky
no fumes therefore environmentally friendly
The following are what we count for best electric pressure washer models currently available on the market.

The AR Blue Clean AR383 Best Electric Pressure Washer Review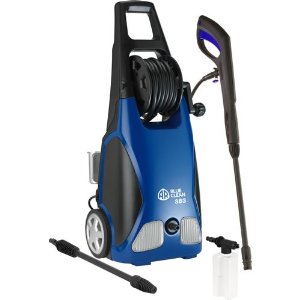 We consider this pressure washer one of the best electric pressure washer nodels available on the market today. It is among very few electric washers that have 4 star ratings from satisfied users. The washer has cold water output at 1900 psi and at a flow of 1.5GPM. It is also the price that has made it popular selling for about $150.00 per unit online.
It is essentially what most home users are looking for, something that is light weight and that can do your deck, grill, car, patio, driveway and walkway and even garage floors effectively. It also cleans your patio tile grout using high cold water pressure.
This is however not the same way of cleaning as tile steam cleaners or grout steam cleaners that do inside of your home. Certain features are also very convinient on this home machine such as the trolley mount design making it easy to move the washer about as well as the hose reel to store the hose onboard and helps preventing kinking issues of the hose.
The adjustable spray tip is also ideal giving the user the ability to control the output depending on surfaces bening washed. On the other hand, this washer is mostly copper and plastic. This plays into the hands of longivity making it less likely to last very long compared to more expensive solid pressure washers.
This is a home washer as mentioned that typically goes with other of your home appliances such as your steam cleaner for the interior of your home or carpet steam cleaner for your carpets.
A few individuals have complained of water leaks on the hose plastic adapter. the solution here is to completely replace it with a brass adapter which you can get from your local hardware store. This has to be a male to male adapter.
PROS
- light weight
- good design
- electric cord long enough to do most jobs
- ability to use chemicals with washer appreciated
- feels sturdy and compact in overall design
CONS
- some users have complained of water leakeages on the plastic hose adapter
- the hose has been criticised for being tough plastic that's not flexible enough when working
- there have been complains about the hose reel being too small
Without a doubt this electric pressure washer is a very good buy for anyone looking to accomplish day to day exterior home cleaning jobs.
The Karcher K2.28 Best Electric Pressure Washer Review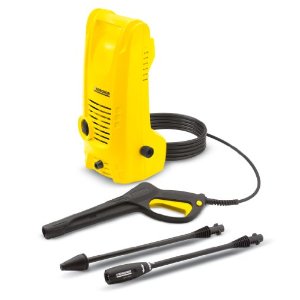 This is lower priced option to the above AR electric pressure washer also considered best. This Karcher model has less ouput power and output flow at 1550psi and 1.3GPM respectively. It is however also highly regarded by many users and onwers in terms of its perfomance and features.
This is also a low mantainance pressure washer. In fact it comes with a German engineered direct-drive axial pump designed to be maintanance free. It has a siphon tube which you place in your detergent bottle to add soap to your cleaning using a predetermined ratio by the system.
At 1550psi expect basic cleaning jobs to be accomplished around the home. This electric washer might find other jobs even around the home tougher to do compared to the AR Blue Clean AR383 above due to its lower power output. It has a switch controlled motor which only runs and gives output when triggered. This is designed to save the motor aganist having to run continoulsy for long periods of time.
Should you have fears about your wood surfaces being damaged, this washer is the ideal one. It is certainly gentle with your wooden surfaces and even car bodies that can easily be damaged if a stronger output is applied. Due to the fact that this electric pressure washer does not have as much output power, cleaning driveways takes a longer than the more powerful washers.
PROS
- lightweight
- compact and easy to store
- fairly quick and easy to assemble
- a relatively quite unit when in use
CONS
- depending on which side you stand, some have complained that the trigger is not continous. This is designed to save the motor an dgive it a longer life.
- there have been numerous complaints of buyers receiving a defective unit.
We also recommend this washer and count it amongst best electric pressure washer models. When purchasing it, however, do not plan on heavy jobs. Look forward to doing small less taxing jobs consistent with its output pressure of 1550psi and you will not be disappointed. It sells for under $90.00 on the internet.
To find other useful home and garden supplies listings go to Premier Directory
The Snap-On 80552 Electric Pressure Washer Review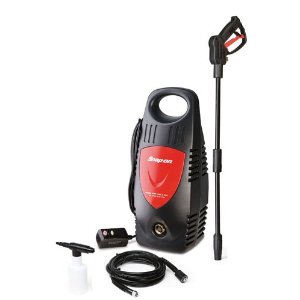 Suitable for small to medium cleaning jobs, this Snap-On model has an ouput pressure of 1600psi slightly above that of the Karcher K2.28 reviewed above. It will do your grill, car, boat, deck and perhaps with much patience your driveway, sidewalk and siding.
It has received praises for its brass and aluminium fittings compared to other washers in its category that have plastic fittings that usually leak.
There have been significant complaints with washer pump seizing. Some users have suggested the problem could be with pump oil leak overtime which one can not see from the outside. In that regard, though not proven, storing the washer up side down may help preventing oil loss overtime when in storage.
PROS
- fairly quick and easy to set-up
- very portable and compact
- hose relatively long enough
- very long power cord
CONS
- there have been numerous complaints of washer loosing pressure
- water leaks reported on the connections
- the nozzle could be improved on, when opened maximum pressure seems to fizzle out
Even though considered here under best electric pressure washers, this washer needs to be carefully considered before puchase. Many users have had very good results with it that warrant it being considered here.
It enjoys very good ratings with a significant number of users. However, on the other hand we have found that a larger number of people have had numerous misgivings about this pressure washer. It appears the major problem has been random product defect on delivery. There have also been mention of the product not really beng manufactured by Snap-On.
Other Best Electric Pressure Washer Reviews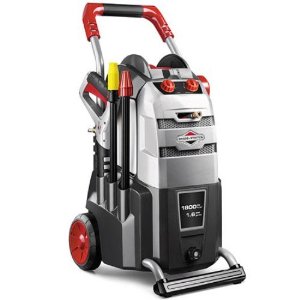 Briggs and Stratton 20358 - This is a 1800psi pressure washer which is also highly rated. It is one amongst very few models from the company which are electric powered. Briggs usually manufacturers gas pressure washers. At 1800psi you have excellent power for most home cleaning jobs. It comes with dual detergent tanks on board. It's adjustable spray wand can spray at 0 to 40 degrees. You may follow Briggs and stratton link to read a full review of this unit within this site.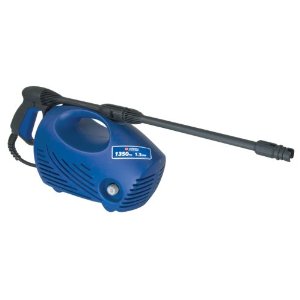 Campbell Hausfeld PW1350 best electric pressure washer- This 1350psi pressure washer is compartible, and easy to carry about whilst doing your projects. At 1350psi it can be considered a basic pressure washer doing very light jobs. It has been praised for very few or no leaks for some users. It has a lenghty electric cord as well as hose. It has been used for driveway, sidewalk, windows, and brightening wood amongst other day to day home uses. We highly recommend this electric washer. You may read a detailed review on this washer by going to campbell hausfeld pressure washer reviews on this site.