Simpson Pressure Washer Parts
Unloader Manifold , Water Outlet Kit, Water Inlet Kit
Simpson pressure washer parts are generally easily accessible. There are a few things to note and remember when searching for parts for Simpson pressure washers. Simpson machines are manufactured by Simpson Cleaning System an American company based in Decatur, Illinois. The machines are typically powered by Honda engines, Vanguard or Briggs and Stratton engines. This means depending on the part you are looking for you will specifically need part replacement for the respective engines if the part is for the engine.
In looking for the part your owner's manual will become very handy and extremely important to avoid ordering the wrong items. Specific Simpson pressure washer parts are normally listed in your owner's manual according to the respective part number. It is this part number that is very important to have as you begin your search for Simpson pressure washer parts for replacement. This also applies to other pressure washer brands such as campbell hausfeld, excell pressure washer and many others. This also applies to some bigger steam cleaners such shown by as hoover steam cleaner parts and bissell steam cleaner parts.
The pressure washer parts listed on this page are for Simpson pressure washers and may also apply to other washer machines that are powered by the respective engines under which the parts are listed here. Again it is important to remember that the most important information you need to have on hand as you research about your replacement part is the accompanying part number found in your owner's manual.
Our observations show that most pressure washer owners get into unnecessary replacement expense of parts due to little attention paid to user manual. Most individuals, for example, crack their washer by simply failing to drain water out as a hash winter is approaching. Some are those who let the machine run at very low oil or without oil at all. Essentially costly complete lack of regular service.
Briggs and Stratton Pressure Washer Aluminum Water Outlet Kit
Part Number: 190634GS
This part is an aluminum water outlet kit for your Briggs and Stratton powered washer machine. It is the one that often cracks and needs replacement when you leave your washer undrained in freezing winter. Other parts may however also be damaged. This water outlet kit is used on particular small frame pressure washer pumps. One of the things to consider when buying replacement parts is to ensure that you are getting a genuine replacement part.
Some Simpson pressure washer parts may seem cheaper yet they are actually imitations and fake. This also applies to all parts regardless of washer brand. This may not last and may even damage your machine leading to a greater cost in the medium to long term life of your pressure washer. This Aluminum Water Outlet Kit shown here as part number 190634GS is genuine and sold on Amazon for about $15.00 a reputable source of various washer parts. There are also other reputable suppliers of parts on the internet and in town. some users have reported failing to find this item on Home Depot or Lowes.
To put things in context and share some tips, this replacement part connects to the Briggs and Stratton 1/4-inch x 25' pressure washer hose which is part number 196006Gs reviewed in our pressure washer accessories section. Your hose will need to be turned clockwise into this item carefully to avoid the threads getting damaged. Damaging the threads on removing or securing the hose might mean a total replacement of this water outlet kit part number 190634GS. An necessary $15.00 cost plus the inconvenience of waiting for your replacement part to arrive whilst your washer is down.
This part weighs only 1 pounds and when purchased from Amazon, Amazon agrees to ship to select countries outside of the United States. You may consider checking if your country is listed as you go through the check-out.
Briggs And Stratton Pressure Washer Aluminum Water Inlet Kit
Part Number: 190632GS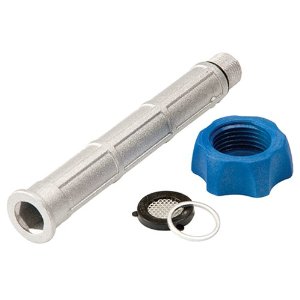 Selling for under $40.00 from reputable suppliers such as Amazon this is a genuine part for Simpson pressure washers and others that are powered by Briggs and Stratton. Many users who purchase this item also purchase the above reviewed item i.e the Aluminum Water Outlet Kit at the same time. They work hand in hand even though they might not need to be both replaced at the same time unless when perhaps cracked in winter due to un drained water in the pump.
This part is used in small frame pumps and apart from the water inlet kit contains the O-ring, washer and garden hose fitting. Users of this part found it more useful than the plastic version of the same part. The part weighs just about 1 pounds and ships to selected countries part from the United States.
Tip: always have your part number at hand when looking for your pressure washer replacement part.
Briggs And Stratton Pressure Washer Pump Valve Check Kit
Part Number: 193806GS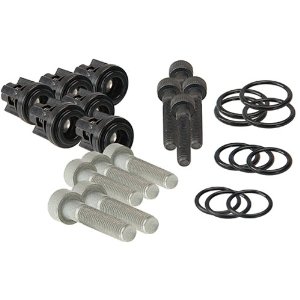 Selling for about $25.00 this replacement part is a genuine part just like many other Simpson pressure washer parts found on Amazon. If you are facing problems finding the replacement part number 197308GS for Briggs and Stratton this pressure washer pump valve check kit is also designed to replace it i.e 197308GS. It is shipped to selected countries outside of the United States and weighs about 1 pounds. As a general guide the kit is used with small frame pumps.
Briggs And Stratton Pressure Washer Seal Kit Set
Part Number: 190595GS
This genuine Briggs and Stratton replacement part sells for roughly $45.00 or less on the internet. It also perfectly replaces part number 190711GS by Briggs and Stratton. some buyers who have purchased this item through specific internet stores were pleasantly suprised to find included some instructions on installation making part replacement a breeze.
It is worthwhile noting that using the part number is the best way to order Simpson pressure washer parts including this particular one. Even though on the internet it might look similar to what you already have the kit differs by PSI. The greater the PSI of your pressure washer the larger the seals.
Briggs And Stratton Pressure Washer Pump Unloader Manifold
Part Number: 190627GS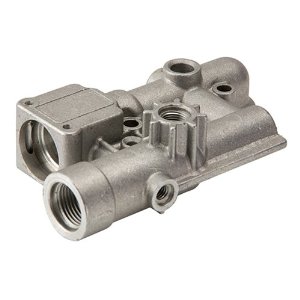 Selling for under $45.00 on the internet, this is a genuine Briggs and Stratton replacement part sold on reputable online stores. It is amongst most purchased Simpson pressure washer parts. This part also perfectly replaces part number 190574GS. Pressure washer owners who have purchased this part have generally been impressed by the quality of the product. However you will need to be prepared to spend sometime carefully removing internal components from the old one and using them again with this replacement one.
Typically this involves transferring all the washers, bolts and springs. The other thing is that the part is shipped without any instruction. You might require expert help to do the replacement without causing further problems due to damage. Owners living in very cold environments must ensure that their pressure washer is well drained in freezing winter. This is one of the reasons why the unloader manifold cracks. Overall this part is highly rated.