Pressure Washer Nozzles
Briggs & Stratton , Karcher, Dewalt, BE
Pressure washer nozzles form an important part of any pressure washer machine. In fact what makes a washer to be called a pressure washer is the high pressure effect introduced by the spray nozzle as the water is exiting the washer through the pressure wand. The pressure washer nozzle is effectively the last point by which water exits the wand.
There are different types of pressure washer spray nozzles. To begin with most electric cold water pressure washers particularly those of output 1500 psi, 1600 psi and anything below 2500 psi have built in nozzles.
These are commonly known as vario spray wands or adjustable spray wand. They are wands with a spray tip which can be adjusted from low to high pressure as well to a variety of degrees for example 0-60 degrees.
This controls the spray pattern of the washers output as well as the pressure of the water released making it possible to safely and effectively apply on different surfaces being cleaned.
The more advanced medium range to heavy duty professional pressure washer machines say of 3000 psi to 4000 psi output which happen ofttimes to be gas powered washers use what are known as quick connect spray nozzles. These are essentially 1/4" male color coded spray tips that serve particular cleaning purposes.
As an industry standard quick connect pressure washer nozzles are color coded for safety and ease of use reasons. The red spray tip is a 0 degree nozzle. It releases a straight pointed penetrating pattern commonly known as the pencil pattern. This is a dangerous pattern when used with an extremely high pressure washer machine and should be used with extreme care. The other spray tips are as follows;
15 Degree - Yellow nozzle produces a chisel pattern
25 Degree - Green nozzle produces a wider wash tip
40 Degree - White nozzle produces a wider spray which is not concentrated and is the right spray tip for rinsing.
Soap nozzle - this is a black tip which has no output impact but to effectively spray your soap or detergent on surfaces being cleaned.
These quick connect nozzles are different from the turbo nozzle which is a special spray tip designed to clean tougher dirt. The turbo nozzle boasts your washer output by some several PSI. You may follow link to learn more about this turbo pressure washer tip .
The following are some pressure washer nozzles to consider. They are sold as an after purchase of your pressure washer unit to replace damaged or lost ones or as an upgrade . Before purchasing you will need to ensure that your pressure washer works with quick connect nozzles.
Also depending on your pressure washer manufacturer, it might be necessary to purchase specific quick connect spray tips for your pressure washer brand and model from your manufacturer.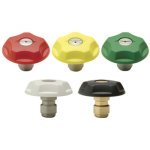 Karcher 2.640-849.0 Pressure Washer Nozzles - sold as a set of five, these spray nozzles can replace your lost or damaged tips for most Karcher pressure washer gas powered models. They sell for about $27.00 as a set and can handle 2600 psi to 3100 psi in pressure output. This means they are not suitable for washers exceeding 3100 psi. These are high quality spray tips made of stainless steel guaranteed to give you long years of service considering that Karcher washers are also long lasting highly rated washers.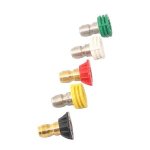 Briggs & Stratton B4847GS Pressure Washer Spray Nozzles - These spray tips are for Briggs and Stratton pressure washer machines. They are sold as a set of five including the soap nozzle. Even though made by Briggs they may also be used on other brands were they fit for use on all pressure washers of up to 4000 psi. They are also designed to last having been made from metal. They sell cheaper than Karcher ones at just under $21.00 on Amazon.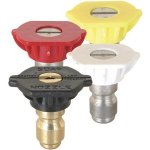 BE Pressure Washer Nozzles 4.5GPM - Great for BE pressure washers these quick connect spray tips will work with any pressure washer that has maximum 4.5GPM in water flow rate. They are sold as a set of 4 without the green (20 degree tip). The black soap nozzle is included and clearly marked as such. The nozzles are durable made of brass. Expect to pay about $17.00 for this set of four tips.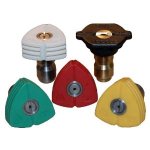 Dewalt 5 Piece 3.5 Pressure Washer Nozzle Kit DP288 - Designed for Dewalt pressure washers this quick connect set includes 4 spray tips and a soap nozzle selling for $15.00 as a set. Of all the sets listed above, this one from Dewalt has tips with a triangular design. An interesting unique design compared to most pressure washer spray tips. The set is also made of brass and durable under intense pressure release by gas powered washers.
Raptor Blast 4pc Quick Connect Nozzles - A four pc set made of stainless steel and designed for pressure washers with maximum 5000 psi. This set excludes the soap nozzle. The spray tips are of 0 degrees, 15 degrees 25 degrees and 40 degrees. This set sells for $12.00 per unit.