1600 PSI Electric Pressure Washer Reviews
Snap On , All Power America, Dirt Devil
A 1600 psi electric pressure washer is considered a mid-range washer. It produces just enough power for most home cleaning projects such as driveway, side walk, patio, grill, boat and even car cleaning. Due to the power ouput of 1600 psi, this type of pressure washer is often safe to use on delicate surfaces such as wood which can easily be gouged by heavy duty washers which are often gas powered washers.
On this page we review what we consider to be best electric pressure washers within the 1600 psi power output category. The following are different ones from selected manufacturers;
The Snap-On 1600 PSI Electric Pressure Washer 870552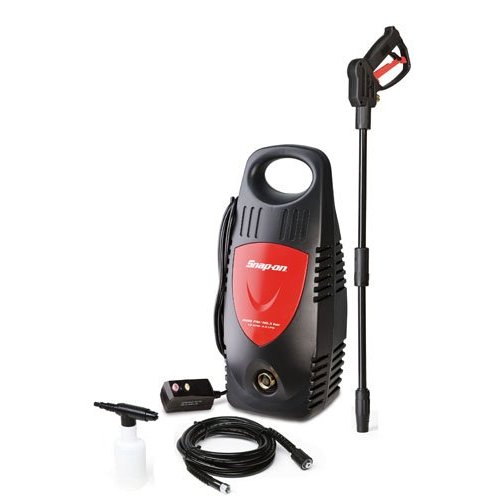 This washer is considered one of the best in the industry. It is has very high ratings amongst home pressure washer users. It has a 30 foot power cord which allows you to power wash places some distance away without having to move the unit. The hose for this washer is 20 foot long and adds to this convenience.
As is found on many units of this size, this washer comes with an auto stop system that is designed to increase your pump life. This means the washer will only give out high pressure water when the trigger is pulled. The spray gun for this washer has an adjustable nozzle enabling you to adjust flow partten. This adjustment also determines how much time you spend on a project.
Tthe following are some practical uses to which this 1600 psi electric pressure washer has been applied by different onwers with impressive results;
cleaning patio
washing vehicles
driveway
brick
fencing
concrete
garage doors
windows
house doors
removing paint off wood
For more challenging jobs such as removing brake dust from your car and removing algae from vinyl siding and deck you will need a more powerful pressure washer. This unit comes with a deterget bottle which you can use when applying dtergent on your surfaces to be cleaned. Some cleaning will certainly require detergent application for best results.

PROS
a light weight unit and compact
generally sturdy
solid brass parts
spray hose long
reasonably priced (@ $125 online)
electric and low noise, no fumes
CONS
there have been significant complaints around mechanical failure of the unit ranging from pressure loss to motor problems
the unit appears to have been made in China under different name and not Snap-On. Many buyers have complained of the consequent quality and durability of unit
water leakages on the gun handle have been reported on a 2011 unit.
We generally recommend this Snap-On 1600 psi washer which sells for about $125.00 online.
All Power America 1600 PSI Electric Pressure Washer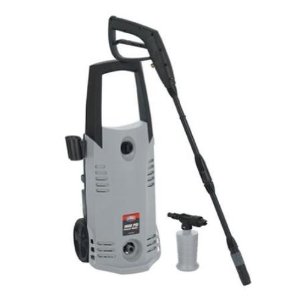 This electric pressure washer from All Power America has an output of 1600 psi at 1.6GPM flow output. It sells online for just under $90.00 and is a viable alternative to the Snap On model reviewed above. It also has an adjustable spray and has a longer power cord at 35 foot. It similary has a soap dispenser and brass hose connector.
This unit has very good ratings and reviews from a variety of onwers. It is best suitable for home use and is considered a mid-range washer which can execute most around the home cleaning jobs effectively.The following are some practical uses this 1600 psi electric pressure washer has been applied on by different owners;
garage cleaning
decks
brick walls
windows
silkscreening
patio cleaning
walkway
PROS
relatively powerful spray (which can actually be harmful to car paint)
the auto stop and start for motor protects pump
easy to use
easy to store
effectively removes mold and moss
electric low noise, no fumes
easily mobile
quick and easy to assemble
CONS
some users have complained of plastic connectors that easily break
some users hve complained of difficulty in soap dispenser spraying soap
some owners have complained of poor customer service for support.
We recommend this 1600 psi electric pressure washer as a good alternative to the Snap On above. It sells cheaper at $99.00 online.
The Dirt Devil 1600 PSI Electric Pressure Washer ND40005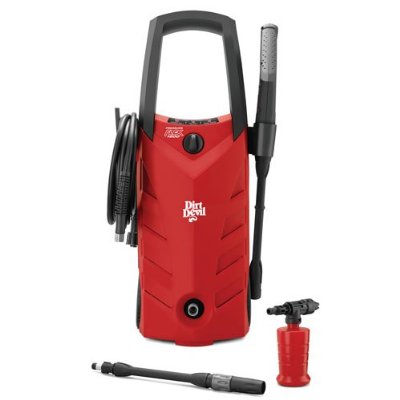 Dirt Devil is a well recognised American brand. Not only does it manufacture pressure washer machines it also manufactures Dirt Devil steam cleaners which are steam cleaners for use inside the home. You may look at steam cleaner reviews within this site.
This model ND40005 has a pressure output if 1600 psi at a flow rate of 1.6GPM. True to Dirt Devil reputation this unit is small and compact but designed to do effective cleaning projects. It sells at $80.00 online making it one of the lowly priced pressure washers in this category.
In terms of specifications the washer comes with a 35 foot power cord and a slightly shorter 19 foot pressure hose. It gets its power from a auto shut off aluminium pump with an adjustable spray wand. It varies from a narrow to a wide cleaning outlet. The following are some uses you can apply the washer on around your home;
sidewalks
grill
concrete
deck
brick
car
boat
garage

PROS
- quick and easy to assemble
- light weight and compact
- the cart wheels makes it highly and easily mobile
CONS
- some users have complained of a short handle which necessitates slightly bending over, an ergonomic disadvantage
- the manual has been criticised of being vague and not helping much for a new user
- the unit has received some mechanical fault related complaints related to pump problems
This Dirt Devil is a good buy which has received overall above average ratings. We think it is a good washer to consider even though we put a yellow flag to do with the mechanical issues that some users have experienced.
The AR Blue Clean 1600 PSI Electric Pressure Washer AR112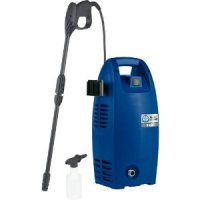 We consider this pressure washer unit amongst best pressure washers for home owners looking for mid-range light weight washers that can do the job around the home. It sells for about $100.00 and enjoys very good ratings across a diverse user background.
This unit has an out power of 1600psi at a flow rate of 1.58GPM. It also has an automatic shut-off for the pump which is essential in prolonging the life of your pump. It comes with a 30 foot power cord and a 20 foot hose.
Expect to have the following jobs satisfactorily done with this washer;
driveway
deck
concrete
pool furniture
car cleaning (at correct setting to avoid damage)
patio
removing paint from tiles
windows
sliding glass doors
sun shades
PROS
- quick and easy to assemble
- reasonably priced
- easy to carry about as a hand held
- has a quiter operation
CONS
- this unit has been criticized for not having any markings showing clearly the inlets
We recommend this washer for light home cleaning projects. Its sells online for roughly $99.99