1500 Psi Pressure Washer Reviews
Karcher, BE, AR Blue Clean
1500 psi pressure washer models are amongst popular consumer pressure washers. They are manufactured particulary for home users and in most cases are electric powered pressure washers. They typically cost less than gas powered pressure washers and are often found within our best pressure washers and best electric washer machines within this site.
As you would learn through our article on choosing a pressure washer found on this site, important considerations when looking for a washer is the PSI, GPM and the HP (horse power) of the washer. This affects how long it will take you to clean a specific area as well as how effective the cleaning will be.
As you consider a 1500 psi pressure washer the following are some of around-the-home jobs that you can expect this type of pressure washer to effectively do within optimal time.;
car wash
bicycle wash
charcoal grill
removing bird droppings from deck
patios
screen porches
garden tool cleanup
A 1500 psi pressure washer can also do other jobs such as wood fence, ATV, boat, siding and driveway. However, this will take longer than is necessary if a higher pressure such as a 2500 psi washer had been used.
On the other hand a 1500 psi washer has a few advantages including handling delicate surfaces in more non-damaging manner. Higher output washers can damage wooded furniture and so on. The following are top pressure washers with an output of 1500 psi.
The AR Blue Clean 1500 psi Portable Pressure Washer
This 1500 psi washer model AR118 is an electric cold water pressure washer. This means it cleans with high pressure cold water and is not a heated pressure washer. It has a water flow of 1.5GPM and runs on an AR triplex plunger pump built with stainless steel giving it an advantage to last longer than most pressure washer pumps.
We regard this washer amongst our best electric pressure washers based on our own consideration of the machine as well as enoumous positive user feedback, ratings and reviews. It also runs on a stop and start system that is designed to increase your pump life.
It has a rotating adjustable spray wand. It also comes with a 20 foot hose and has a detergent bottle giving a good mix of both water and soap in your cleaning. As you could possibly tell from the picture, this model has a mounting bracket. This under normal circumstances should make it possible to attach the washer to a wall.
However, in practical terms this will not be practically possible due to the lower pressure of the washer. This would mean adding an extension hose which has the downside of reducing output pressure of the washer, overall.
PROS
lightweight and portable
can work with a turbo nozzle sold separately
fairly quick and easy set-up
relatively easy to use even for seniors
well priced for the delivery it offers
CONS
the quick connect coupling is made of plastic which can lead to drippings
This 1500 psi unit sells for $95.00 online and we highly recommend it for light home cleaning projects.

The Karcher 1500 Psi Pressure Washer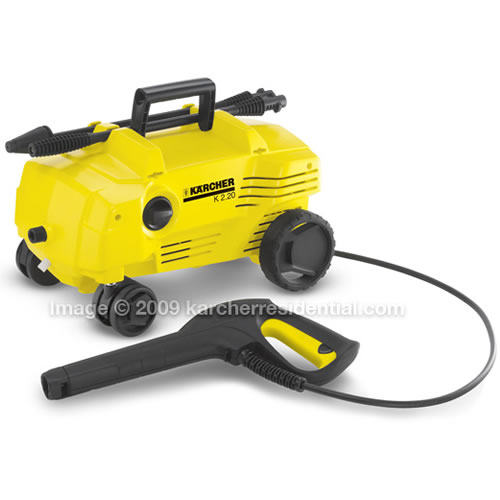 Commonly known as the "Follow Me" pressure washer, this unit falls into the consumer grade of pressure washers suitable for use around the home. This 1500 psi washer is called "Follow Me" due to its four wheels which enables the unit to be pulled along as you are pressure washing around the home.
It is a light weight unit which comes with a rotating spray which makes it effective when working on hard surfaces. In dealing with the problem of attachment storage, this unit has onboard storage for your wands and cord. Similar to other washers in its class, this unit also has a stop and start motor. The following are some identified positive aspects about this model;
PROS
lightweight
the wheels are appreciated and makes moving washer easier
very effective with small around the home jobs
fairly quick and easy to set-up
just perfect pressure output for wood
fairly long cord at 35 ft
CONS
no soap tank, just a siphon hose on this unit
This is a great buy and we highly recommend it. It sells for just under $150.00 online. You may also consider other Karcher pressure washer reviews we have done within this site.
The BE Professional 1500 Psi Electric Cold Water washer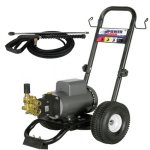 With this washer, the game is upped a bit in the context of durability, and professional approach to pressure washing. This BE model PE-1520EW1COMX is clearly designed for rugged challenging power cleaning projects. It still has an output of 1500psi and a higher flow of 2.0 GPM compared to the consumer grade washers reviewed above.
This washer can be used both indoors and outdoors because it produces no fumes and also is quiter compared to gas powered washers. It has a commercial grade comet axial pump which is designed to be easy to mantain. It has an oil drain plug and makes it possible for the user to check through a an oil sight glass.
This 1500 psi pressure washer from BE costs much more than the consumer grade washers we have reviewed above. For a professional washer such as this one expect to pay up to $800.00. In turn you get a more professional unit which will last you a very long time compared to cheap $100.00 washers.
This unit has 10"pneumatic tubed tires deigned to handle challenging terrain in a professional environment. It comes with 4 quick connect nozzles of 0 degrees, 40 degrees and a soap nozzle. It has a low pressure chemical tube for siphoning soap upstream.