Electric High Pressure Washer Reviews
Dirt Devil, Campbell Hausfeld , AR Blue Clean
Electric high pressure washer reviews covered on this page are of those electric pressure washers that we consider high in pressure output. They are at least 1800psi which has been reported by many owners of good brand pressure washers as giving them best results in their cleaning chores around the home and professional environments.
These high pressure electric washers are often prosumer meaning they fall inbetween home and professional washer units. They do more than ordinary pressure washers. We also consider these not only as amongst best electric pressure washers but also amongst best pressure washers for those looking for good value for money electric powered washers.
The following are high pressure electric washers that we have reviewed for your consideration as you do your research for washers in this category;
The Dirt Devil ND40010 Electric High Pressure Washer 2000psi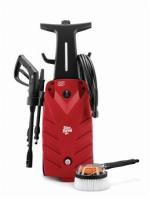 Manufactured by America's most recognised brand, this Dirt Devil ND40010 is a high pressure washer powered by electric power at 2000psi and 1.6GPM flow rate. Dirt Devil has a whole range of home appliance products including the popular dirt devil steam cleaners that we have also reviwed within this site.
This 2000psi pressure is high put aganist the average pressure of many electric washers of 1500psi. The design of this Pressure Flex 2000 is compact which makes it easy to carry about yet loaded with much power for most of your home and professional power cleaning. The following are some of the features of this electric high power washer;
19 ft hose
35 ft power cord
auto shut-off pumo made of aluminium
gun holster
onboard detergent tank
cold water output
This unit sells for under $120.00 and has been well received by the generally critical market of pressure washers. It has on average 4.5 stars out of 5 in positive user feedback satisfied by its power, effectiveness and wide range of uses around the home or a professional set-up.
The following are practical user applications of this electric high pressure washer beyond what is claimed by the manufacturer;
power cleaning trailers
power cleaning cars
power cleaning tough stuck-on dirt
power cleaning driveway
power cleaning sidewalk
power cleaning oily garage floor
power cleaning boat and dock
stripping off house paint
PROS
compact and easier to store
the two wheel cart carrying the washer appreciated
decent price
the many metal fittings appreciated and preferred over plastic fittings on other washers which often leak
easy and straight forward to set-up and use
CONS
some individual users have complained the power released by washer is less than claimed by manufacturer
electric cord could be a little longer
there have been complaints of detergent dispensor failing as well as some water leaks
Overall we highly recommend this electric high pressure washer despite the complaints that have been raised by some users. Considering everything else this unit remains a very good investment if you are looking for a decent power washer above the average washers.
The AR Blue Clean AR383 Electric High Pressure Washer 1900psi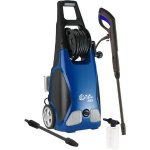 This is also a highly rated pressure washer by a legion of users. The AR383 is in fact one of the best preferred electric washers on the market today. It is a bit more expensive than the Dirt Devil above selling at about $155.00 online on stores such as Amazon. It howver enjoys slightly lower ratings compared to the Dirt Devil rated at 4.0 out of 5.0 stars.
The following are some of the features to expect with this high pressure electric washer;
20ft hose
30 ft power cord
onboard hose reel
1.5GPM
cold water output
This is a light weght pressure washer which you can expect to do your driveways, grills, cars, driveway, walkway and decks amongst a wide range of other jobs. At 1900psi you are unlikely to notice the power difference compared with the 2000psi Dirt Devil above. This makes it a very good alternative should you find this manufacturer your favourite.
PROS
light weight
adjustable spray wand feature great
long electric cord allows to reach far without unplugging washer from mains
onboard accessory and attachment storage appeciated
pressure hose long enough to work without moving washer
CONS
more plastic parts than the Dirt Devil. Plastic parts often leak
some users have complained of water leaks on the plastic connections
complaints have been made aganist material used on pressure hose which is stiff
We highly recommend this washer as a good buy pressure washer. It is a very strong competitor of the Dirt Devil model above. Either of these two should give you high pressure cleaning with very good results.
The Campbell Hausfeld CP5211 Electric High Pressure Washer 2000psi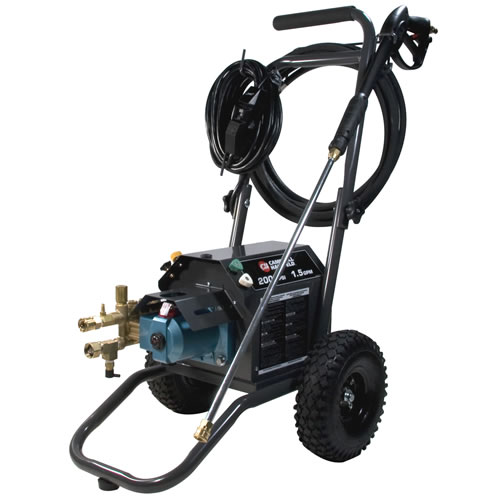 This is professional electric powered high pressure washer with a flow rate of 1.5GPM and pressure power of 2000psi. It has a remarkably unusual design compared to most electric pressure washers avaible on the market. This washer cleans with cold water and is designed for use in a home setting as well professional setting such as a shop floor, restaurant kitchens and so on.
The interest in this washer has been in its ability to clean both indoor and outdoors due to its low noise output and fact that it releases no fumes due to its electric powered pump. This pump is a CAT Triplex plunger pump which is respected for being durable, effective and reliable.
It has onboard storage of hose and attachments including your pressure washer wand. If you will be using chemicals in your cleaning, the washer has a chemical siphoning tube that you will put in your detergent bottle.
We recommend this washer. Campbell Hausfeld pressure washers are well known and highly regarded on the market. The fact that this is a professional pressure washer is reflected in its price. It sells for about $900.00 or a little less online.
Other Electric High Pressure Washer Models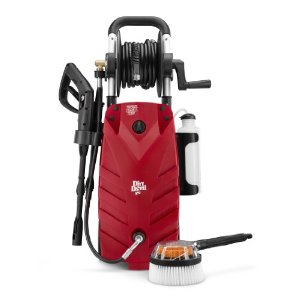 Dirt Devil ND40015 Pressure Flex 2000psi - This washer is a slight variation of the Dirt Devil ND40010 reviewed above. It has a flow rate of 1.6GPM. You can opt for this model instead of the ND40010 and still get excellent value for money. The washer has a reel for onboard hose storage as well as an accompanying detergent bottle mounted on the side of the machine. It also has brass fittings which minimises leaks as happens with plastic connections. Complaints have been to do with the need to keep pressing the trigger when cleaning, for pressure. We nevertheless recommend this washer as a good buy. To reach this opnion we also take into account the fact that it enjoys very good feedback from onwers.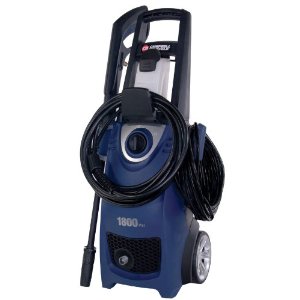 Campbell Hausfeld PW1825 1800psi - This 1800psi, 1.5GPM cold water electric washer is also an important consideration in looking for a high pressure electric washer. It enjoys very good reviews from onwers and is a great washer for more power for your around the house cleaning projects. It also has brass connectors which is a better gurantee aganist leakeages. Complaints have been around hose length which some particulary found too short when cleaning cars as well the stiffness of the hose itself. Even though the pressure is on the higher side, for some tougher stains you will need some patience to overcome.