Pressure Washer Soap
Degreasser, Concrete Cleaner, Car Cleaner
The pressure washer soap that you use with your washer is an important consideration. There are a number of different soaps that can be used with your washer. Due to the fact that the market has varying types of pressure washer soap there are some factors to take into consideration when looking for which soap to use.
Perhaps the first consideration is what you would like to use the soap for. Soaps for pressure washers are formulated to achieve different things. Some soaps are designed to do your patio, plastic and wood decks as well as surfaces outside such as sidewalks, brick walls, as well as driveways.
Another consideration is the environmental impact of the soap that you will use. Typically you want to buy pressure washer soap that is 100% biodegradable. This means even as teh water with the soap flows away into the sewer system or soaks into the soil it will have no environmental impact. This can be poisonous to the plants and animals. Good washer soaps are those that can be used in any environment and have a good balance between environmental preservation and cleaning effectiveness. If you have pets and animals around the home or work environment you also want to avoid animal poisoning from the soap.
The other consideration concerning which soap to use with your pressure washer has to do with the chemical properties of the soap itself and its possible effects on your pressure washer machine. Some soaps can be acidic and corrosive. This means over a period of time your equipment will be damaged through corrosion. Pressure washer soap is typically applied in two ways on most pressure washers. This can be through a specific separate tank on your washer for soap or detergents or can be through a siphoning tube placed in a container with the soap.
The concentration of the soap itself is also important for economic and cleaning effectiveness reasons. Most soap including those listed below on this page are high concentration soaps from reputable manufacturers such as Karcher. These types of soap will turn a gallon of cleaner into ten gallons of water treated with soap which is very economical and effective in breaking down slime and grime accumulated over a long period of time. This represents a 10:1 dilution ratio.
Pressure washer soaps are applied more efficiently when in use with pressure washer with a soap dispenser. In this case soap is applied automatically when the spray gun is operating in low pressure. The soap is then cleaned off when you switch to a higher pressure nozzle for example. Many wands on the market which yon read more under our pressure washer accessories page can be attached soap or detergent nozzles.
The following is a summary of the most important things to consider when purchasing your pressure washer soap;
1. Purpose of soap - interior or exterior
2. Environmental impact of soap. Is it 100% biodegradable and is it also not poisonous to plants, animals and pets.
3. Soap chemical properties - ensure its not acidic and corrosive to your washer
4. A higher concentration soap is more effective in cleaning and economic to your pocket in terms of dilution ratio.
Pressure washer soap now available on the market is advanced in many ways especially for users. Most soaps are sold in packs that are pre-measured and are self dissolving. In fact this means you will not have to suffer the trouble of mixing and ensuring the soap is dissolved. The soap packs do that them-self. You perhaps just need to do a gentle and brief mix. The following are some soaps currently available on the market for your consideration;
Karcher 9.558-116.0 Exterior House Cleaner SoapPac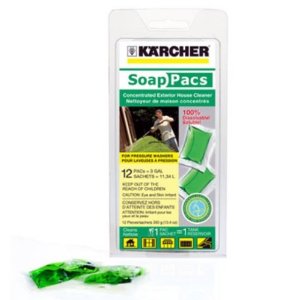 This is a 12 pack washer soap product from Karcher the manufacturer of Karcher pressure washers. This soap product is not only for Karcher washers but can be used with many other pressure washer machines. It sells on average $10.00 on the internet and has some good reviews. People who have used this Karcher SoapPac recommend that for best results use it on a cloudy day and allow the soap to set before applying your washer. If you can't get a cloudy day try using it in the shade. You will also get very good results.
The soap is for exterior house cleaning such as your brick walls or structures, window screens sidings. It is also good for cleaning your concrete surfaces such as sidewalks and driveways with the ability to remove grime. It is 100 biodegradable. This soap does not leave behind and film or residue. We recommend this pressure washer soap.
Karcher 9.558-112.0 Vehicle Wash and Wax SoapPac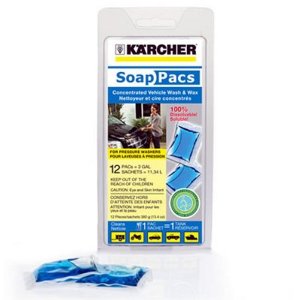 This is the blue pack Karcher vehicle wash and wax cleaner that sells on average for $12.00. It is also a well rated product which comes as a total of 12 smaller packs. This cleaner is for your typical vehicle such as your car, bike, boat, ATV and other such vehicles. The wax in this cleaner is meant to give a nice finishing to your vehicle.
Due to fact that this soap cleaner has some wax in it, you will need to hand dry your vehicle with a nice towel to ensure the wax coating gives a fine coating. This will also apply to the windows in order not to leave stains and streak from the soapy water with wax. Just like the other Karcher SoapPac for exterior house cleaning, this one is also fully biodegradable. Nice product for your car. Perfect when used with a washer with a dedicated soap dispenser. Highly recommended.

Karcher 9.558-111.0 All Purpose Cleaner SoapPac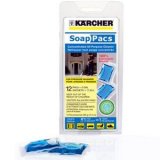 This is an all purpose version of the Karcher SoapPac. It can be used on your boat, patio, sidewalk, driveway and brick walls amongst many other surfaces. This soap pack costs $10.00 on most online stores and is an option to the various project specific pressure washer soap products from Karcher. It is perhaps a wise decision to buy a SoapPac designed for your specific project for example car cleaning or concrete cleaning. This product is also 100% biodegradable and is environmentally friendly.

Simple Green House and Siding Cleaner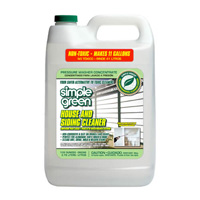 This soap cleaner is manufactured by Simple Green. It is designed for use with your pressure washer for your house exterior cleaning as well as your siding. Selling for an average price of $20.00 this soap is 100% biodegradable and will not be harmful to pets, animals and plants.It cleans your brick walls, vinyl well and aims to remove difficult and stubborn dirt and grime from these surfaces. We also comfortably recommend this soap.
Simple Green Concrete Cleaner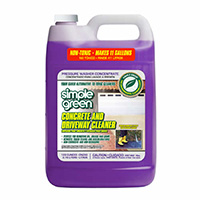 Suitable for all pressure washers, it is non-corrosive. This pressure washer soap from Simple Green is designed specifically to do your concrete. It is strong and effective enough to remove driveway engine oil and stains. At the same time it is also biodegradable and environmentally friendly to plants and pets. This product also sells for $20.00 on average.
Campbell Hausfeld Concrete Cleaner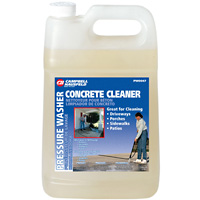 This concrete cleaner is manufactured by Campbell Hausefeld the manufacturers of Campbell Hausfeld pressure washers reviewed on this site. As the name of the product suggests it is designed for your concrete surfaces such as sidewalks, driveways and other such surfaces. This is also a biodegradable product which can remove stains and dirt from your concrete surfaces. In most homes concrete surfaces are oil stains from vehicle engines. This soap is designed with that kind of trouble in mind.