Choosing A Pressure Washer
Tips For Best Buys
Choosing a pressure washer is one of the most difficult things to do especially for a beginner. As a result many people search for pressure washers online using terms such as best pressure washer or best electric pressure washer.
Even though these approaches can lead you to the widely used and highly rated washers it still leaves room for costly error in your purchase especially when you are no equipped with a few but important tips that we talk about on this page.
As we always recommend on this site, before setting out to look for a washer it is of paramount importance to be in the clear about the purpose of your pressure washer to b purchased. Are you a home user who is looking forward to apply the machine in a home environment or are you a commercial or professional user or middle of the road for that matter.
To make this two important approaches clear we will take turns to look at each of the approaches and hopeful help determine how best to approach choosing a pressure washer.
Choosing A Pressure Washer As A Home User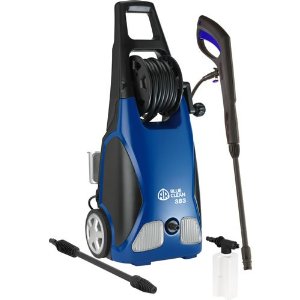 Home pressure washers are usually electric powered because they are designed produce less noise and no fumes which might be harmful in a home setting. They are also usually cold water washers. This means they clean with high pressure cold water and detergent alone.
In terms of power output, home washers range between 1000psi and 2000psi in general. Within this range, the power produced by the washer is good enough to do most home chores such as driveway, grill, boat, patio, deck, fence cleaning and so on.
The pressure is good enough to clean these surfaces and items without damaging them. Most pressure washers in this home user category are light weight, portable and sometimes even handheld. They usually satisfy the needs of millions of home owners.
You may consider having a look at our reviews of steam cleaners by following link. Steam cleaners are a great tool for interior home cleaning.
Due to their nature they are typically low maintanance washers, made out of plastic with very few metal parts and therefore typically lasting not that much long. As a result they are also lowly priced selling for as little as $60.00 to $80.00 online.
Also consider the selected washer's ability to work with detergents. Most washers on the market today have a siphon tube which allows you to add detergent in a downstream manner preventing corrosive chemicals entering your pump.You will likely need to use detergents in dealing with certain tuff stains such as grease and oil around the home. So picking a washer that has this capability is a good idea.
In choosing a pressure washer you also need to consider the available nozzles. Will you be able to attach a turbo nozzle, for example? Turbo nozzles are very useful in giving you extra power for certain surfaces even though the washer itself might give you less power without the nozzle. Not all pressure washers for home use have quick connect nozzles. Some come with permanently fixed spray tips making it impossible to use an after purchase turbo nozzle.
It is also an important consideration if you leave in cold weather to choose a pressure washer that is relatively easy to empty all the water for winter storage. Storing a washer filled with water will result in permanent damage so much that after the winter season the washer will be a right-off or might require a pump change.
A quick summary of what to consider for your home pressure washer;
electric or gas powered
hose length
electric cord length
pressure output (PSI) and water flow rate(GPM)
detergent siphoning capabilities
detachable spray tip
washer storage in cold weather
price

Choosing A Pressure Washer As A Professional Or Commercial User
Your approach to choosing a commercial or professional pressure washer is radically different from that of a home washer. Professional pressure washers are often heavier duty pressure washers that do more in much less time than home pressure washers. They range in pressure out from about 2000psi to as high as 4000psi.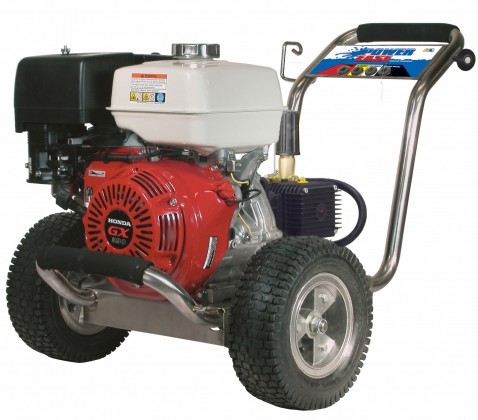 These are dangerous machines especially at 3000psi and above. They have the power to brutally strip flesh from bones. As a result they must be handled with great care. Commercial washers are in most cases powered by gasoline. They are therefore known to be gas powered pressure washers. Most can carry enough gas to continue running for a whole day without stopping for a refill.
Again when choosing a pressure washer for commercial or professional reasons you need to be clear of the purpose of your purchase. This will determine if you will need a cold water washer or a heated pressure washer also known as a hot water pressure washer.
A key consideration when choosing a washer is the washer's engine and pump. We recommend washers with a Honda engine and a CAT pump. These are amongst the most reputable brands in the industry lasting longer and requiring less demanding maintenance.
Honda engines are also easier to start and have less mysterious problems compared to Briggs and Stratton engines, for example. Follow link to see a variety of honda powered pressure washers.
Professional and commercial pressure washers are obviously more pricey than home pressure washers. Generally, higher quality washers in this category cost more than the poor ones. Other things to consider include the hose length, the tires and so on. Metal parts are almost a given on all higher grade washers in this category and reports of leaks are also limited.
Commercial or professional washers to consider include those by Craftsman, BE, Northstar and Simpson.