Dewalt Pressure Washer Reviews
Different Dewalt Washer Models Considered
Dewalt pressure washer reviews on this page are of those Dewalt washers that have ranked highest based on a variety of owner reviews and ratings and which we also recommend after careful consideration. These are our best pressure washers.
Dewalt is a solid brand that is well known in the United States perhaps more so for other tools apart from pressure washers. The company is based in Baltimore, USA. It has a wide range of tools beyond pressure washers such as drills, compressors, grinders, generators, nailers and saws.
Overall Dewalt washers enjoy very good feedback amongst all the other manufacturers of pressure washers one can consider such as Briggs and Stratton, Simpson, Northstar, Troy Bilt, BE, Craftsman and many others.
Dewalt pressure washer models are industrial heavy duty washers ranging in power output from 3000psi to as high as 4200psi. This makes them amongst some of the high powered pressure washers in the industry. Most of the washers from this manufacturer are also gas powered washers.
The following are selected pressure washers reviews of different Dewalt models for your consideration;
The Dewalt DPW4240 Pressure Washer 4200psi
This is a highly rated commercial grade pressure washer which has industrial power of 4200psi at 4.0GPM. This is massive pressure for any given day to day commercial job. This washer is gas powered and cleans with cold water. It's engine is the reputable Honda engine known for being easy to start almost always starting at the first pull.
The washer has a General TX pump which is also a reputable pump. By design it runs cooler due to use of ceramic pistons and has a thermal relief system that prevents the pump from overheating a problem that many other pumps suffer from.
Almost in all cases this washer is purchased for the sole purpose of commercial ventures due to its price. It sells online for under $1200.00 nearly 10 times the cost of an entry level home best electric pressure washer such as those by FAIP, Simpson and Campbell Hausfeld.
Commercial owners of this machine have reported easily recovering their cost of purchase through numerous commercial jobs covered within a short space of time of as little as 2 months due to the efficiency of the washer.
This Dewalt pressure washer has been used effectively by small businesses for the following commercial purposes;
power washing rental homes
washing fences
removing stuck-on hard crust dirt and mud
power washing trucks and farm tractors
Expect this Dewalt model 4240 to run for long hours on end giving you maximum time to work on your commercial projects. It runs on a 6.4 quarts gas tank. It is an extremely powerful machine and some users have had to reduce power whilst washing to prevent being knocked off their feet. As a safety precaution, never point this powerful washer at a person or animal. It is extremely dangerous.

The Dewalt DH3028 3000psi Pressure Washer
This is also a highly rated pressure washer by so many users. It delivers on what is promised. This Dewalt pressure washer is 1200psi less in power compared to the Dewalt DPW4240 reviewed above. It also follows that it costs less at $650.00 on Amazon, for example.
In our view, if you are purchasing this unit for commercial reasons, you are better off investing in the DPW4240 above. It has greater power and will do more commercial jobs within a shorter period of time therefore giving you faster return on your investment. As mentioned in the review above, many commercial owners of the above unit have been able to recoup their investment within 2 to 3 months.
This unit, however, remains a very good investment. It is also CARB compliant which means it will be permitted to enter certain US states, for instance. It is powered by a the reputable Honda GX200 gas engine which is easy to start. Expect to find some five quick connect spray tips of 0, 15, 25 , 45 degrees and another one for soap spraying.
PROS
onboard attachment storage very handy and appreciated
brass parts also appreciated such as garden hose water inlet
a quick start washer, on first pull
fairly easy to operate
way quieter than most gas washers
Honda engine and CAT pump great working combination
CONS
some users have complained of vague start-up instructions
hose considered too short at 25ft by some individual users
We fully recommend this Dewalt pressure washer as your cheaper alternative to the 4200psi unit above. This is a good commercial pressure washer buy by any standards.
If you like Honda power, follow link to learn more about honda powered pressure washers currently on the market. Also have a look at our reviews on hot water pressure washers.
The Dewalt DP3100 Pressure Washer 3100psi
This is yet another sound alternative to any of the two models reviewed above. this Dewalt pressure washer model is also designed for the rough and the rugged at 3100psi and 2.8GPM its will do most commercial projects albeit at lesser speed than the DPW4240.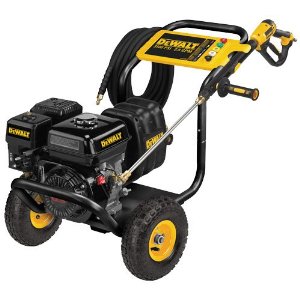 It also runs on the reputable Honda engine which is easy to start and has many features that protects both the pump and the engine for long life. This include auto shut-off whenever the oil reaches critical levels. For added versatility this washer comes with five quick connect nozzles. You may also do an after purchase of a turbo nozzle for this unit for added versatility.
This washer enjoys some of the highest ratings on the market with average 4.5 out of 5 positive stars. It sells for about $700.00 on Amazon and might be hard to find on other online stores. The following is an overview of some of the features on this model;
25 foot 3/8 inch steel braided hose
Honda 6.5 HP OHV GX engine
5 quick connect nozzles
1 year warranty
Low oil auto shut-off
CAT pump
PROS
the Honda engine and CAT pump combination is a winning combo
excellent engine not noisy
ergonomic design of the spray wand handle appreciated
CONS
carefully check your unit before purchase as manufacturer has been putting different pump with a cover claiming it's a CAT
there have been complaints of fuel system clogging
We fully recommend this Dewalt pressure washer for your commercial heavy duty projects.