3000 PSI Pressure Washer Reviews
Karcher , Generac, Dewalt
3000 PSI pressure washer machines are generally considered medium to heavy duty washers. They are in most cases powered by gasoline. Gas powered washers of a heavy duty category produce a lot of noise and as a result are less used at home for day to day cleaning purposes. This is part from the problem of harmful fumes produced by the machines.
The best gasoline pressure washer is one powered by a Honda engine. These are quick and much easy to start often starting at first pull. Honda engines also last longer. The best combination of engine and pump involves a Honda engine and a CAT pump. Seasoned owners of pressure washers call this combo a winning team.
The following are reviews of selected 3000 psi pressure washer models available on the market. We sought to review only those washers considered best pressure washers even though they might have some short comings as revealed in PROS and CONS of each.
You may consider our other reviews for 1500 PSI pressure washers , 1600 PSI pressure washers and 2500 PSI pressure washers.
The Karcher 3000 PSI Pressure Washer Model G3050OH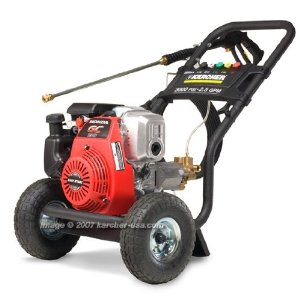 This is a highly rated medium to heavy duty washer. It has an output of 3000 psi and a flow rate of 2.5GPM. This is a cold water pressure washer and does not have hot water output as found on hot water pressure washers. Due to the high output of this machine, you can complete certain jobs much faster and more perfectly compared to 1800 psi or 2500 psi washers.
It has a Honda GC engine with a recoil starter as well as a Karcher Axial cam pump. One thing for certain is that Karcher is a respected brand. Karcher pressure washers including this particular model enjoy very high ratings. It comes on a 2 wheel cart with pneumatic wheels for lasting service and ease of mobility on the job site. Its hose is 25 ft long.
This 3000 psi pressure washer from Karcher has been praised for its ability to work non-stop for a long time only stopping to refuel. Some owners have run the beast for up to 45 hours only stopping for gas change with no problems. It comes with five quick connect nozzles. You can also use an after purchase turbo nozzle for jobs requiring more power.
PROS
easy start, often starts on single pull
comparatively quiet operation
fairly easy to assemble
large capacity fuel tank appreciated
very strong fittings, many of which are brass
CONS
Tire valves can be tricky to access (tires come un inflated)
the open fuel drain design on the machine has been criticized for being harmful to the environment
We highly recommend this pressure washer. It is an excellent buy for any professional and commercial pressure washing jobs. It sells for about $500.00 online. You may also have a look at our list of Karcher pressure washer parts and accessories to use with this washer.

The Generac 3000 PSI Pressure Washer Model 6024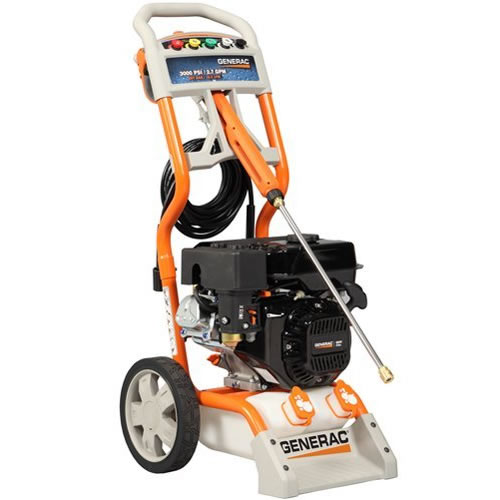 This Generac 6024 model is a viable alternative to the Karcher G3050OH model reviewed above. It also has an output of 3000 psi which is ideal for more demanding projects at professional and commercial sites. It has a slightly higher GPM flow of 2.7 compared to the Karcher's 2.5GPM. It runs on the Generac 212CC horizontal shaft OHV engine.
This washer machine comes with 5 quick connect nozzles known by the manufacturer as quick-click nozzle tips. These are 0, 15, 25, 40 degrees as well as a soap nozzle. The hose on this machine is 30 foot long 5 feet longer than that on the Karcher G3050OH.
Even though this unit is often classified as a consumer grade washer useable around the home, the fumes nd noise associated with gas washers makes them not that much ideal for day to day home use. Compared to the Honda powered pressure washer by Karcher above this unit does not often start on the first pull
PROS
quick and easy to get started from the box
very mobile easy to move about around job site
generally high quality unit
high pressure hose and low pressure water intake connectors rather inappropriately connected making difficult to reach
sturdy
quite and smooth in operation
CONS
often more than one pull to start engine
starter rope complained by some owners as being too short
can be challenging to a new user to attach quick connect tips. Instructions not totally clear
hose made out of cheap plastic like material
This pressure washer is also amongst our recommended list. You can get it at about $400.00 online.
The Dewalt Professional 3000 PSI Pressure Washer Model DH3028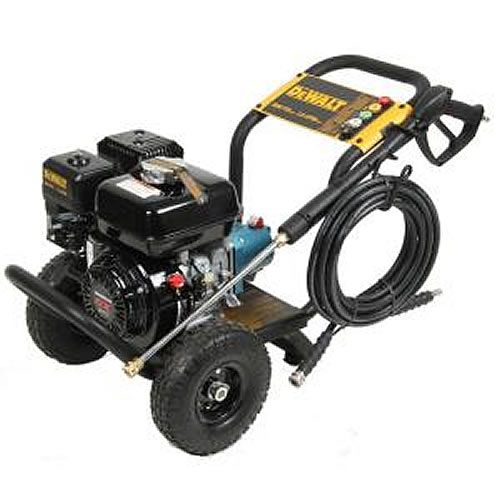 This washer from Dewalt is considered a professional pressure washer. It is designed for professional service in the power cleaning industry. At 3000 psi and 2.8 GPM this gas powered cold water washer is in the league of the the other two washers reviewed above. Dewalt is a reputable pressure washer name on the American market. You may also look at other Dewalt pressure washer reviews within this site.
What generally drives away most potential buyers from this unit to the other two above is its price tag set at $730.00. In terms of specs this machine has what we called the winning combination of a Honda engine and a CAT pump. It runs on a Honda GX200 Series 196CC Engine and a CAT 3DNX Commercial Triples Plunger Pump.
The machine comes with 5 quick connect spray nozzles of 0 degrees, 15 degrees, 25 degrees and 40 degrees as well as a soap spray nozzle. It has a 25 feet non-marking hose. It has an onboard storage of both the lance and the hose and sits on a frame with two pneumatic tires for the job site.
We highly recommend this washer. It as a very good buy.