Karcher Pressure Washer Accessories
Karcher Extension Wand, Sandblasting Kit, Pipe Cleaning Kit
Karcher pressure washer accessories contained on this page show a list of different accessories designed to make your pressure washer cleaning as easy and effective as it can be. Pressure washer accessories are add on items that most users make after purchasing the pressure washer itself. These are in the form of attachments or soaps and detergents handy in your cleaning.
Karcher electric washer as well as those that are gas powered also have specific accessories which in most cases are used with specific Karcher washer models. The following are a variety of accessories that are designed for Karcher washers. These in most cases will not work with any other brand of pressure washer which is not Karcher.
The Karcher 2.640-746.0 Pressure Washer Extension Wand
This unit is an important consideration amongst available Karcher pressure washer accessories. It comes in very handy when you are pressure washing highly elevated areas. It is in fact popular with Karcher washer owners who have double story homes. It comes in four pieces made of aluminum which can be joined together to reach a 2 story building, for example. In total when connected they reach 66 inches high.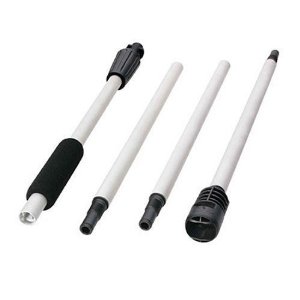 In some cases some users have discovered through hard lessons that this wand is designed for cold water Karcher electric pressure washers and not for heated pressure washers powered by gas. In these cases gas washer users have had to return the wand in disappointment. There is mention of Karcher not manufacturing this wand for gas powered machines at all.
Consumer feedback has been generally positive on this wand mentioning its quick and easy set-up. It is also important to note that this extension wand is for Karcher washers of maximum 2300psi. This Karcher accessory sells for about $50.00 online.
Points of weakness that we have identified on this extension kit is the weight that begins to build up in your arms after continued use on a cleaning job. The design by aluminum is meant to avoid this problem which we suspect could have been worse if material used was any heavier. The second problem have been complaints related to pressure loss. A slight fall in pressure, at least, has been identified by some users when using the extension wand.
The wand has also been criticized for having plastic screw threads for connecting the pieces. There is danger of these wearing out through repeated connections and disconnections. We nevertheless recommend this Karcher pressure washer accessory. It is certainly a good buy.
Some users even buy it when buying a pressure washer. It is possible to use only two extensions instead of all four effectively dealing with the problem of weight. However it might mean not being able to reach certain places and then requiring a ladder.
The Karcher 2.638-792.0 Pressure Washer Sandblasting kit
Yet one of unique Karcher pressure washer accessories, this sandblasting kit works with most Karcher electric washers with a power output of at most 2000psi. Sandblasting is an alternative method used to remove paint and graffiti from walls, for example. It is a delicate operation that often leaves walls and surfaces being blasted badly bruised and requiring resurfacing.
This means this technic should only be applied on suitable surfaces. Due to the danger of using this approach, this kit comes with a set of safety goggles. Users of this kit have generally been disappointed by its performance. According to overall reviews we have considered of this accessory from Karcher the kit does not perform as expected.
This could be an issue of over expectation. Again, things like these are better done by professionally designed machines for the purpose. It sells for about $60.00.
The Karcher 2.642-183.0 Pressure Washer Pipe Cleaning Kit
We consider this accessory amongst all Karcher pressure washer accessories as a revolutionary accessory designed to deal with any blockages around your home or professional setting.
This 20ft hose uses your washer's own pressure power to push forward with so much force flushing out debris. In the process it also has some four powerful firing pressure jets which makes it very effective in clearing debris.
It is an accessory designed for Karcher electric pressure washers which is able to clear clogged pipes without using any chemicals. Due to the fact that it is propelled by your pressure washer power, it inevitably matters how much power your washer has in the first place. It is easy to blame this accessory when using a low pressure washer of say 1000psi.
It has a brass connector to your washer which addresses issues of durability. The hose itself is extremely durable made of textile meshwork. Apart from being flexible enough to follow your drainage and blocked pipe contours it is also kink free. The last thing you want is for the hose to kink underground. The measurement markings and rings put on the hose by the manufacturer will help you measure how deep the hose has gone as you clean.
Some users who have used this pipe cleaning kit wish the hose would be longer. However, whilst desirable this might have an impact on final pressure output as your high pressure water has to travel longer before emerging out of the hose. Expect to pay just under $40.00 for this 25 foot longer handy accessory from Karcher. A worthy investment in our view.
Follow link to see more Karcher pressure washer parts apart from Karcher pressure washer accessories listed here.
Karcher 9.558-111.0 Pressure Washer All Purpose Cleaner SoapPac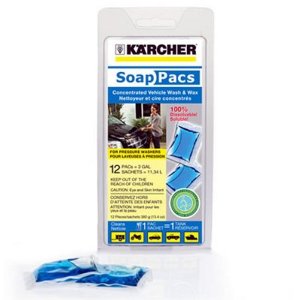 This is Karcher's popular SoapPacs used by washer owners for a variety of brands. This means the SoapPac detergents are not only limited in use to Karcher pressure washers. Owners of Simpson, Campbell Hausfeld, Northstar, Faip,Troy Bilt and many other pressure washers from different manufacturers use these SoapPacs too.
The Karcher pressure washer all purpose cleaner SoapPac sells for under $12.00 online. One of the reasons why this accessory from Karcher is popular is because of its 100% biodegradable qualities. It is a concentrated detergent than can effectively remove grease and grime without leaving behind film or residue. This detergent also has a gentle formula which makes it applicable to a wide variety of surfaces without chemically damaging them.
It cleans windows, lawn furniture, SUV's, Boats and cars. Karcher has a variety of these SoapPacs as part of its Karcher pressure washer accessories designed to clean different surfaces. Each SoapPac has a pictorial presentation on the packaging showing the different surfaces the detergent should be used to clean. It is important to observe these.
The Karcher 2.641-222.0 Pressure Washer Universal Wash Brush Kit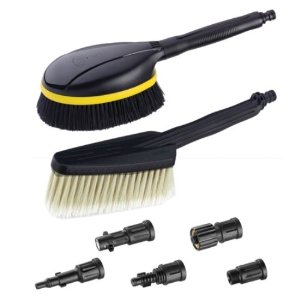 Amongst the different Karcher pressure washer accessories the universal brush kit is one designed with other manufacturer's pressure washers in mind. This brush set which includes a rotating wash brush and a soft clean wash brush can also be used on other brands of pressure washers in particular Faip, Husky and Black and Decker.
The set has five adapters designed for use with a variety of washers which must have a maximum water flow rate of 4.0GPM. This is a high flow rate usually achieved by gas pressure washers and a few electric pressure washers. This means you may use this set with some of the best pressure washers and best electric pressure washers apart from the Karcher electric pressure washer.
There have been complaints from users of some washers failing to fit the adapters rendering the brushes useless on some Karcher washers. Each of the brushes is used on an electric pressure washer or gas pressure washer respectively. This also seems to annoy some users. Overall we recommend the set as a useful part of your Karcher pressure washer accessories which you can find at just under $40.00 online.