Used Pressure Washer Reviews
AR Blue Clean , Karcher, Earthwise
Used pressure washer units can be a very good cheaper alternative if you are looking to save some money in your pressure washer shopping. There are a variety of reasons why pressure washers are returned to the market as used items. Amongst the top reasons are owners who purchase washer units and later discover they don't meet their expectation.
Depending on were you purchase your used pressure washer from, online stores such as Amazon have special deals for most items which are sold as used. This frequently applies to pressure washers as much as it applies to other home appliances and even shoes. When looking for a pressure washer which is used we strongly recommend taking advantage of the Amazon Warehouse Deals program.
When buying a pressure washer that is considered used through this program you are essentially targeting returned, warehouse-damaged or refurbished pressure washers that fail to be considered new under Amazon rigorous standards. By buying used pressure washer units you enjoy a saving of as much as between 10% and 40% or even more on each purchase.
Unlike buying from used washers from other sources, we found that Amazon first examines the unit to ensure that it is functional and that it is also safe to use. This ensures that you are protected from buying "dead" pressure washer unit.
The following are some pressure washers that you might find as used washers particularly on Amazon. Please note that what's available as used is frequently changing.

AR Blue Clean AR383 1900 PSI Used Pressure Washer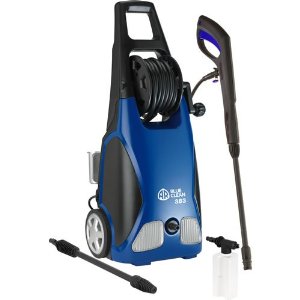 This cold water electric pressure washer unit from AR Blue Clean has an output pressure of 1900 PSI at a flow rate of 1.5GPM. It sells at 10% less when you are buying it as a used washer. As a new pressure washer it is priced at about $158.99 and sells used at $141.99.
This pressure washer has very good ratings from owners and users. Hundreds upon hundreds of this unit have been sold to satisfied customers. Purchasing a unit with this good a track record also ensures that you are getting a good used appliance that will give you very good results.
In terms of specs this AR Blue Clean washer is made mostly of copper and aluminum and plastic specially in the casing. It is mounted on a two wheeled trolley and could be considered amongst portable pressure washers. It is essentially a light weight unit which is very much easy to move around. It has been praised for its onboard hose reel which makes hose storage and management much easier.
Campbell Hausfeld PW1350 1350 PSI Used Pressure Washer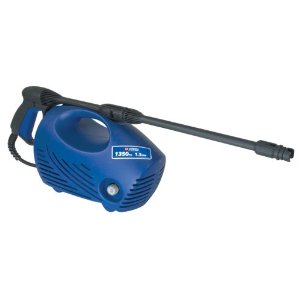 This portable washer from Campbell Hausfeld is a cold water electric pressure washer with an output of 1350 psi and flow rate of 1.3 GPM. This pressure washer is often available as a used washer.
The selling price will depend on the condition of the washer. A good as new pressure washer which can be a washer whose box was opened but never used will likely be priced very close to a brand new unopened washer. These are all variations that can occur as you search for a used pressure washer.
We consider this Campbell Hausfeld pressure washer amongst our top rated best electric pressure washers. This model enjoys very good positive ratings amongst owners and users. At 1450psi, this handheld pressure washer will do most light jobs around the home such as windows, car, bicycle, ATV, grill, patio and so on
Karcher K2.28 1550 PSI Used Pressure Washer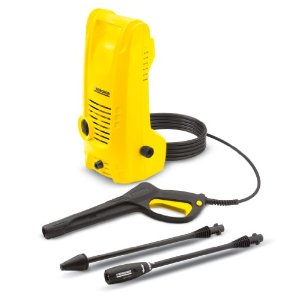 This Karcher pressure washer has an output pressure of 1550 psi and a flow rate of 1.3 GPM. It is an electric cold water pressure washer which can do most light duty around the home projects. This is one the washers that we found selling discounted by some 40%.
Washer units that are considered not as new but very good tend to have bigger discounts. They however still function as the normal pressure washer save that they often come repackaged and showing signs of wear.
Karcher is a very good brand and will likely give you some long time of service. Generally, pressure washers from Karcher have very high ratings and last longer. This means even when buying it as a used pressure washer you will still have it around in service for a reasonable period of time that is worth your money.
Earthwise PWO1650 1650 PSI Used Pressure Washer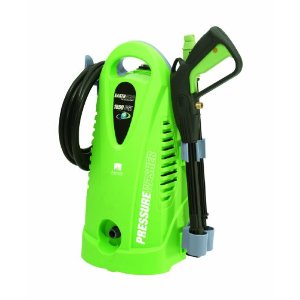 This Earthwise pressure washer has an output power of 1650 psi at a water flow rate of 1.6 GPM. It is not that much apart from the new 1600 psi electric pressure washers that we specially review within this site. This washer is also good with certain household cleaning jobs.
At 1650 psi it can handle a few more challenging ones such as driveway, vinyl siding, walkway and even garage floor perhaps with the help of detergents. Earthwise enjoys average ratings in terms of user feedback and ratings. We found a slight difference between price of a new one and the price of this used one on Amazon particularly because of its very good used condition. It is very close to the new thing.
This is a compact unit. It is portable and easy to carry around. It has however had many reports of technical failure such as leakages and loss of pressure. This accounts for the average consumer ratings.
Getting the best deal out of a used washer will involve research and constant comparison of prices. In our experience the lowest price for a used washer is associated with missing packaging and stronger signs of wear of a given used unit. Targeting reputable brands such as Karcher and Campbell Hausfeld for used washers will also increase your chances of having a used washer unit for a longer period of time.