Portable Pressure Washer Reviews
Karcher , Campbell Hausfeld, AR Blue Clean
Portable pressure washer units are those pressure washer machines that are often compact and designed to be easily carried or moved about when doing cleaning projects. One thing in common about these washers is that they are electric powered cold water washers and in most cases range between 1000psi and 1500psi. Some portable washers can also be 1600 psi and 2500 psi in output.
Pressure washers of a portable design are usually suitable for home use and are most preferred by most home owners particularly senior as they are less demanding and are also easy to store. The following are some portable pressure washer machines some of which we also consider best electric pressure washers.
The Campbell Hausfeld 1800 PSI Portable Pressure Washer PW1825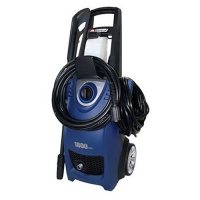 This portable washer from Campbell Hausfeld has an output of 1800 psi and a water flow rate of 1.5GPM. It can do most household cleaning projects with ease. Like so many other consumer portable washers, it comes with an auto stop system designed to protect the pump. This means spray gun trigger pulling is essential to get high pressure water coming out.
You can also do your cleaning projects using detergent with this washer which comes with an attached detergent bottle. Unlike the gas powered 3000psi pressure washers or 4000 psi washers which have quick connect nozzles and can even work with an after purchase pressure washer turbo nozzle, this unit has an adjustable fan lance of 0 degrees and 60 degrees.
Other specs of this unit include a power cord of 35 foot GFCI cord, a 20 foot high pressure hose and a two wheel cart with plastic wheels. The hose is made from PVC/plastic material typical of most portable pressure washer models of this range.
Popular chores this machine is applied by users is as follows;
brick cleaning
cleaning painted surfaces
vinyl siding
deck furniture
cleaning mold off concrete
car washing
PROS
fairly quick and easy to assemble
easy to use
excellent performance
nice build appealing and compact
great price great delivery
CONS
there have been user complaints of garden hose input connection leaking
some users have complained that the 20 foot hose is too short. ( however from a design perspective a longer hose for such an output will reduce overall output power)
We highly recommend this washer as a great buy if you are looking for a portable machine to use around the home. It sells for only $130.00 online. You may follow link to read our other reviews on other Campbell Hausfeld pressure washers.
The Karcher X Series 2000 PSI Portable Pressure Washer K5.740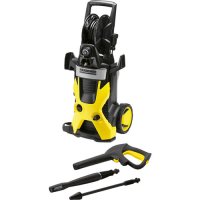 This Karcher pressure washer has an output of 2000 psi. It is amongst the top rated pressure washers. In fact we consider this unit to be amongst best pressure washers in as much as it is a consumer class home owner type of pressure washer. It is suitable to do most jobs around the home. At 2000 psi and 1.4GPM you will achieve much with this cold washer pressure washer.
Karcher is a respected brand in Europe and the United States. Their products are German engineered and have a reputation of durability great power output and easy to use requiring low maintenance. It has a 25 foot high pressure hose a 35 foot GFCI electric power cord.
Other features that are unit to this unit compared to its competitors include an advanced technology reducing heat generated by pump and motor. This increases the longevity of the unit. It also has a vibration dampening system which limits wear and tear.
There are no quick connect tips for this portable pressure washer from Karcher. It has what is known as the vario spray wand a system similar to that found on the Campbell Hausfeld above were spray pattern can be adjusted.
This is a highly rated model. It enjoys great industry wide respect and reputation even amongst owners and users. It has a carrying handle on top and two wheels for easy mobility.
PROS
the cooling system technology is a big plus as heat destroys washers
relatively quieter in operation
onboard hose reel appreciated
fairly quick and easy to assemble out of the box
CONS
the unit appears to easily tip over
the quick disconnect is made of plastic and often breaks some users have had to replace with an after purchase brass type
We recommend this unit. It has a very low failure rate. Much lower than the industry average. It however sells a bit more on the high side compared to the Campbell Hausfeld above. It sells at $280.00
The AR Blue Clean 1500 PSI Portable Pressure washer AR118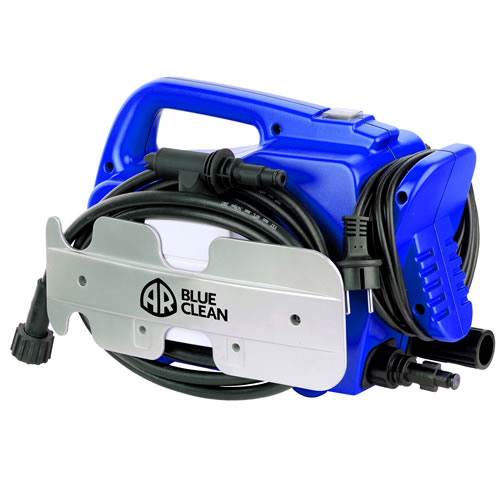 AR Blue Clean enjoys a very huge positive reputation in the North American market. This model AR118 has very good ratings and also enjoys positive reviews from many satisfied users. It is an electric cold water pressure washer with an output of 1500 psi at 1.5GPM in water flow. The unit comes with a 30 foot power cord and a 20 foot high pressure hose.
This unit is suitable for use around the home on projects that are light and those surfaces that would be damaged by heavier output washers. With this portable washer from AR Blue Clean most users have had impressive results doing the following projects;
concrete cleaning
walkway cleaning
deck cleaning
vinyl siding
patio furniture
car wash
PROS
compact and light weight and easy to carry around
electric cord very long for unit size
steel connectors to garden hose appreciated, more durable and won't be easily damaged
reasonably priced at $97.00
CONS
the CONS have come from some users who bought the unit expecting greater output than is possible for this small unit.
If you want to do quick jobs around the home that do not demand a lot of pressure, this is the unit to consider. We recommend this unit which sells for under a $100.00.