John Deere Pressure Washer Reviews
Light Duty and Heavy Duty John Deere Washer Models
John Deere pressure washer models reviewed in this article cut across the variety of categories of washer from this much respected American manufacturer. The respect that
John Deere has amongst North American consumers goes back to its very rich history going
as far back as 1837. The company is considered a symbol of American farmers, ranchers and landowners.
John Deere pressure washers are not the only appliances and equipment manufactured by the company. It also focuses on equipment used by farmers, ranchers, landowners, builders and loggers. In terms of pressure washers, John Deere has a huge range of models which
include light weight and heavy duty pressure washers. The company's washer models enjoy
very good consumer ratings for the different models.
John Deere pressure washer models include those designed for residential use such as by
home owners, premium series cold water pressure washers models, agricultural and
commercial pressure washers as well as hot water washer versions of the same.
there is also the very convenient, mobile GatorPal model which comes along with its own
water tank for offsite cleaning.
The following are John Deere pressure washer reviews of selected top of the range models
from this manufacturer;
The John Deere 3800 PSI Gas Pressure Washer
According to John Deere pressure washer classification, this model is classified as a
light duty washer. However, generally in the industry a gas powered pressure washer of 3800 psi and 4.0 GPM in water flow is considered a heavy duty washer suitable for more demanding professional jobs at the commercial or industrial site.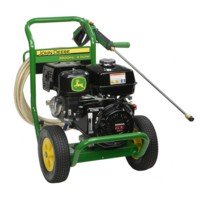 According to industry standards this is a professional pressure washer. We consider this model amongst best pressure washers not only because of its very good ratings on the market averaging 4 out of 5 stars but also because of its makeup. It runs on a Honda GX390 OHV engine and has a professional grade Triplex Pump. Even though the best combination of engine and pump is Honda and CAT respectively this machine will still produce great power with a Honda engine.
We mention several times across reviews on this site that Honda powered pressure washersare amongst the top rated because of the reputation of Honda engines of being much quieter in operation, easy to start usually starting at first pull and general durability. They are meant to last and many pressure washer owners appreciate that. They differ sharply with some Briggs and Stratton pressure washer engines which some owners have complained bitterly about.
This model number LP020297 comes as usual with 5 quick connect spray tips including a soap pressure washer nozzle and can even work with a turbo nozzle and a variety of other pressure washer accessories. The low pressure nozzle which is the 5th one meant to apply pressure washer soap or detergents on your work surfaces whilst cleaning. In terms of hose length this John Deere pressure washer has a 50ft long industrial grade steel reinforced non-marking hose.
This unit has been generally highly praised as mentioned. It is a model that we recommend
for some light to medium duty cleaning primarily due to its pump. The following are the
identified PROS and CONS of this model.
One of the leading complaints about this unit has been the poor placement of wheels at
the front of the frame. This posses certain challenges especially to do with mobility in
rugged areas. It's even hard working alone to get this machine up the stairs due to wheel
and frame design.
The adjustable pressure output which can range from 800 to 3800 psi is very hand when
working around the home. Pressure can be reduced to wash delicate surfaces such as cars
and certain woods and patio furniture. This is great plus for this unit.
PROS
quick and easy to start
Honda engine durable and has quieter operation
adjustable throttle can give you required pressure output
CONS
wheel placement badly done
some owners have reported pump failure
there have been complaints of vibrations of the unit whilst in use
pump has been blamed for weak pressure at times from the machine
Our overall recommendation is that this unit can perform to expectation. However, the pump can be somewhat weak and has led to many disappointments in terms of pressure output. It is for this reason that we think John Deere could have classified this model as a light duty pressure washer at 3800 psi. It costs on average about $1000.00 online.
The John Deere Pressure Washer 2400 PSI HR-2410GH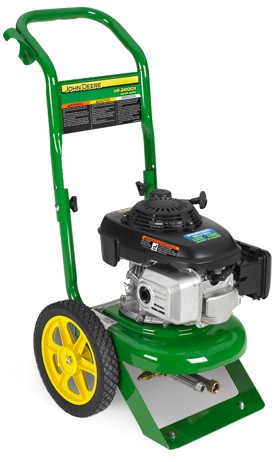 This Honda powered John Deere pressure washer is designed for light duty day to day home
use. It has a pressure output of 2400 psi and a water flow rate of 2.0 GPM. The company
admits this output is within 10% plus or minus. It is a gas powered cold water pressure
washer with a direct drive triplex axial piston pump. The Honda engine powering this unit
is an 160cc OHC vertical shaft engine.
This pressure washer machine will do your driveway, sidewalk, garage floor, boat, deck,
grill, patio, siding with relative easy. Some surfaces might require detergent application for best results. This includes oil and grease stained garage floors. As shown in the picture this unit is mounted on a two wheeled cart for easy of mobility.
It comes with a pressure wand with an adjustable spray pattern ranging from 0 to 65
degrees. This also includes a detergent setting with low pressure output.It has a 30ft
hose.
PROS
fairly priced at $430.00
onboard storage of hose and wand
compact design
easy to move about
thermal relief valve to protect engine
CONS
triplex pumps can have problems
gas powered washers not too ideal for home use
We recommend this pressure washer from John Deere for light to medium demand cleaning
projects around the home.
Other John Deere Pressure Washer Models To Consider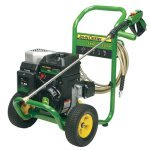 John Deere 3300 PSI 020383 - This is a heavy duty pressure washer from John Deere with a pressure output of 3300psi at 3.2 GPM water flow rate. It enjoys very good positive
review ratings. It come with 5 quick connect spray tips inclusive or a low pressure soap
tip. The downside is that its wheels are made of plastic and runs on a Briggs and
Stratton engine our less recommended engine type due to durability and ease to start
issues. It has a commercial grade triplex pump. Thankfully this unit has an adjustable
pressure regulation. Onboard storage of high pressure hose and pressure wand appreciated.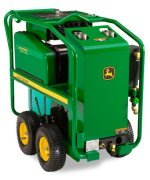 John Deere 3000 PSI Hot Water Washer - This is a 3000 psi output heated pressure washer at 3.9GPM. It runs on electric power and has a oil-fired burner. This model AC -3000EH is built on a four wheeled frame and is highly movable. It has a 230 volt motor. The entire makeup of this unit is designed to handle hot water output at 150 degrees above ambient. It has a General triplex ceramic plunger pump and a 50ft hose length. This is a serious investment for any professional and industrial projects priced at about $4700.00