Professional Pressure Washer
Dewalt, NorthStar, Simpson
Professional pressure washer models are amongst high end pressure washer units available on the market today. Almost every manufacturer of pressure washers for the North American market has a professional commercial pressure washer. Professional washers are high pressure washers which are designed to do heavy duty jobs. These are not by any means portable washers but are cart mounted.
They are also favorite high pressure equipment for pressure washer rental businesses. They range in pressure washer psi from roughly 3000psi to 4000psi and can even be as high as 5000 psi. Professional pressure washer units which are often gas powered are good at doing bigger and heavier jobs within much less time compared to light duty 1500 psi type washers.
We have found pressure washers for professional use to have certain things in common as summarized below;
priced on the higher end often $1000+
high pressure output between 3000 psi and 5000 psi
gas powered in most cases
cold water washer in most cases even though there are many that are hot water pressure washers
long hose at least 50 foot long
the best ones have a Honda and CAT combo in engine and pump brands respectively
they have triplex plunger pumps which can be rebuilt. These types of pumps have a longer life span
The following are some professional washer models from different manufacturers for your consideration. We have listed what we consider to be best pressure washers in this class and recommended.
The Dewalt Professional Pressure Washer 4200 PSI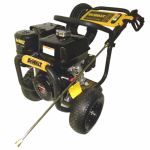 This is model DPW4240 of the Dewalt pressure washer series falling into the professional class. At 4200 psi this machine has serious pressure washing power for any challenging industrial and construction site tough job. It is a highly rated pressure washer model in the professional class.
Running on a Honda GX390 series 389CC engine this washer has a triplex plunger pump by General. This is also a winning combination even though our best engine and pump combination is the Honda and CAT pump.
This cold water pressure washer is as can be expected gas powered and has a flow rate of 4.0 GPM. Other specs include a 50 foot hose length, 5 quick connect pressure washer nozzles and a professional spray gun wand. It can also work with an after purchase turbo nozzle.
PROS
very powerful output with reports of eating down into concrete
relatively lighter and compact
serious capability to work long hours non-stop with professional results
quick and easy to start
sturdy
durable
CONS
even though of no functional consequence overall design of unit not that much appealing
We highly recommend this pressure washer for your professional jobs and projects. It costs about $1100.00 online but will bring great ROI even when purchased for commercial purposes. This is the type of washer that will bring you back your cost price within four or five commercial washes.
The NorthStar Professional Pressure Washer 4000 PSI
NorthStar is amongst respected North American pressure washer brands. It's pressure washers have an appealing design and often run on respected Honda engines. This sells for just above $1000.00 online and is a professional washer unit with an output of 4000 psi and water flow rate of 3.5GPM.
This is a highly rated model which runs on a Honda GX390 OHV engine and has an in house Northstar direct triplex plunger pump. This washer will be suitable for your pressure washer rental business or for use professionally at an industrial or construction site and even at a farm.
As can be expected of a pressure washer of this class, this unit comes with 5 quick connect nozzles inclusive of a detergent nozzle. There is also something unique about this unit. It has a rear entry spray wand. This is a particularly useful design as the high pressure hose does not get in the way as you are doing the pressure cleaning.
It has a 50 foot long non-marking steel braided rubber hose. It's frame sits on two 10" pneumatic tires which are designed for tough industrial terrain.
PROS
Honda engine easy to start and lasts longer
Low oil shutdown function protects engine from damage
Runs on a horizontal shaft engine proven to be much stronger and lasts longer than vertical shaft engines
Downstream chemical injector protects engine from chemical damage
Dependable pressure washer
We have found no remarkable things to mention about this washer that would be considered CONS. We fully recommend this professional pressure washer model from Northstar. You may also look at other Northstar pressure washer reviews we have done within this site.
The Simpson Professional Pressure Washer 4200 PSI
Simpson pressure washers enjoy very good consumer ratings and reviews. They are amongst top pressure washers for professional service just as the two i.e Dewalt and Northstar we have showcased above. Their machines are rugged and designed to do the toughest of jobs on the industrial or commercial site.
You may as well consider this Simpson washer as a viable alternative to the Dewalt and the Northstar machines above. It doesn't look that much appealing in design compared to Northstar for example, but will surely do the job to your satisfaction. It sells for about $1000.00 a general price range of the other two.
At 4200 psi this gas powered cold water washer can strip paint and clean fences, brick walls, sidings, driveways, remove crusty mud on equipment and trucks as well as remove tough grease from industrial machinery.
Running on a Honda GX390 commercial series engine and a General pump industrial triples plunger pump this is a good combination. Our best combination is Honda and CAT engine and pump respectively, however this Simpson will also do well with a General pump.
In terms of PROS expect a quieter operation and quick and easy start engine. There have been reports of users of Honda engines on professional washers such as this one always getting to run it on first pull even after a long period of non-activity in storage. This is the beauty of Honda engines.
Some quick specs of this professional unit
5 quick connect sprays
50 foot non-marking high pressure hose
Auto engine shut down on low oil
13 HP engine
6.4 quarts fuel tank
Made in the USA (more and more users are complaining of non-American made washers)