Pressure Washer Rental Tips
Pressure washer rental is a viable option to getting your cleaning projects done without having to actually buy a pressure washer. In many cases we find that some home owners generally prefer to invest in personal portable pressure washer appliances. They often purchase low end cold water electric pressure washers such as those by Campbell Hausfeld costing under $100.00. These have lower pressure washer psi often of 1500psi or 1600psi.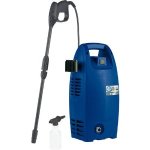 A significant number of home owners therefore tend to prefer pressure washer rental when dealing with higher end hot water or cold water gas powered washers of 3000 psi to 4000 psi output, for example. These are better placed and left for rental due to their high price and other drawbacks such as noise, poisonous fumes and weight to be safely and efficiently used for day to day home cleaning jobs.
In this article we consider pressure washer rental from the perspective of a home owner and from the perspective of one considering entering into the business of renting out pressure washers and offer some tips.
Renting A Pressure Washer As A Home Owner
Depending on the job at hand, smaller lower end washers will not be able to do certain cleaning projects due to lower pressure output. When planning to do heavy duty and more demanding home cleaning jobs higher end gas powered washers will be necessary. This is when rental can be considered as it is obviously cheaper than investing in a high pressure washer machine to keep for a once off job.
1. Size of Job
It therefore follows that when planning to rent a washer first consider the type of job to be done in terms of size and how challenging the job could be. This will determine what pressure washer size you will rent, its cost and other considerations. Heavy duty commercial washers that can strip paint and remove oil and grease stains, for example, will cost more. When renting a pressure washer at a home level these are some of the jobs that might require higher end washes;
siding
roof
oil stained driveway
paint stripping
fence cleaning
weed removal
2. Pressure washer accessories
Your rental job will likely inform if you will need to also rent along with certain attachments. If your are going to do the roof you will likely require an extension wand to reach the roof. You might also require a longer hose or a turbo nozzle to go along with you rental. All these attachments depending on your rental agency might involve an additional cost. You may consider looking at our pressure washer accessories listed on this page by following link.
3. Rental period
It is important to think about which time of the week, month and season you will rent a washer. There is often a pattern of certain seasons and days of the week having a greater demand for washers. You will likely discover that weekend rentals are more expensive than weekday rentals. You may consider targeting to do your power cleaning work during the week so to save on some few dollars than competing with everyone else also hiring over the weekend.
4. Pressure washer brand
Your pressure washer rental planning is not complete before you also take into account the pressure washer brand to be rented. Certain pressure washer models are recommended as they are easier to use. For example, we recommend pressure washers with a Honda engine and a CAT pump. These are easy to start and run in general. In general honda powered washers tend to start on first pull.
For pressure washer safety reasons also make an effort to rent certified washer models in good condition that will not pose a danger to your self and those around you as you do the power cleaning.
Summary of advantages of renting a pressure washer
cheaper than buying an expensive washer for once in a while projects
save on time than using a lower end washer. Higher end washer can take 10 times less time in cleaning same areas as lower end washers
you can choose to have a professional do the actual power cleaning

Pressure Washer Rental As A Business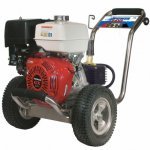 The following are tips for individuals planning to start a pressure washer rental business. This is a commercial venture which has potential for high returns on investment. When starting a professional pressure washer hiring business one of the key things to consider is the potential of the business in your area.
Due to the fact that most home owners purchase lower end pressure washers, it follows that high end higher pressure washer output models are relatively in higher demand. The type of high pressure washer equipment you invest in will also have positive or negative implications for a washer rental business.
In as much as top of the range brands such as Karcher pressure washers and Northstar pressure washers can be expensive to initially buy, in the medium to long term these can prove a good investment as they are durable and often require less maintenance and are designed to be easy to use. The most common maintenance aspects to do with pressure washers include pump oil and engine oil change.
In acquiring your high pressure equipment for rental, ensure that these have been certified for safe use to avoid serious liabilities down the road. Pressure washer rental fees are normally on a per day, weekend and week basis.