Refurbished Pressure Washer Reviews
AR Blue Clean , Karcher, PowerStroke
Refurbished pressure washer units are an excellent way to save on a some meaningful dollars when you are looking to buy a pressure washer. To be clear there is a difference between refurbished or reconditioned washers and used pressure washers.
Used pressure washers often are units that a buyer may return due to poor performance or after discovering the unit does not meet their expectation. A used pressure washer is often sold in its state for example showing signs of wear, without original packaging, slightly damaged and possibly requiring your attention at an additional cost.
On the other hand factory refurbished washers are made to look like and have like-new quality whilst at the same time providing excellent dollar savings compared to new washer units. They also come with manufacturer warranty much in the same way as new pressure washers.
We find that reconditioned pressure washers perform as good as new. In some cases these are returned products by weekend workers who purchase the unit for use over a weekend and have nothing more to do with it afterwards.
The good news is that unlike most used washers, refurbished pressure washer units are tested before they go out onto the market. This means they work as efficiently meeting new washer product performance and specifications just as a new washer unit would. However, there could be significant differences in warranty issues. For example, instead of a 1 year warranty a refurb my only have 90 or 30 days warranty from the manufacturer.
That being said, you can enjoy massive savings through purchasing reconditioned washer units instead of new ones. It is common to make a saving of between 20% to 50% by purchasing a refurbished washer. Below are some pressure washer units that are often found refurbished. Such washers range from 1500 psi washers to as high as 3000psi or even heavy duty gas powered washers of 4000psi pressure output.
The Campbell Hausfeld PW1350 1350 PSI Refurbished Pressure Washer
We found a 27% saving in buying a refurbished pressure washer unit of this PW1350 washer unit from Campbell Hausfeld. The new unit sold for about $80.00 whilst the reconditioned unit from the factory cost $58.00. This is a typical portable pressure washer designed for use around the home. This budget 1350 psi washer can do most around the home light jobs such as grill, car, ATV, bicycle, walkway and so on.
It has 35 feet of GFCI electric cord, a 20 foot long high pressure hose and a pump saving start-stop system which is operated using the trigger. Due to its small size and less demanding jobs this unit does not use quick connect nozzles but has an adjustable fan lance which is also known on some brands as the vario lance. This excludes the use of a helpful turbo nozzle.
This pressure washer has very high positive ratings. This is also an important tip to apply when looking for a refurb. Going for washers with already high ratings in reviews will likely help you stay away from uncharted waters considering that refurbs do not always enjoy the same warranty protection as new pressure washers.
The PowerStroke ZRPS171433 1700 PSI Refurbished Pressure Washer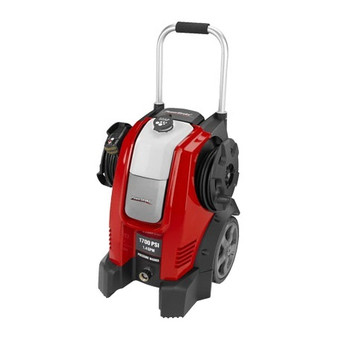 This electric cold water pressure washer is also found as a reconditioned pressure washer. By purchasing this unit instead of a new one we found a saving of 43%. This is nearly buying the pressure washer at half price. It is a light duty pressure washer of output 1700 psi and 1.4GPM flow rate and is very effective in light home cleaning jobs. It can typically wash your car, clean patio and spray fences amongst other things.
It has an appealing design and generally compact. Other features of this pressure washer include an on-board accessory storage and has quick connect spray nozzles similar to those found on some professional pressure washers. It also has a high pressure hose reel and a three-piston direct drive aluminum pump.
The Karcher G4000 OHR 4000 PSI Refurbished Pressure washer
We found this Karcher pressure washer selling for $1480.00 when new and for about $775.00 when refurbished a saving of 48%. Karcher is an absolutely sound brand of pressure washers which enjoys very high positive ratings for most washer models including this one in review.
At 4000 psi this pressure washer is considered a heavy duty unit which runs on gasoline fuel and often applied on professional and commercial job sites such as farms and construction sites. It is rarely used as a day to day home pressure washer not only because of the damaging power it has on most household items but also because of the engine noise and the gas fumes.
It runs on a Honda GX 390 engine and has an axial cam pump. Honda engines are highly respected because they are easy to start, durable and run quieter than other pressure washers such as Briggs and Stratton, for example. This is what makes Honda powered pressure washers extremely popular. The fact that it runs on a Honda is beneficial when getting it as refurbished unit as Honda is strong and lasts longer as already mentioned.