Bosch Pressure Washer Reviews
Aquatak ECO , Aquatak 1200 Plus, Aquatak CLIC 140
Bosch pressure washer machines have a stronger presence on the European market. With a strong history going as far back as 1886, Bosch is one of the leading and most reputable German engineered brands in the world. In North America the most well known German engineered pressure washer brand is Karcher. Karcher pressure washers enjoy an amazing following in the United States primarily due to the reputation of German engineered products.
Bosch pressure washer machines are well known in the United Kingdom. The company which has a strong European and global presence not only does pressure washer machines but also does an entire range of top of the range household products from dishwashers, tumble dryers, steam irons to fridges and freezers.
Bosch has pressure washer units ranging from the compact range which are essentially portable pressure washers easy to carry and ideal for small around jobs to the power range ideal for more challenging cleaning jobs which cover a huge surface area. the company also makes professional pressure washer machines for professional and commercial jobs.
The following are some Bosch pressure washer models available for your consideration.
The Bosch Aquatak ECO 1450 PSI Pressure Washer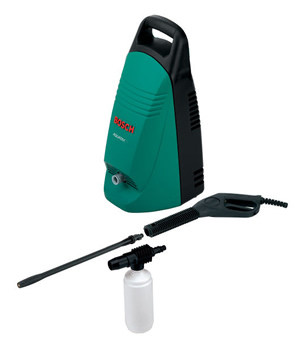 In European terms this washer as a power output of 100 bar which is equivalent to 1450 psi in the United States. It is a portable washer machine designed for around the home light cleaning projects.
It is also an electric cold water pressure washer meaning it runs its pump using electrical power and as cold water high pressure water output. It is not in any way a hot water pressure washer. The maximum input water temperature the washer can take is 104 degrees (40 degrees Celsius).
This washer will do the following home jobs amongst others;
car washing
window cleaning
grill cleaning
brick cleaning
patio
sidewalk
garage
bicycle cleaning
ATV cleaning
It comes with a detergent bottle. When using this washer some surfaces will only be satisfactorily cleaned when a detergent is applied. This is particularly the case with surfaces with bird droppings. Due to the lower pressure output of the machine some surfaces will take longer than is necessary to clean.
PROS
compact, lightweight and portable
auto start and off system protects pump
CONS
no quick connect nozzle, it has a fixed fan nozzle
can quickly run of more jobs to do around the home due to less pressure output.
The Bosch Aquatak 115 Plus 1670 PSI Pressure Washer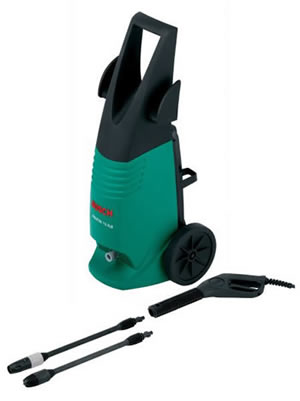 This unit falls into Bosch pressure washer pro-range class. It is still designed to be a mobile electric cold water pressure washer which is ideal for regular cleaning. This unit will go an extra mile further than the Bosch Aquatak ECO above would go at 1450 PSI. At 115 bar (1670 PSI) this washer can do a bit more challenging cleaning jobs around the home.
According to US industry standards, this washer unit is still largely for household application due to its mid range pressure output. It can be used to clean more demanding projects such as the driveway, walkway, boat deck, vinyl siding and car cleaning at right output setting to avoid damage amongst other things.
At this higher pressure than the one reviewed above, this washer can remove some tough stains often found on garage floors and driveways, for example.It also has an auto motor-stop system. It has onboard storage of the hose, power cord and some attachment and comes with an onboard detergent tank.
As can be expected of washers of its size, this unit has a vario lance. This means it uses no quick connect nozzles but relies on an adjustable tip for a variety of spray angles. It has a 5 m or 16 foot high pressure hose.
PROS
compact, light weight and portable
auto start and off system protects pump
has a wide range of after purchase accessories available
CONS
a bit pricey at $230.00 relative to comparable US models
no quick connect spray nozzles, cannot use turbo nozzle for more power
This is a recommended purchase. It is ideal for most around the home day to day cleaning projects.

The Bosch Aquatak CLIC 140 2000 PSI Pressure Washer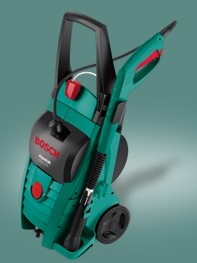 The Bosch pressure washer model is in the power range class of pressure washers from this manufacturer. At 2000 psi (140 bar) this washer is a level higher than the model reviewed above. It is designed to tackle the more difficult jobs still around the home. With a push this washer could so some professional cleaning at a small business or office. However it is essentially suitable for continued cleaning work around the home.
This unit cannot be considered portable at 20 kg's (44 pounds. It has a strong handle and a two wheel cart so it can easily be wheeled to a different site whilst cleaning. It comes with a foot operated on and off switch which is a plus and ergonomically friendly were you don't have to bend over to switch it on and off.
The machine has a onboard storage for most if the attachments including the pressure wand, the high pressure hose and even the power cord which automatically winds back into the unit. The weakness still remains that this unit does not use quick connect nozzles. It has its own 4 jet lance system which can be set to give out a high pressure output with fan spray, a rotating pencil jet, a fixed pencil jet or a low pressure rinsing output.
These setting will enable you to do certain cleaning jobs such as car and windows avoid damage caused by direct high pressure output. The long hose of nearly 40 feet (12m) is constructed using what the manufacturer calls Torsion-Flex which prevents kinking and buckling of the hose whilst in use. Kinking is one of the major causes of costly hose damage in other pressure washers.
PROS
very pricey at $500.00
onboard storage for attachments and accessories appreciated
CONS
at 2000 psi this Bosch pressure washer should have had quick connect nozzles for greater user options

The Bosch Aquatak 160 Pro X 2320 PSI Pressure Washer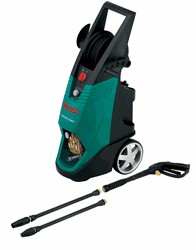 This Bosch pressure washer 160 Pro X is the company's high end pressure washer with an equivalent pressure output of 2320 psi (160 bar). At this psi output this washer can do relatively more around the home. It can accomplish some of the toughest jobs for a home owner. However, even though it is a high end machine it does not have as much power as produced by gas powered pressure washers found on the American market.
It has nearly 40 feet of hose length. This electric cold water pressure washer comes with an onboard hose reel designed for easy hose storage. It also has a detergent tank which is much larger than the other models above and can be removed to refill. The cart on which the unit is attached has two wheels essentially for the unit's mobility at 63 pounds.
Non of Bosch pressure washer models allows quick connect nozzles. This unit like the others above also has a vario lance made od brass. Most of the unit's key parts are made of brass which is positive thing as these last longer. Even the pump head is made of brass for long service. It has a nice appealing sturdy design.
Overall Bosch washers are home owner washers. Non of the different models is gas powered. it appears the company is interested in the home owner market for its products. The power output of the entire current series does not permit industrial or commercial application of the pressure washers.