Pressure Washer Manufacturers
Karcher, Briggs & Stratton, AR North America
As many as thirty different pressure washer manufacturers exist in the United States today. Pressure washer equipment manufacturers vary in their specialization. In most cases the ones specializing in home lower end pressure models are more commonly known in American households compared to the high pressure industrial unit manufacturers.
The American open market of pressure washers consists of washers that are gas powewered, electric motor powered, cold water washers as well as hot water washer also known as heated pressure washer. Some of the manufacturers of pressure washers are also manufacturers of steam cleaners which we also review on this site. Good examples are Dirt Devil steam cleaner. There are also Dirt Devil pressure washers.
The following are pressure washer manufacturers to consider as you look to purchase a pressure washer unit;
Karcher Pressure Washers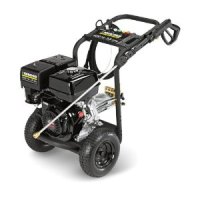 Karcher a company with European roots, Germany to be specific, is considered one of the best pressure washer manufacturer at the current moment. The company not only manufactures pressure washer machines but also makes a wide range of consumer, commercial and industrial cleaning equipment.
Pressure washers from Karcher enjoy an industry wide reputation and have high ratings in consumer reviews and feedback. In particular Karcher industrial pressure washers ranging in PSI output from 3000psi to as much as 4000psi are well preferred above other alternatives on the market. Karcher's units are certified for safe operation and have generally a long life span of rigorous use.
On this site we strongly recommend a combination of Honda engines and CAT pumps for professional grade washers. Some Karcher units and models run on Honda engines. These are easy to start and are also low noise and durable. Honda powered washer are thus popular amongst many pressure washer owners.
Apart from manufacturing the washer units themselves, Karcher has a wide range of pressure washer accessories sold separately as after purchase add-ons and known as Karcher pressure washer accessories. These are handy and increase the efficiency and usefulness of your washer model. Some of the accessories and parts will also work on other brands.
You may see reviews of Karcher pressure washers within this site by following link.
Briggs and Stratton Pressure Washers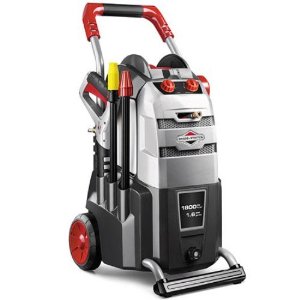 Briggs as it is commonly known in short is a respected American company. It is well known and many of its pressure washer units are used all across the United States. Unlike Karcher, Briggs has a particular strength and stronghold in manufacturing gas powered pressure washers. It is known less as amongst pressure washer manufacturers of electric models even though it has one or two successful electric models.
Heavy duty pressure washers from Briggs and Stratton have also enjoyed very good ratings. However, there have been some complaints to do with their engines which are often out performed by Honda engines. Briggs engines tend to fail more often than Honda engines. Briggs is however also a well experienced maker of a variety of equipment outside of pressure washers.
Amongst other pressure washer manufacturers Briggs and Stratton is also considered a maker of safe and well tested pressure washers. Briggs washers range in pressure output from 1800 psi to as high as 3700 psi. Their washers are categorized into the Standard Series, the Elite Series, the Serious Duty and the Pro Series. The company also makes some accessories to work with its range of washer products many of which have also been used with other brands.
Their models work with quick connect washer nozzles including turbo nozzles.
You may see reviews of Briggs and Stratton pressure washer within this site by following link.
AR Pressure Washers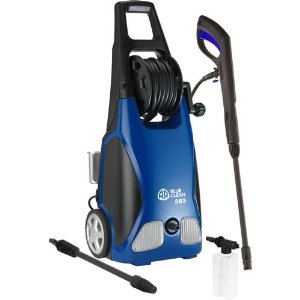 Considered one of America's top pressure washer manufacturers the pressure washer story in North America wouldn't be complete without mentioning AR. The company makes some of what we consider to be best electric pressure washer which are in most cases portable washer units.
The company specializes in residential pressure washers. Pressure washer models from AR enjoy very high consumer ratings from residential consumers themselves especially models such as the portable AR118. These units have output levels ranging from 1300 psi, 1500 psi, 1600psi going all the way up to 1900 psi.
As one can determine based on these outputs the units are for use around the home doing light to medium range jobs such as patio furniture, wooden fence, driveway, garage floor, bricks and so on.
We generally recommend most pressure washers from AR. If you are looking for low end lowly priced under $100.00 pressure washers, AR is a very good brand to consider. Their units have no maintenance troubles and are powered by electric motors. You may follow link to view a range of models from this pressure washer manufacturer called AR.
Campbell Hausfeld Pressure Washers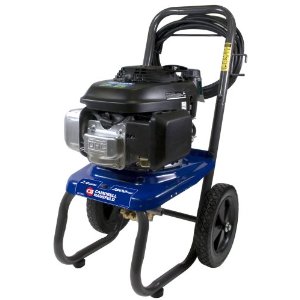 Campbell Hausfeld is a reputable American company with a wide range of products. These include air compressors, spray guns, air tools, tire inflators, welders and much more. The company is amongst pressure washer manufacturers that make both electric powered and gas powered pressure washers. It also has a wide range of accessories which includes pressure washer soap and detergents.
Campbell Hausfeld also has some of the most inexpensive electric pressure washer units some of which sell for under $100.00. The PW135001AV model has been amongst the most popular handheld pressure washers selling for about $99.00 and with an output of 1350 psi.This is a very light output unit which has been used by owners for light home use such as car cleaning . Other electric washers from this manufacturer have an output as high as 1850 psi.
The gas powered range of pressure washers from Campbell Hausfeld is also respected in the industry. A wide range of pressure washer rental businesses have some gas powered washers amongst their models available for hire. This extends to professionals who use these high pressure output units at industrial sites, farms and construction sites. Gas powered pressure washers from Campbell Hausfeld range from 2500 psi to 4000 psi in power output. They range in price from $420.00 to $1120.00 respectively.
You may see reviews of Campbell Hausfeld pressure washer within this site by following link.
Dewalt Pressure Washers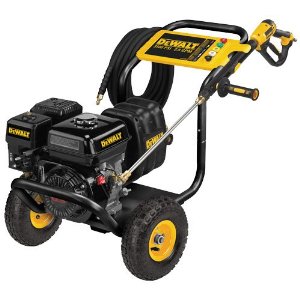 Dewalt is also a well known North American tools manufacturer. The brand is well known for making other tools such as air tools, drills, generators, saws, grinders and power tools amongst other hardware equipment. Pressure washers from Dewalt are highly rated and are high end washers in terms of pressure output.
Compared to other pressure washer manufacturers, Dewalt does not have appealing pressure washers in design. If this is important to you in your search for a pressure washer you might be disappointed by the design and finishing of the Dewalt washers. This however takes away nothing from the efficiency and effectiveness of the models.
Dewalt pressure washers which by the way are gas powered are designed to be rugged industrial pressure washers that will do tough jobs at industrial sites. They range in PSI output from 3500 psi to as high as 4200 psi. They enjoy very high ratings and consumer reviews. We fully recommend Dewalt pressure washers for your professional pressure washer jobs.
You may see reviews of Dewalt pressure washer within this site by following link.