Commercial Steam Carpet Cleaner Reviews
Royal, Rug Doctor Reviews
Commercial steam carpet cleaner reviews on this page are of those best steam carpet cleaners that are used on a commercial basis or have the required robustness for a commercial steamer. These are above the average carpet steam cleaner used in homes. They are much durable and do carpet cleaning projects the heavy duty way. As a result they cost a little more than light use steamers for the carpet or area rugs.
In as much as these machines are called steamers. In reality they are no steamers as we know steam cleaners. They use hot tap water at best to do effective carpet cleaning around the home and businesses. These carpet steam cleaners are called steamers also essentially because they use high pressure hot water to extract dirt from carpets after preconditioning with a detergent. They also have high powered brushes to agitate the fabric to faciitate extraction and detailed cleaning.
We found that most users who purchase commercial steam carpet cleaner machines use them in hotel businesses, renting businesses and commercial deep carpet cleaning from home to home. Despite their higher price tag, it means money spent on these steamers can easily be recovered after doing 2 or three commercial jobs.
The following reviews are for some steam carpet cleaners for commercial use;
The Royal Commercial Steam carpet Cleaner RY7940
This is a highly regarded commercial grade steam carpet cleaner. It sells at about $300.00 and uses hot tap water mixed with shampoo to steam clean carpets. It has two 1 gallon (nearly 4 liters) tanks for clean water and another for recovery. These tanks are clearly larger than any standard non-commercial carpet steamer. This model also has a small reservoir for your shampoo.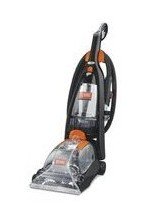 Due to these relatively huge tanks, some owners have complained that the steamer is harder to push and heavier than the standard carpet steam cleaners for home use. This is however a reasonable trade-off considering that this steam carpet cleaner is very effective and brings carpets back to near new conditions.
Users who have given thumbs up to this steamer include hospitality industry owners. Hotel room carpets have some of the highest traffic a carpet can ever encounter. This model is also a reliable commercial steam carpet cleaner used by rental business in the commercial carpet cleaning business.
This machine is sold with a specific shampoo which should be used at all times apart from other shampoo brands which will render the machine warranty void if used. A tip for producing great results is to first steam clean with hot tap water alone before coming for the second time with a shampoo.
Though taking more time, it saves on shampoo and at the same time producing great results. A number of people have purchased this commercial machine as a replacement of the Bissell Pro heat 2x.
We fully recommend this steam carpet cleaner as your commercial quality investment.
The Rug Doctor 95730 Commercial Steam Carpet Cleaner
Considered one of the top commercial carpet steamers in the industry, Rug Doctor machines are high quality, powerful and durable carpet steamers used by countless commercial businesses. An increasing number of home owners are also investing in this highly regarded brand. This Rug Doctor model 95730 sells for no less than $450.00 online.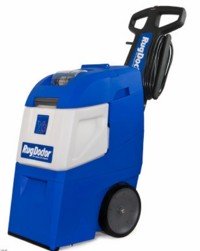 It is a powerful commercial machine that uses three stages of cleaning namely injection (preconditioning), agitation (using powerful brushes) and extraction (using powerful suction to remove dirt). This is the technology applied by most steam carpet cleaners just that the Rug Doctor models do it with much more aggressiveness and best results.
This Mighty Pro model has a massive 2.6 gallon (nearly 10 liters) solution tank and a 3.1 gallon (nearly 12 liters) recovery tank. In terms of places you can apply this carpet cleaner, it has been used for cleaning carpets, rugs, stairs, tight spaces, cars and even boats.
To find great results, some users recommend using less soap mixed with very hot water from your tap. It effectively removes all types of stains and stuck-on food and stains from your carpet or rugs, for example. This makes this carpet steamer a very effective area rug steam cleaner . It is also an excellent upholstery cleaner. It however does not clean with real steam such as done by an upholstery steam cleaner or a fabric steam cleaner.
For storage ensure that all solution has been drained from the tank and recovery tank emptied.
The downside of the Rug Doctor is its cumbersome size which makes it a pain for day to day home handling for most home owners. This is why perhaps it is more appealing to commercial users apart from its price tag. Expect drying times of 4 to six hours depending on the extent of the deep carpet cleaning done.
Highly recommend is this commercial steam carpet cleaner as good buy. It is user supported by above 4 out of 5 stars positive ratings on average. It is durable and very long lasting and will recover itself price wise over time.
The Royal Procision 7910 Commercial Steam Carpet Cleaner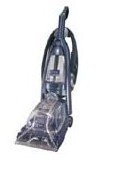 Also considered one of the best names on the market this model has sold hundreds upon hundreds of units across North America for commercial related usage as well as for home use. At $320.00 it is considered a high end steam carpet cleaner. It has unique features not found on some carpet steamers were the brushes rotate both in a clockwise and anti-clockwise direction. This thoroughly cleans the carpet.
It has a 1 gallon clean water tank as well as a 1 gallon recovery tank for dirty water. This steamer also cleans your upholstery with pleasing results just as it does on the carpets. The rinse feature is one of the main highlights of this model. It allows the user to rinse the carpet or rug with water only without using any soap or shampoo.
As can be expected this Royal model weighs a little more than the home non-commercial cleaners due to its bigger water gallons. It has been praised for its ability to deal effectively with high trafficked areas in your home.
We recommend this commercial carpet cleaner as a good buy even for your home use. It lasts longer and will save you many dollars over time compared to having to purchase weaker and cheaper alternatives more frequently.