NorthStar Pressure Washer Parts
Pumps , Nozzles, Quick Couplers, Fittings
Northstar pressure washer parts are perhaps the most and easily accessible pressure washer parts by brand. Each pressure washer brand offers its own set of replacement parts just as Simpson washer parts. Some replacement parts can work across brands especially generic ones. However this should be done with care as non-genuine parts will lead to damage and potential complete loss of your pressure washer or <b>steam cleaner</b>
Northern Tool and Equipment the manufacturers of Northstar washers have ensured that there is a robust supply of Northstar pressure washer parts to meet ongoing user replacements. These parts and accessories range from pumps, detergent injectors, pressure washer carts, fittings, hoses, nozzles, wands, quick couplers, wash brushes and trigger spray guns amongst many others.
In this article we present and review specific Northstar pressure washer replacement parts;
Northstar Pressure Washer Trigger Spray Gun Review
Model Number: 2227
This spray gun sells for about $25.00 from Amazon and is designed for Northstar pressure washers with maximums of 4000psi, 300 degrees and 8 GPM. It has brass interna; parts and a safety-off trigger lock. It carries a 3 months/3 months labor manufacturer warranty. This spray gun can be used with other brand name pressure washers for example the Briggs and Stratton pressure washer but wil require a series of adaptors to make it connect and work. These connectors particulary include washer nipple, female screw and pump brass fitting.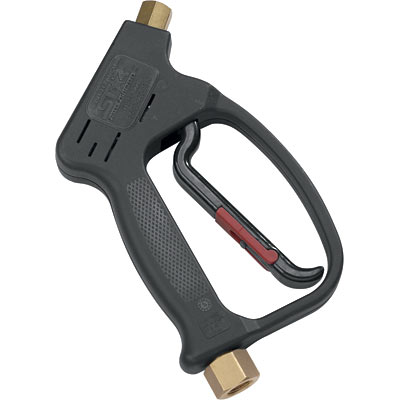 It is important to note before you make a purchase from any supplier that this unit is not supplied together with a lance or nozzle. This is because the nozzle you need for your washer will depend on your pressure washer pressure measured in PSI and the flow rate measured in GPM. This means you will need to purchase your Northstar pressure washer parts such as nozzles and lance separately.
User experience with this replacement part is extremely positive when the part is purchased correctly. Buyers have noted that it is fairly easy to replace this spray gun. Individuals who own businesses repeatedly order this item. This is a good item the only downside is that it is limited to washers with certain maximums. We think its a good buy given you buy knowing the maximums of your washer. In other words don't buy blindly!
Northstar Pressure Washer Parts: Hose to Hose Coupler Review
Model Number: 226887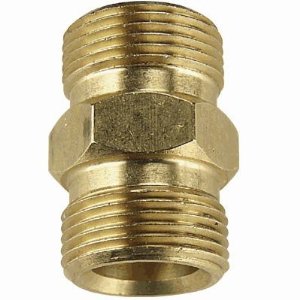 This Northstar pressure washer part is used for the purposes of connecting two 22mm hoses together and takes maximum 4000 psi. It has a manufacturer's warranty of 3 months. It sells for under $3.00 off Amazon or Northern website. Pressure washer owners find the convinience of using this hose to hose coupler as it enables a major lengthening of your hose. By using this coupler you will be able to leave the pressure washer in one location whilst reaching further increasing effenciency.
Even though this connector is used with Northstar pressure washers, owners of other brands of pressure washers have also successfully used this item to lengthen thier hose for up to 75ft. For example individuals with Faip pressure washers have successfully connected this coupler.
Northstar Pressure Washer Parts: 3000 PSI Variable Pressure Washer Nozzle Review
Model Number: 22557
This 3000psi variable pressure washer nozzle can be ordered online for just under $20.00. As its name suggests this variable pressure washer nozzle has adjustable spray pattern from 0 degrees to 80 degrees. It is also adjustable for high and low pressure. It is however designed for Northstar pressure washers with maximum 3000 psi. This means it can be used with any Northstar model for as long as it is under 3000 psi.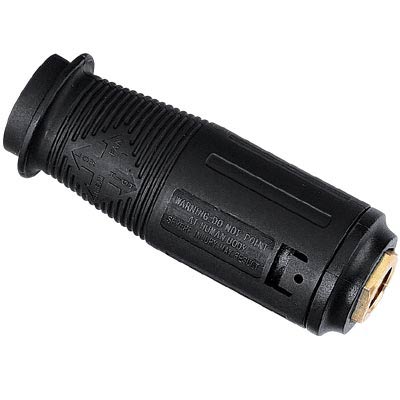 We admit here at Pressure Washer - Steam Cleaner Reviews that Northern Tools and Equipment the manufacturers of Northstar pressure washer parts manufacture high quality durable units. Buyers of this variable nozzle have largely exprssed great satisfaction with this variable nozzle which is noted to deliver a good stream even at lower pressures. Some buyers have however expressed disappointment with the nozzle which came apart when pulled forward to set for reduced water pressure spraying. It has also received lower ratings from other users for failing to perfom after constant use for a week.
Other users however encounter bad experiences with pressure washer repair parts due little attention paid to parameteres of operation. For example this variable pressure washer nozzle will work optimally when applied pressure not exceeding 3000 psi. This is important to note when making a purchase especially online for your replacement parts regardless of brand.

Northstar Pressure Washer Lance 28in Review
Model Number: 32647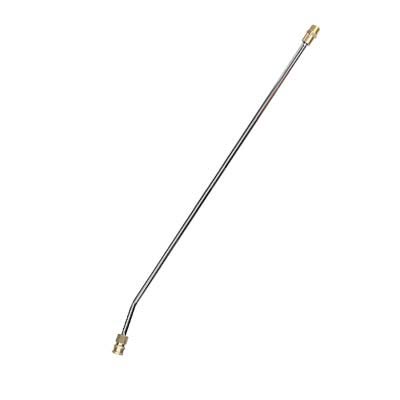 This lance fits most models of pressure washers from Northstar. It is 28inch long with an M22 on thread end and 1/4inch quick couple the other end. The item is sold together with a nozzle quick connector. Some users have also successfully connected this lance to another different presure washer from another manufacturer which is not necessarily Northstar. The lance is remarkably easy to install with no leaks.
Individuals who purchase this product do it for the purpose of being able to reach higher or longer. It is also ideal for individuals of more than average height who might find using the default wand a bit strenous. For example you will be able to easily reach the ground with it without having to bend over. It makes it also easy to do roof washing without having to climb on a ladder. Handyman in particular find this buy extremely worthwhile. You may have a look at this lance on Amazon were it sells for nearly $17.00
Northstar Ball-Tyre Pressure Washer Quick Coupler Nipple Review
Model Number: 221009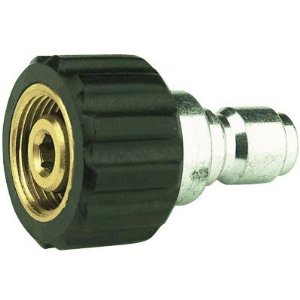 Designed for easy nozzle changing this quick coupler nipple adapts a 22mm pressure washer hose to a quick-coupler. It handles up to 4000 psi and is made of steel. This means it is suitable for any pressure washer system with a maximum PSI of 4000 psi. Some users with other brands of pressure washers such as the Campbell Hausfeld pressure washer have reported successful use of this item.
On the downside some buyers of this part have recommended buying at least two of these as some will not get a good seal resulting in leaks. However many other users have rated this product highly noting that the fit was perfect. They save time and prevent fittings from being cross threaded and damaged. Once threads are damaged a replacement will be required. This product can be obtained through the home garden and pets section of Amazon at about $7.00 (seven dollars).
NorthStar Pressure Washer Pump — 3.5 GPM, 4000 PSI Review
Model Number: A1578203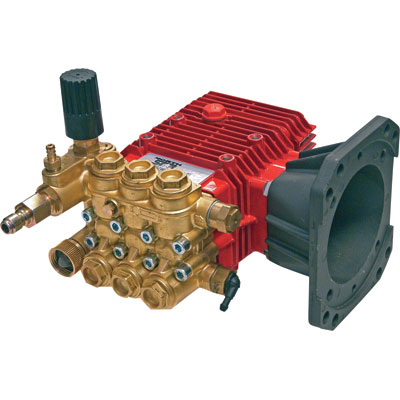 This pump is will produce 4000 psi at 3.5 GPM. It is an easy start pump meant for fast changeover whilst on the job out in the field. This means you can quickly replace your mulfunctioning pump with this one without much down time. This is a direct drive pump with adjustable pressure, chemical injector and thermal protector.
This Northstar replacement pump will fit on an engine with a 61/2 inch bolt circle and a 1 inch diameter shaft and 3 31/64 inch long. This addresses issues to do with bolt pattern concerns as well as pattern measurements were the pump attaches to the engine. This pump comes with a 12 months/12 months labor warranty and is available through Amazon for roughly $400.00