Fantom Steam Cleaner Reviews
Fantom SC925 , Fantom FC905K, Fantom Hand Held Steamers

The Fantom steam cleaner is a respected household steam cleaner brand. It comes in various models which includes the handheld model and the canister model such as the Fantom SC925. The steam cleaners by under the Fantom brand are made by Euro Pro a giant manufacturer of a range of steam cleaner products and more. The Fantom models are compete with other brands of steam cleaners reviewed on this website such as Haan, Eureka and Dirt Devil steam cleaners amongst many others.
We begin the review of the various Fantom steam cleaner models here with the SC925;

Fantom Steam Cleaner SC925 Professional Cleaner
Designed is canister type, the Fantom SC925 is highly rated amongst home and commercial users. The steam cleaner is also made to be a professional steamer and is hence also used by some business owners. The SC925 has a wattage of 1550 watts which can be considered very hot. Generally, steam cleaners that have very high wattage appear to also produce hot steam especially those with a short hose attachment.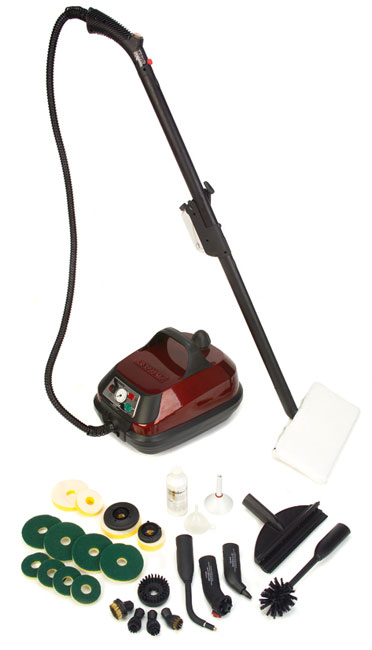 This is the case with steam cleaners that are considered to be dry vapor steam cleaners which have only 3% to 4% moisture in the vapor released when cleaning. The hotter the vapor for example at over 255F, the more effective the steamer and the faster the surface cleaned dries up. Steam cleaners that are considered genuinely dry vapor are also more expensive.
This Fantom steamer comes with many attachments designed to do a variety of surfaces. In fact many users concede that the steamer is genuinely an al purpose steam cleaner which does your bathroom mirrors, kitchen floor, toilets, stove top and even car interior effectively. It is also a well respected grout steam cleaner using the correct accompanying metal brush attachment. This steamer has a maximum water capacity of nearly 3 litres or 100 Fl or 3.13 quarts. It produces steam at 4.8 bars.
The manufacturer of this Fantom steam cleaner claims the steamer can sanitize your surfaces. At 1550 watts this can be achieved. Steam heat has to be maintained very high by sanitizing using shorter attachments. The science to this is that steam heat is lost as the steam travels in a long hose as can be the case with this canister model. Cooler steam will likely leave floors wet and taking longer to dry up. Dry vapor steamers have wattage of as much as 1700 watts. Examples are the Ladybug steamers and the Vapamore steam cleaners.

Fantom SC925 Caution and Tips
It is advisable to avoid using hard water with this steam cleaner. This is the general advice given concerning many steam cleaners. Hard water contains some minerals which may develop build-up in the steamer. The common fear is that the build-up will prevent your Fantom steam cleaner from releasing good jets of steam by blocking the steam pours.
It is also possible for the mineral build-up to cause discoloration when steamer is applied on fabrics. This can be disastrous. Another area of caution is to avoid using the Fantom steam cleaner SC925 on window when it's cold. The high temperatures of steam applied on the windows my lead to the windows shattering.
In order to get best results, some users recommend first vacuuming the surface to be cleaned in order to pick-up all particles before steaming. This will get rid of debris and create a great finishing. The Fantom Sc925 sells for just about $170.00 on the North American market. It enjoys very good ratings and customer feedback. We recommend it as an alternative to the higher priced vapor steamers.
The following are our PROS and CONS of the Fantom steam cleaner model SC925;

PROS
- easy to use
- does deep cleaning
- has a variety of attachments - all purpose cleaner
- stainless steal tank durable and won't corrode
- sturdy

CONS
- some users have complained of the onboard soap injector failing to work as advertised.
- as with many other steamers, the steel grout cleaning brush wears out quickly and needs replacement.
- there is need to add more cleaning cloths since the single one supplied gets dirty quickly for a commercial steam cleaner.
The Fantom Handheld Steam Cleaner
As mentioned earlier, there is the Fantom steam cleaner handheld model which can be used for day to day light duty home cleaning chores. It is important to remember that the handheld steam cleaner such as the model Fc905K is only a 100 watt steamer. This means it is not as hot and cannot do certain cleaning projects effectively. It is often used to do stove top cleaning, bathroom, microwave and upholstery cleaning, for example.

The model also comes with a lot of attachments that you will interchangeably use depending on your cleaning projects around the home. When using the handheld Fantom steam cleaner models you will inevitably require to stock up some cleaning cloths. You will be constantly steaming with one hand and wiping the scam, grime and other dirt off.
It is fantastic that the handheld models use no chemicals and can do a thorough job using water only. It's is best for this water to distilled water. Using hard water will lead to problems already mentioned in the review of the canister model above.
The downside of most handhelds including these ones from Fantom is the noise made by the kettle-stlye steamer when it heats up and releases steam. Overall they are good steamers and recommended.