Scunci Steam Cleaner Reviews
Scunci SS100 , Scunci 900

Scunci steam cleaner models are not as varied as those by other manufacturers such as Bissell, Haan, and Oreck amongst many others. The steam cleaners from Scunci covered on this page are essentially handheld steam cleaners that you can use for your day to day home cleaning. It is worth noting that these models overall are not to be purchased with the hope of doing massive home cleaning.
This is a particular disappointment that a number of people face when purchasing handheld steam cleaners. These are maintenance models, so to speak, which work fine in keeping your home clean and preventing the build-up of lots of dirt on a variety of surfaces. When approached from this perspective steam cleaners including scunci steam cleaner models play a useful and important role in your day to day home hygiene efforts.
The Scunci SS100 Handheld Steam Cleaner
One of the most popular Scunci models with huge TV advertising is the model SS100. This model as the title above suggests is a handheld model. It comes with a huge variety of attachments which enables the steamer to handle a variety of surfaces within your home. These attachments effectively enable the Scunci SS100 to do the following jobs;
- bathroom cleaning
- sink cleaning
- stove top cleaning
- grill steam cleaning
- window steam cleaning
- grout steam cleaning
- steam cleaning car interior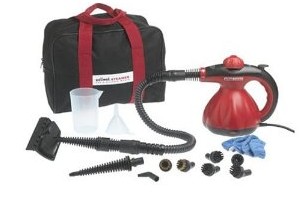 Despite this list of cleaning projects that the SS100 is designed to do, different users have had different experiences on each of them. This model produces hot enough steam to remove mildew, mold grease and grime. The manufacturer claims the steamer has the ability to sanitize surfaces. This model has a finger trigger to control steam output.
It terms of user experience, the cleaner has been successfully used to 'iron' clothing just as the manufacturer claims. It has been criticized by some users for being poor with windows. In our opinion this is also subject to the user's experience with the steam cleaner.
Cleaning windows when its cool outside will likely produce water as the steam makes contact with the window. This is an important point to remember even outside the use of the scunci steam cleaner. It applies to all steam cleaners.
When cleaning windows more care is needed as a very hot steamer can shutter your windows should it be very cold outside. This is most common with dry vapor steam cleaners which produce extremely hot temperatures.
PROS
- relatively light weight
- longer steam output
- cleans with water only no chemicals
- the included storage bag welcome, attachments difficult to store for some steamers
CONS
- the 5 minutes cool down time before refill is rather disturbing for some users
- some users have also complained of the steamer breaking down easily after a few months of use
Overall, the reviews and feedback of this steam cleaner are somewhat balanced between negative and positive across many different users. We therefore leave the final decision to you.
At the end of this page we have a list of good handheld steam cleaners which you may also consider apart from teh scunci steam cleaner models presented here. The price of the SS100 unit is however not steep at only $45.00 from online stores. On Amazon the Scunci steam cleaner model SS100 enjoys slightly above average reviews.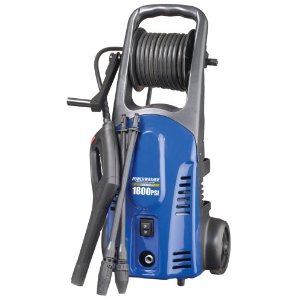 As you consider steam cleaning, outdoors many home owners are also investing in pressure washer systems. These can be gas powered washers of electric powered washers. In most cases home washers are electric powered such as FAIP pressure washers at 1800 psi.
The Scunci 900 Handheld Steam Cleaner
The Scunci 900 is also a handheld steam cleaner that will do your day to day home cleaning projects. The steamer has a wattage of 900 watts. What wattage a steamer runs on is important to take note of as this invariably has a direct influence on how effective it will be. Generally, steam cleaners that are hotter, meaning of higher wattage, produce hotter steam which is also effective in killing dust mites, bed bugs and removing stubborn dirt, for example.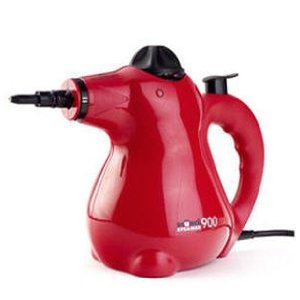 At 900 watts the scunci 900 steam cleaner is a standard steam cleaner. It is likely to disappoint with some spats of water just judging by the wattage it has. To put things in perspective, vapor steamers have a wattage of as much as 1700 watts. These produce vapor "steam" as hot as over 300 degrees. These type of steam cleaners are therefore more effective.
The Scunci 900 does not use any chemicals to clean effectively. It relies on ordinary tape water which shouldn't be hard water. This is a relief for individuals with problems associated with using chemicals.
As you consider purchasing the Scunci steam cleaner model 900 here are some of the home projects it is designed to do;
- kitchen floors, cabinets
- bathrooms, showers
- Upholstery
- Oven
- Stove
- vehicle interior
- carpet stains
- bedding
- fabric
Other Handheld Steamers To Consider
Individuals who have had a keen interest in the Scunci steam cleaner models above have also been interested in the following steam cleaners. Some have also ended up purchasing these models instead of the Scunci models.
Dirt Devil PD20005 - this is a handheld steam cleaner priced at about $35.00 online. Dirt Devil is a well recognized brand especially in North America. The PD20005 has very high positive ratings amongst consumers. See detailed review of this model.

Haan HS-20 Steam cleaner - Well received by the market. The Haan HS-20 is a great alternative to the Scunci models above based on the better ratings it has received. Haan is a also a recognized brand and used all across the United States. You may see a detailed review of this model.

Bissell Steam Shot - Rated a little lower than the other two handhelds above, the Bissell steam shot is still a great steam cleaner for daily light cleaning projects at home. It is rated above average particularly on Amazon. A full review of this model can be found by following ink,